By Hunter S. Thompson
Page 2 columnist
Hot damn, it is tournament time again, so let's have a quick run at predicting the outcome of the NCAA basketball Tournament in less than 33 minutes, because that is all I have left this morning. Deadlines and Gambling are all I really know in this world, so why not zoom right into it.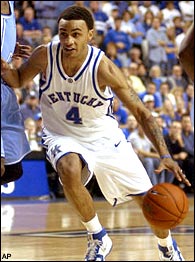 Hunter is hoping that Gerald Fitch and Kentucky come out on top.
Yes. We will have another desperate showdown between Kentucky and Duke. With Kentucky losing again because of injuries. I hate to hear myself saying this, but I cannot tell a lie. Duke has a faster backcourt and a deeper stronger bench. The only way Duke can lose is by missing free throws, or by committing 18 more fouls than Kentucky, and that is a sucker bet.
I am shocked and disgusted to hear myself saying this. I think I just broke my own heart. Am I stupid? Three minutes ago I was telling Anita that Kentucky would mangle Duke in the final.
Who knows why I suddenly changed my mind? Many people will call me a whore and a fool and a traitor for saying these things in public and betraying my own people at a critical time like this -- and they all may be right, but so what?
There is no room in the gambling business for that kind of sentimental Hokum.
I have warned many times about the guaranteed dangers of betting with your heart instead of your head -- big darkness, soon come -- but every once in a while you get a fair chance to have it both ways, and the annual NCAA basketball Tournament is one of them.
That is why I say that I am "stuck with Kentucky" again this year. Hell, a blue-grass boy with a gambling habit could do a lot worse than being stuck with the SEC champion and No. 1 seed in this final showdown among the nation's best college basketball teams. It is the most dramatic event in sports -- and nevermind the World Series or the Kentucky Derby or even the three-hour Superbowl. I love all these things, but for long-running, heart-breaking, high-speed big money athletic competitions in the U.S.A., nothing compares to what Dr. Vitale calls "The Big Dance."
That is my story, and I'm sticking to it. Others may argue, but so what? That is why we gamble on these things. For myself, I would much prefer to be stuck with Kentucky in the NCAA Tournament, than stuck with George Bush in the White House. It is the difference between losing your wallet at a cock fight and losing all your credit cards forever, along with your job and your house and your ability to earn enough money to pay off your sports-gambling debts or even a six-pack on game day. Forget about winning your office pool, bubba. If Bush gets re-elected, you won't have an office.
Okay, let's get back to Basketball and the shoot-out in San Antonio, where the mere possibility of a Duke-Kentucky matchup for the championship is almost too much for me and 11 million other people to hope for. Duke is an ugly word in Kentucky. Nothing in the world compares to the joy of beating those hateful swine from Duke.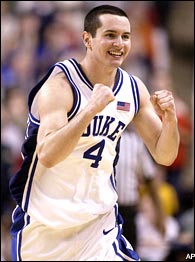 But beware if J.J. Redick gets to the free throw line.
So of course I publicly predict a Duke-Kentucky final -- which is not so desperate at all, really. The numbers out of Vegas say it is probably that best bet on the board, at nine or 10 to one. So why not? I have studied the brackets carefully, and so should you. If you see a better shot, let me know.
I will bet heavily on every game, for many reasons and with many people. But in my heart I crave beating Duke even more than I crave the national championship.
As for who wins that game ... well, you could flip a coin, but I won't. No, I will live or die with Kentucky, as always. But I will wait for the injury reports until the very last moment before committing totally. Until then, it is all a matter of personal fouls and foul shots.
That is not much comfort to me because Duke's J.J. Redick is the best free-throw shooter in college basketball.  Duke can be beaten, as Maryland showed last week -- but not if that bastard Reddick goes to the line more than once in the final three minutes. That is all we know, and all we need to know. Good luck.
Dr. Hunter S. Thompson was born and raised in Louisville, Ky. His books include "Hell's Angels," "Fear and Loathing in Las Vegas," "Fear and Loathing: On the Campaign Trail '72," "The Great Shark Hunt," "The Curse of Lono," "Generation of Swine," "Songs of the Doomed," "Screwjack," "Better Than Sex," "The Proud Highway," "The Rum Diary," and "Fear and Loathing in America." His latest book, "Kingdom of Fear," has just been released. A regular contributor to various national and international publications, Thompson now lives in a fortified compound near Aspen, Colo. His column, "Hey, Rube," appears regularly on Page 2.