By Hunter S. Thompson
Page 2 columnist
Duke is never far from my mind when NCAA Tournament time rolls around. I have terrifying memories of Duke that go far beyond the basketball court.
Indeed. I once roamed that campus like a werewolf in heat -- or at least, that's what they said at the time in the newspapers. They called me a dangerous beast who had to be forcibly removed in the middle of my long-awaited lecture on Mark Twain.
They said I was violent and rude and depraved, and that even the president of the university wanted to have me locked up, etc. etc. One editorial said I should have been "put down" like a mad dog, right there on the spot.
It was ugly.
But I had no time for it then. Fortunately, I escaped and flew quickly to Africa for the epic "Rumble in the Jungle" between Muhammad Ali and George Foreman, where I contracted malaria and went really crazy.
The late, legendary author George Plimpton told the story better than I can. In his book, "The Best of Plimpton" (Atlantic Monthly Press), he writes ...
I had met (Hunter Thompson) on the plane coming down from Europe. He had arrived on board at Frankfurt -- a big, loose-limbed figure wearing a pair of aviator sunglasses, a purple and strawberry Acapulco shirt, blue jeans, and a pair of Chuck Taylor All Star basketball sneakers that seemed too large for his feet, as if he had snatched them from the back of a Los Angeles Laker's locker. They took him this way and that, sashaying him around so that he bumped into people a lot. With him he carried a large leather flight bag with a "Rolling Stone" identification decal and a badge which read PRESS ... full of pills and vials and bottles, judging from the way it clinked when he moved it ...
He sat with me during the flight. He said he was trying to recover from a humiliating evening back in the States a few nights before when, lecturing at Duke University, he had been given the hook for being outlandishly drunk on Wild Turkey bourbon and making a fool of himself in front of a large and muttering audience. The representative who met him at the airport had offered him some hashish. He had taken it. Back in the motel, he felt the day begin to slip away. He poured himself a couple of shots of Wild Turkey. He kept his audience waiting for forty-five minutes. When he walked out with his glass in front of a large velvet curtain in the university auditorium, he got himself in a further state of belligerency with the crowd by starting off, "I'm very happy to be here at the alma mater of Richard Nixon."
"That did not exactly put them in my pocket," Thompson told me. "(Nixon) went to the law school there, which they were either trying to forget or were proud of, and my telling them that truly stiffened them up. The questions began. They asked me if I thought Terry Sanford was going to run for the presidency in 1976. I said that he had been a party to the Stop McGovern movement and that he was a worthless pig f---er. I didn't realize that he was the president of Duke. Not long after I was given the 'hook'."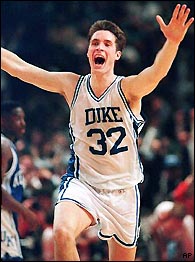 Another bad memory of Duke.
The "hook" had been a small blond girl sent out by the head of the lecture committee; when Thompson saw her coming, he tossed the Wild Turkey, along with the ice cubes, high in the air, a fountain of resignation, and he walked off with her. He said that the booze had fetched up against the velvet curtain behind his head and left a noticeable stain that he hoped was still there ... to backdrop future speakers as they leaned solemnly against the lectern. Especially when Terry Sanford spoke to the student body.
Ah, but that was a long time ago, so let's get back to the Final Four and who is going to win the national championship this weekend in San Antonio, Texas, and why I still favor Duke. So what? I also believed Kentucky would be in the Final Four, for sure, but those lame swine couldn't even make it to the Sweet Sixteen. They rolled over and died.
But at least I still have Duke, which is not a consolation. Batting .500 might make you a hero in baseball; but in the gambling business, it makes you a bum. But what the hell? It's not over yet. I still have time to double down heavily on both games and make enough proposition bets to win it all back.
Of course. Why not? It happens all the time.
Dr. Hunter S. Thompson was born and raised in Louisville, Ky. His books include "Hell's Angels," "Fear and Loathing in Las Vegas," "Fear and Loathing: On the Campaign Trail '72," "The Great Shark Hunt," "The Curse of Lono," "Generation of Swine," "Songs of the Doomed," "Screwjack," "Better Than Sex," "The Proud Highway," "The Rum Diary," and "Fear and Loathing in America." His latest book, "Kingdom of Fear," has just been released. A regular contributor to various national and international publications, Thompson now lives in a fortified compound near Aspen, Colo. His column, "Hey, Rube," appears regularly on Page 2.