By Hunter S. Thompson
Page 2 columnist
Hot damn! We saw a wonderful basketball game last night. Connecticut kicked ass. They completely destroyed those sacrificial pigs from Georgia Tech in a game that looked fixed from the start and dumber than a barnyard at night.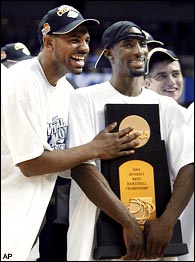 Georgia Tech was no match for the champion Connecticut Huskies.
The final score was meaningless, in a national championship game that the whole world was watching. And, ye gods, how could it happen? Not here. But it did, and the once-proud U.S.A. failed miserably again.
Millions of basketball fans all over the world were shocked and disappointed by Monday night's farce of a game. It was never a contest. The Georgia boys were doomed from the opening whistle, and they knew it. They played like a confused high school team, always one step slower and 10 points behind.
About 13 minutes into the first half, I got so bored and disgusted that I flipped over to watch a George Bush speech about freedom and democracy in Iraq. But that, too, was sickening. I FELT THE FEAR COMING ON. How long, O lord, How long? This blizzard of shame is getting a little old, isn't it? Just how low do we have to fall, before the voters catch on?
Indeed. How many times can a man be robbed -- on the same street, by the same people -- before they call him a man? Bob Dylan said something much like that in a tattered old song called "Blowin' In The Wind." Read it and weep, you poor bastards -- because Dylan was yesterday, and George Bush is now.
That is a morbid observation, at best, and we are all stuck with it. The 2004 presidential election will be a matter of life or death for the whole nation. We are sick today, and we will be even sicker tomorrow if this wretched half-bright swine of a president gets re-elected in November. Take my word for it. Mahalo.
Dr. Hunter S. Thompson was born and raised in Louisville, Ky. His books include "Hell's Angels," "Fear and Loathing in Las Vegas," "Fear and Loathing: On the Campaign Trail '72," "The Great Shark Hunt," "The Curse of Lono," "Generation of Swine," "Songs of the Doomed," "Screwjack," "Better Than Sex," "The Proud Highway," "The Rum Diary," and "Fear and Loathing in America." His latest book, "Kingdom of Fear," has just been released. A regular contributor to various national and international publications, Thompson now lives in a fortified compound near Aspen, Colo. His column, "Hey, Rube," appears regularly on Page 2.
Hunter
S.
Thompson
HEY, RUBE