By Hunter S. Thompson
Page 2
We were right in the middle of the disastrous Lakers game when a mudslide hit the house. I was knocked sideways across the kitchen like a roach. I heard myself screaming for a moment, and then I blacked out. The last thing I remember is the sight of a black Chrysler limousine bearing down on my face.
Nobody remembered how long I was out, and nobody seemed to care. They were all Lakers fans, and now they were crazy with fear. Some of them wept openly, or whimpered like dogs. It was a moment of obesity and obscenity all at once. I could barely believe it.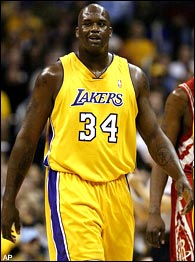 Shaq's size may be too much for the T-Wolves in the end.
Neither could they, so we tried to pretend it was not happening at all.
Nobody hates obesity worse than I do -- but on some days, I am forced to tolerate it, for reasons that come with the territory. We are, after all, professionals. It is better to win than to lose. That is the law of nature.
The Lakers are playing again Tuesday night. This time, they are playing at home, which makes them a prohibitive nine-point favorite to crush the crippled Timberwolves in a style that will satisfy even the cruel and bloodthirsty super-fan, Jack Nicholson. "We will dice those bastards up like raw fish," he said. "The score won't even be close."
I laughed smugly and set off another huge rocket that exploded far up in the cloud cover and rained blazing fireballs down into the river. "That will never happen," I told him with a sneer in my voice. "Minnesota is too quick for them, even with all these injuries. They will draw five fouls on Shaq and put him out of the game by the middle of the third quarter. And Phil Jackson will lose his cool and get ejected."
What? Did I say that? What is wrong with me? In Truth, I would have to get 11 points before I would bet against the Lakers in this game -- and even then I would feel like a recidivist loser with no self-esteem. Some things are not meant to happen, and Minnesota winning Game 3 in L.A. is one of them.
But what the hell? Taking Kevin Garnett with a 10-point cushion is not really a bad bet at all. The Lakers are feeling angry and vengeful after that beating they took in Game 2, and this game will be angry from the start.
Indeed. Anger is not always good for you when the game gets ugly and personal, especially if your name is Karl Malone. If he loses his temper again, the Lakers will be in trouble.
Think of Malone whacking Garnett up side the head right in front of the scorers table, like Sacramento's Anthony Peeler did in Game 6 against Minnesota. Peeler was suspended for two games, which led directly to the Kings' defeat in Game 7. They lost and went home, just because some violent punk freaked out and started throwing nasty forearm shivers.
Malone is easy to provoke, if that's what you really want to do. And why not? Losing Malone for two games would be utterly demoralizing to the Lakers.
It would also be about the only way the Wolves can win this series. The Lakers are heavily favored to win both games in the Staples Center, which would break Minnesota's spirit and effectively decide the NBA championship, and that would be Jackson's fourth in five years. No team in the East can beat the Lakers in the Finals, no matter how hot they get.
Remember that Shaquille O'Neal is 7-foot-1 and weighs 340 pounds -- while Garnett is barely 7-feet and weighs in at only 220.
That is the main difference between the two teams, if only because Garnett will take such a pounding for the first three quarters that he will be too tired to run in the fourth, as he was near the end of Game 1. The Timberwolves have to win one of these games in L.A. just to stay alive, and that may as well happen tonight -- and it might, if Sam Cassell can play even half of his normal 35 minutes. If he can't, the series is over. Cassell is worth at least one point for every minute he plays, and will be the key to the game.
So good luck and Mahalo. The fat is in the fire.
Dr. Hunter S. Thompson was born and raised in Louisville, Ky. His books include "Hell's Angels," "Fear and Loathing in Las Vegas," "Fear and Loathing: On the Campaign Trail '72," "The Great Shark Hunt," "The Curse of Lono," "Generation of Swine," "Songs of the Doomed," "Screwjack," "Better Than Sex," "The Proud Highway," "The Rum Diary," and "Fear and Loathing in America." His latest book, "Kingdom of Fear," has just been released. A regular contributor to various national and international publications, Thompson now lives in a fortified compound near Aspen, Colo. His column, "Hey, Rube," appears regularly on Page 2.
Hunter
S.
Thompson
HEY, RUBE