By Hunter S. Thompson
Page 2
We were deep in the throes of the Denver-Redskins game on Monday night -- the Redskins were leading 10-9 with seven minutes left and the Broncos trapped deep in their own territory -- when the tension was shattered by a series of booming shotgun blasts from somewhere down by the road, and then I heard a peacock screaming ...
Just then, a Washington DB who looked a lot like Champ Bailey stepped in front of a Bronco receiver and snatched a mushy short pass into the Denver end zone. The Redskins were up by eight points, and I was cruising to what looked like certain victory over my enemies, my opponents, my victims. That is how it works in the gambling community. No mercy asked, and none given. Exterminate the brutes.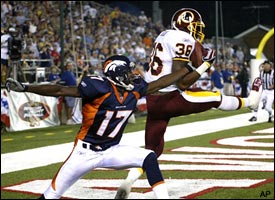 The Redskins came out on top in this year's Hall of Fame Game.
I had bet heavily against Denver, hoping to antagonize a crowd of hometown Broncos fanatics that had gathered in my kitchen. They had been hostile toward me at first, so I had to get a little vicious. I wanted to see some green money moving around the room, which is righteous, so I confronted a woman from Texas and asked her for $2,000 in good-faith money.
"Think of it as a security deposit," I told her. "You are about to have terrifying gambling experience."
As two more shots were fired outside, I yelled "Punch up the siren!" Anita.
The Redskins were moving the football very impressively, and I thought of sending a watermelon to Joe Gibbs, just for old times sake -- but this murdering freak outside my yard was making it hard to stay focused on the football game.
Suddenly, the screech of my Ground Howler alarm siren made conversation impossible. The decibel level in the house leaped instantly up to 122, even louder if you were standing in front of the speakers -- and it was just about then that I went rigid and passed out from sensory overload. But nobody seemed to notice. It was like a bomb had exploded on the roof. People were screaming into each other's faces, but nobody could hear a word or even recognize their own friends. The noise was intolerable.
And then it was gone. Ended. The only sound in the room was the ticking of an old carriage clock on top of the TV set, which had gone to black, along with most of the light in the house. Now I could hear women crying, but couldn't see them.
It was all over in less than two minutes. The Sheriff returned to the kitchen to say that a peacock was dead and that a prowler had tripped a main circuit. And I would deal with him soon enough.
But none of that mattered now. The game came back on with four minutes left to play.
The Broncos looked pretty good, but the Redskins looked better. The Hall of Fame Game is never the main attraction in Canton during the annual induction ceremonies. John Elway by himself attracted more media attention than the game, and Barry Sanders got more network air time than John Kerry's big speech in Boston.
BUY THE BOOK
"Hey Rube: Blood Sport, the Bush Doctrine, and the Downward Spiral of Dumbness; Modern History from the Sports Desk" is a collection of Hunter S. Thompson's columns from Page 2, available August 11 from Simon & Schuster. You can preorder your copy here.
And why not? Getting elected to the Pro Football Hall of Fame is the highest achievement in Football, and the price of admission is steep. Mere greatness as a player is not enough to get you in. Gene "Big Daddy" Lipscomb was arguably the cruelest pass rusher in NFL history. He was a violent junkie who invented the dreaded roundhouse whack upside the head -- directly on the ear-hole of his victim's helmet -- that often burst both eardrums of any hapless offensive linemen he could reach. Big Daddy weighed 300 pounds and he really wanted to
hurt
people. And he did -- but he is not in the Hall of Fame.
Many are called, but few are chosen at this level; and that is the way it should be. If it were up to me, I would put Ed Podolak in the Hall of Fame. He was big, mean, fast and crazy -- which is just about right for an NFL running back. But he never made it to Canton ... and neither will I, for that matter, but so what?
I won big on the Redskins last night, and I expect to win even bigger whe the real season gets underway. I am a gambler, and that is how gamblers think.
Indeed, so why not spit out a fistful of long-range predictions about who will make the playoffs, and who won't? There are quasi-educated hunch bets, like picking winners in a Keno game, and here they are: Patriots, Colts, Denver and Bengals in the AFC; and Washington, New Orleans, Green Bay and Seattle in the NFC. We will get to the wild cards later. Miami and Dallas looked like contenders at first, but no longer.
The only sure loser this year is the San Francisco 49ers. They are doomed, doomed, doomed. Never bet on them, even if they seem to be favorites.
And that's it for now. I smell my deadline closing in.
Mahalo.
Dr. Hunter S. Thompson was born and raised in Louisville, Ky. His books include "Hell's Angels," "Fear and Loathing in Las Vegas," "Fear and Loathing: On the Campaign Trail '72," "The Great Shark Hunt," "The Curse of Lono," "Generation of Swine," "Songs of the Doomed," "Screwjack," "Better Than Sex," "The Proud Highway," "The Rum Diary," and "Fear and Loathing in America." His latest book, "Kingdom of Fear," has just been released. A regular contributor to various national and international publications, Thompson now lives in a fortified compound near Aspen, Colo. His column, "Hey, Rube," appears regularly on Page 2.
Hunter
S.
Thompson
HEY, RUBE