By Hunter S. Thompson
Page 2
My friend Matt Moseley called from Athens and said he was working as a press officer for the U.S. weightlifting team in a secret location called the USA House, less than 900 meters from the Acropolis.
"We are right in the middle of town," he said, "but only the cops know we're here. We fly no flag."
"What is the wildest place in Athens?" I asked him. "Where is the weird stuff happening?"
I knew it was a dangerous question for him -- considering his happy family back in Boulder -- but I asked him anyway.
BUY THE BOOK
"Hey Rube: Blood Sport, the Bush Doctrine, and the Downward Spiral of Dumbness; Modern History from the Sports Desk" is a collection of Hunter S. Thompson's columns from Page 2, available August 11 from Simon & Schuster. You can preorder your copy here.
"I need to know this," I snarled. "The editors of 'Playboy' are pushing me for gossip about orgies."
"Orgies?" he asked. "Which ones are they talking about? We have group sex frenzies following almost every event, even the ones we lose. The hottest place in town is probably the Bulgaria House. It rocks 24 hours a day. I love the place. One night last week, I had two of my athletes disappear completely after they went to the Bulgaria House. We can't find a trace of them."
"Don't worry," I said. "They will turn up in a few days. But they won't be of any use to you."
Which is true, but it is not a pretty story so we won't get into it now -- except to say that I didn't need a year with the Oakland Raiders to finally grasp the true nature of amphetamine addiction. That gig goes all the way back to Adolf Hitler.
World War II would never have happened if Hitler had never discovered speed. Once he learned how to stay wide awake and utterly dominant for 99 or 100 straight hours at a stretch, his enemies knew they were doomed.
Ah, memories, memories. Where are the snows of yesteryear? Ou sont les neiges d'antan.
Which brings us, at last, to the more solveable horrors of our time, these first queer years of our post-American century.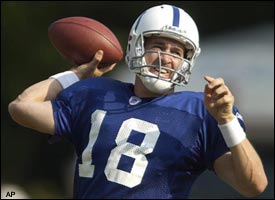 The Good Doctor likes the Colts to beat the Pats, and make the Super Bowl.
Whoops. We are wandering. Let us focus once again on what is real in this life, like the Super Bowl -- which looks to me like the Colts and the Eagles. Why not? They are two of the speediest teams in the league, and speed will be the deciding factor this year.
"You can teach a kid everything else in the game," said Al Davis on one wet afternoon in Oakland when he was bitching about Ken Stabler and "Fast Freddie" Biletnikoff, both famously slow on foot. "But you can't teach speed."
Al was weird in those days, and he still is. But the Oakland Raiders will suck this year, and so will the Denver Broncos. They both suffer from a lack of team speed, and they both have dysfunctional quarterbacks. No playoffs for these poor bastards. They will struggle. Do not bet on them.
The real NFL season will start on a Thursday night, Sept. 9, somewhere on the outskirts of Boston, when the defending champion Patriots will be strongly favored to once again lay a crippling loss on the Colts, who will once again be three-or-four-point underdogs.
Only a fool would bet against New England at home in September. They are riding a 15-game winning streak, and they see no reason to lose any games this year. Bill Belichick has built his perfect winning machine.
Ho ho. Don't bet on it. There is something out of whack with New England, and their winning streak will end on Sept. 9. The Patriots look unbeatable, on paper; but on the field, they look weak and disorganized. They will lose, somehow, to Indianapolis. That is all ye know, and all ye need to know.
Mahalo.
Dr. Hunter S. Thompson was born and raised in Louisville, Ky. His books include "Hell's Angels," "Fear and Loathing in Las Vegas," "Fear and Loathing: On the Campaign Trail '72," "The Great Shark Hunt," "The Curse of Lono," "Generation of Swine," "Songs of the Doomed," "Screwjack," "Better Than Sex," "The Proud Highway," "The Rum Diary," and "Fear and Loathing in America." His latest book, "Kingdom of Fear," has just been released. A regular contributor to various national and international publications, Thompson now lives in a fortified compound near Aspen, Colo. His column, "Hey, Rube," appears regularly on Page 2.
Hunter
S.
Thompson
HEY, RUBE