By Hunter S. Thompson
Page 2
"The Raiders culture was harder to penetrate than the Hell's Angels."
-- HST, 11/30/04
The blizzard of '04 whacked Colorado on Sunday, just as the Denver-Oakland game was kicking off to a vicious roar of 76,000 Bronco fanatics who needed to squash the Raiders. The Broncos were on a roll, tied for first in the AFC West and hungry to get back to the Super Bowl. The last thing on their minds was losing to the hated Raiders.
No. That was impossible. The Broncos were heavily favored -- by 11 points, according to Sunday's Denver Post -- and the Raiders were a hapless 3-7 coming into the game.
It was a lock. Not one of the poor bastards out there in that blizzard was there because he wanted to be beaten like a clumsy dog on worldwide TV -- certainly not by the low-crawling Raiders. They were the scum of the NFL, mired at the nadir of pro football's nasty Parity cycle.
In my heart, I am always a Raider. We were deep into the frozen fourth quarter of the game when my telephone rang and interrupted my thoughts.
It was my famous neighbor, DJ, who said he was about to commit suicide because he had finally run out of whiskey.
"I can't stand it anymore," he whispered. "If you don't bring me whiskey, I will die. Please help me."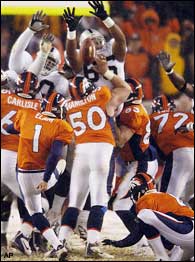 The snow felt a little heavier in Denver when the Broncos fell to the Raiders.
It was not the kind of call you want to get on a night like this, while the storm rages outside your windows -- so I hung up on him and threw two more logs onto the fire.
"He must be crazy drunk," I said to Anita. "Only a helpless sot would call me for whiskey on a savage night like this."
I have always loved blizzards, if only because of the driving experience -- which is definitely an acquired taste. It is not for the weak of heart, or for casual amateur drivers. They are doomed to pain and suffering if they ever go out in a blizzard with an automobile. This is absolutely certain to happen, so do yourself a favor and take my word for it. Mahalo.
We shot out of the driveway, going far too fast for conditions, but just about right for a championship snow-driving fool in the right kind of car on an empty mountain road in Colorado. Yes. It was my kind of night.
The football game was long since over, but I still felt the pain of it. The Broncos had been more or less in charge of things for the first three quarters; but weird things happened in the fourth, when their pass defense suddenly collapsed and the Raiders ran wild in the snow.
It was a beautiful thing to see, for
some
people -- but for those 77,216 Bronco loyalists who suffered through it, all the way to the end, it was a nightmare from hell. Suddenly, the score was tied, and a strange hush came over the crowd. Their finest hopes and dreams were about to be crushed, right in front of their freezing eyes. It was horrible. The Super Bowl suddenly seemed a millions miles away. The final score was 25-24. Selah. Just before midnight, we pulled into DJ Ranch to deliver the booze. He was weeping softly, wearing his wife's mink coat. But his eyes lit up when he saw the quart of whisky. He seized the bottle with both hands and drank deeply.
The game had meant nothing to him.
Dr. Hunter S. Thompson was born and raised in Louisville, Ky. His books include "Hell's Angels," "Fear and Loathing in Las Vegas," "Fear and Loathing: On the Campaign Trail '72," "The Great Shark Hunt," "The Curse of Lono," "Generation of Swine," "Songs of the Doomed," "Screwjack," "Better Than Sex," "The Proud Highway," "The Rum Diary," and "Fear and Loathing in America." His latest book, "Kingdom of Fear," has just been released. A regular contributor to various national and international publications, Thompson now lives in a fortified compound near Aspen, Colo. His column, "Hey, Rube," appears regularly on Page 2.
Hunter
S.
Thompson
HEY, RUBE