By Hunter S. Thompson
Page 2
On some nights, I want to be in Nashville; Monday night was not one of them. No. Nashville was a disaster zone on Monday -- for the mighty Titans have fallen. They were ambushed and chopped up by a gang of helpless losers called the Kansas City Chiefs, known mainly for their failures.
But failure ruled for Kansas City, and the Titans were beaten horribly. The final score was a nasty 49-38 -- which seemed like guaranteed fun, and it was for a while. The home-boy crowd was whooping it up as the game clock wound down to 1:36. The Titans were up by three and about to score again after recovering a K.C. fumble at the Chiefs' 2 yard line. It was over, for all practical purposes. I was reaching out to collect on many bets.
But the game's final seconds took about seven disastrous turns -- all of them caused and cruelly orchestrated by obvious officiating blunders that turned the outcome into a farce and drove the 69,000 Titan loyalists into a frenzy of hate and ugly drunken despair.
One bizarre K.C. "drive" in the final 75 seconds went 81 yards in six plays, and almost all of those yards came on penalty calls by the most-dreaded crew of full-time officials. They were led by publicity-crazed referee Tom White, who is feared all over the league for throwing more drastic flags than any of the league's other vicious enforcers.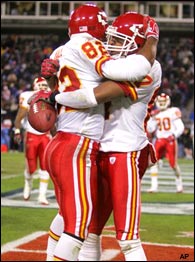 The Chiefs celebrated a win on Monday night -- with a little help from the referees.
"Tom White will do absolutely anything to get himself on television," said an editor from S.I. who spoke only on condition of total anonymity. "He is always getting reprimanded and reversed for his bad calls and stupid punishments. The man is a natural-born fool."
The whole public perception of NFL officials has changed radically in recent years, as a new breed of referees has emerged with a whole new set of ambitious priorities for personal advancement, guaranteed TV exposure and commercial product endorsements. They are no longer part-time weekend football lovers with real-world jobs as bricklayers or spine surgeons or master pimps from Hollywood and Salt Lake City with childhood grudges to settle.
Those freaks are gone now, dismissed and even scorned by the new, full-time, hard-core refs and umpires and linesmen, etc.
Three teams took the field in Nashville's Adelphia Stadium last night: The Chiefs, the hometown Titans, and a squad of sadistic enforcers wearing NFL black-striped, prison-style uniforms.
The Titans and the Chiefs scored 87 points between them, but the officials won the game easily. They controlled the pace from beginning to end with 60 full minutes of stupid penalty calls that eventually cost Tennessee 14 points on the scoreboard.
The game itself was a disgrace in every way to everything the NFL once represented. It was rotten football and criminally-stupid officiating. Luckily, it was an utterly meaningless game for both teams, because it meant nothing to the playoff situation.
But don't worry. This will happen again, as the referee union continues to seize more power. Watch for it -- especially if you gamble.
MAHALO.
Dr. Hunter S. Thompson was born and raised in Louisville, Ky. His books include "Hell's Angels," "Fear and Loathing in Las Vegas," "Fear and Loathing: On the Campaign Trail '72," "The Great Shark Hunt," "The Curse of Lono," "Generation of Swine," "Songs of the Doomed," "Screwjack," "Better Than Sex," "The Proud Highway," "The Rum Diary," and "Fear and Loathing in America." His latest book, "Kingdom of Fear," has just been released. A regular contributor to various national and international publications, Thompson now lives in a fortified compound near Aspen, Colo. His column, "Hey, Rube," appears regularly on Page 2.
Hunter
S.
Thompson
HEY, RUBE