By Gregg Easterbrook
Page 2 columnist
Best news TMQ has heard in weeks: Federal judge Colleen Kollar-Kotelly is expected to rule soon in the marathon 11-year lawsuit against the Potomac Drainage Basin Indigenous Persons and their "R*dsk*ns" trademark.
To recap a running point, TMQ objects to both ends of the "Washington" R*dsk*ns name. The front end: This club practices in Virginia and performs in Maryland, lacking the decency to so much as maintain an office in Washington. The back end: R*dsk*ns is a slur. Fans don't mean to denigrate anyone, of course; fans view the name as mere tradition. A slur it is, nonetheless. What if the mere traditional name were the Washington Darkies?
As for the litigation, a 1946 law says businesses cannot trademark or otherwise register terms intended to disparage; litigants assert that since R*dsk*ns is disparaging, the team should lose protected commercial right to this word and related images. If the Persons lose such protection, the team could still call itself the R*dsk*ns and still sport that Heap Big Injun helmet logo -- it's just that then anyone could market products bearing the same look. This would deprive the Persons of an estimated $5 million annually in merchandising fees and, hence, lead within seconds to a new team name that is eligible for legal protection.
What to do once the team finally loses the lawsuit? TMQ thinks it would be fine for them to continue being the Redskins so long as they change their logo to a bowl of potatoes.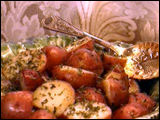 TMQ's simple solution: keep the nickname, change the logo to a bowl of potatoes!
Alternatively, the team could adopt a genuine native name. Cho nnee means "large people" in Apache -- the Washington Cho Nnee would be quite a cool name. In Navajo, dzeel means the strength that comes from courage -- the Washington Dzeel has a very nice ring. Replacing the disparaging R*dsk*ns name with a very cool native word would not only be a nice way for the franchise to say "sorry," but instantly place Dan Snyder's team at marketing's cutting edge. It could even still work in the team song:
Hail to the Dzeel,
Hail, victory!
Braves on the warpath,
Cut taxes in old DC!
Note that TMQ does not object to Chiefs or Braves as team names, since chief and brave are terms of respect. R*dsk*n is "offensive slang," according to the American Heritage Dictionary. The United States Patent and Trademark Office has already ruled that R*dsk*ns is offensive and the club should lose trademark protection; what's at issue now is the team's appeal of that ruling. Go, Judge Kollar-Kotelly! Right this wrong!
In other NFL news, with preseason injuries having taken down the two most interesting quarterbacks for the 2003 season, Michael Vick and Chad Pennington, there are calls for reducing the number of preseason games. TMQ thinks it won't happen; or if it does, it won't matter in injury terms.
Don't get me wrong, I dread the preseason. In haiku,
Vanilla tactics,
who-dat rookies. Yet they charge
for preseason games!
-- TMQ, 2003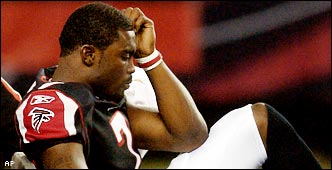 AP Photo
Despite injuries to stars like Mike Vick, don't expect the NFL to cut back on preseason games (or ticket prices).
Preseason NFL games are both meaningless and tedious -- quite a combination. The whole concept of presenting gentlemen about to be waived, and only letting them run half the playbook, would be ridiculous if it weren't that August heat allows the cheerleaders to wear their skimpiest outfits. No one would pay to see a preseason Shakespeare performance in which Claudius and Ophelia are performed by novice actors who will be waived the next day. No one would pay to see a preseason opera in which tenors deliberately hit false notes to confuse scouts from other operas. No one would pay to see a preseason ballet in which dancers disguise the true choreography by leaping into the air but refusing to come down.
But suppose preseason games were cut from four to two. That would only mean that a team's starters, who now play the first quarter of the first two games and the first half of the second two (total of six quarters) would instead play the first three quarters of two games (total of six quarters). Time exposed to injury would be about the same for the starters, while time for little-known players to develop would be dramatically cut.
TMQ sees the four-game preseason as a necessary evil. They just shouldn't charge fans to attend.
Now the TMQ NFC preview:
Arizona (caution: may contain football-like substance) Cardinals: The Cards have $14.6 million in salary-cap space, tops in the league. Why so much cap space? No one wants to play for the Arizona Cardinals. The team waved money at numerous up-and-coming gentlemen in the offseason, and all said "no thanks." The only quarterback they were able to sign was the vagabond Jeff Blake, who showed his true colors in the final game of 2002, joking and clowning around just seconds after throwing the late-game interception that knocked the Ravens out of the playoffs. Arizona is the last stop for a guy like that.
Would you want to play for a team with a 61-101 record over the last decade? That is perennially dead-last in home attendance? Average house last season, 40,910; NFL average, 65,755. (Big bonus about attending a game at Sun Devils Stadium: There's always an empty seat to put your stuff on.) To perform before a crowd, the Cardinals must go on the road, where last season they played in front of, on average, 29,387 more people than they did at their home games.
Would you want to play for a team that has appeared in four postseason games in the past half-century? That's a playoff game once every dozen years. Would you want to play for a team that last won a championship in 1947? Harry Truman was president the last time the Cardinals won a championship. Alaska and Hawaii were not states. The transistor radio had not been invented. Twinkies were in stores, though.
This year, the Arizona focus will be on the final bow of the great Emmitt Smith. Like Franco Harris with the Seahawks or Thurman Thomas with the Dolphins, Smith will play one empty year away from his true home -- earning a few extra bucks, marginally padding his stats, letting his true team know how mad he is that it pushed him out a season too soon. Whatever Emmitt does in the desert won't be about the Cardinals; it will be about sending an emissive back to Dallas. To top it all off, the Cardinals-Cowboys game this season is at Dallas, depriving the Cardinals of the only pairing that, since the move from St. Louis, has filled their house.
Last season, the Cardinals were outgained 6,020 yards to 4,563 yards, outscored 417 points to 262 points, gave up 335 first downs to 274 first downs ... no, I can't go on. Only pleasant thing about this franchise: Southwest babes in halter tops. If only some of them came to the stadium.
Cheerleader honesty: Check the opening page of the cheerleaders' section of the team website, where a high-aesthetic-appeal Southwestern babe seems to be saying, "You've got to be nuts to attend a Cardinals game."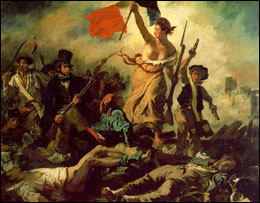 TMQ spent the offseason studying art history to use in his column.
Emmitt honesty: Smith got into trouble by telling Sports Illustrated that last year in Dallas he felt like "a diamond surrounded by trash." As to his new Arizona situation? Cubic zirconium surrounded by recycled paperboard.
Dear France, You Can Keep Your Politicians, But Marianne Is Welcome Anytime: Marianne, traditional symbol of French womanhood -- best-known as a topless warrior in Delacroix's mural Liberty Leading the People -- is now being posed for by Laetitia Casta, a lingerie model. Only in France could a lingerie model be a national patriotic symbol!
Casta was chosen by a vote of France's 35,000 mayors; the French population is 61 million, which means France has one mayor for every 1,750 people. Prior to the vote, many mayors pored over photos of the candidates sans shirts. Only in France could looking at bare-chested babes be a patriotic duty! Le Monde writer Debra Ollivier has said that the essence of Marianne is her exposed breasts -- "flush, freewheeling, insolently raised in protest or subdued in a state of heraldic order." TMQ never dated a woman with flush, freewheeling, insolent breasts. Apparently I missed something.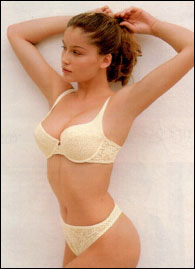 TMQ should have spent the offseason vacationing in France.
Laetitia Casta's personal website informs us that Casta has a black belt in judo, that her "breasts are made in Normandy, nourished with fresh cream and butter" and that "obviously, many assume she is stupid [but] unless we know her personally, we cannot let ourselves assess her IQ. Neither would I say that Laetitia is a hidden genius ... this is obviously not the case. Nevertheless, Miss Casta states: 'I make an effort to keep my mind active.'" Remember, this is what she posts about herself.
Check here for an article about the recent exhibit, at the French National Assembly building, of "Mariannes of Today," beautiful African émigrés photographed in Marianne regalia but not, sadly, bare-chested.
Atlanta Falcons: An injury, of course, can happen to anybody. But are we sure it's a total coincidence that Mike Vick skipped the Falcons' offseason training program, then got hurt pretty much as soon as he walked out on the field? Vick also stood up Atlanta owner Arthur Blank, not showing for a joint appearance they were supposed to make. Last season, everything about Vick was propitious: great performance; highlight-reel play after highlight-reel play; leading the Falcons to fifth overall in scoring despite mediocre teammates; an unthinkable road playoff victory at Green Bay, where no visitor had won in the postseason. Then Vick starts to get the idea that the rules don't apply to him. Oh ye mortals, trifle not with the football gods.
Last season, the Falcons were one of the few NFL teams to rush more than pass, running 52 percent of the time against a league average of 57 percent passing. That Atlanta mostly ran and yet scored well was both a testament to Vick's terror-inducing impact on defenses, and to TMQ's longstanding contention that the NFL should retreat from pass-wacky. Everyone assumes the Falcons will pass more this season when Vick returns, considering the arrival of Peerless Price. But Price, like many before him, might celebrate his mega-contract by taking the year off.
Atlanta's retread-staffed defense has improved under Wade Phillips, who stumbled in his two tries as a head coach but always does good work when he runs a defense. But the Falcons were schizophrenic: they were eighth overall in scoring defense with two shutouts recorded, yet they surrendered 30-plus points on five occasions. Both shutouts came against the inept Panthers, which leads TMQ to suspect that the team's good overall scoring defense stat was an artifact of playing in the same division as Carolina.
Carolina Panthers: No coach got more performance out of less talent last season than John Fox. With a train wreck on offense -- 31st overall, terrible blocking, no running back, average receivers, quarterbacks who couldn't make it as backups for most other teams -- Fox nevertheless coaxed the Panthers to a 7-9 finish. Most impressive, at the end of November the team had lost eight straight and been eliminated; it seemed time for yet another Carolina phone-in. Fox rallied the Panthers to win four of their last five. To get an eliminated team excited and playing well in December is an impressive coaching feat.
The key was defense; Carolina had the second-best in the league. Defense leading indicator: Carolina jumped from last in the league in sacks in 2001 to second-best. Top defense was impressive because demulcent offense meant the Panthers defense was constantly being summoned back to the field -- the Panthers averaged just 15 first downs per game. Carolina defensive performance was double-extra impressive -- double-extra is the kind of milkshake TMQ likes -- because three of the four season-ending wins came with Panthers star Julius Peppers on suspension.
Tuesday Morning Quarterback's conclusion: John Fox, him heap big good coach. But he still fields an assortment of career backups at quarterback -- Jake Delhomme, to whom the team has committed for the moment, has 86 career pass attempts -- and average talent at other positions.
Fun fact: "Delhomme" means "of the man" in French.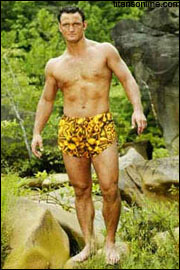 Female readers of TMQ: please write to your team so more male beefcake shots appear on official team web sites!
Warning -- Beefcake! Tuesday Morning Quarterback plans soon to present a full, philosophical defense of his cheer-babe cheesecake obsession: the short version is, You're supposed to look at the cheerleaders. For the moment, in response to many equal-time arguments from female readers -- regrettably, logical arguments -- there will be a countervailing increase in beefcake.
The Tennessee Titans are one of the few NFL squads to employ cheer-hunks as well as cheer-babes. Of equal importance to female and nontraditional male readers, the Titans publish photos of their cheer-hunks shirtless. Here's Michael, the TMQ NFL Cheer-Stud of the Week. Michael runs a Nashville pool maintenance firm, sells Infiniti cars and is married to a former Titans' cheerleader. (A female former cheerleader; the marriage did not take place in Canada.) From his bio: "Best part: I think it is my butt, but my wife thinks it is my legs." It must be the 21st century if wives sit around debating whether a male cheerleader's best feature is his butt or legs.
Chicago Bears: "This Bears fumble presented by Bank One!" Lots of teams have corporate affiliations -- the Cowboys once signed with Pepsi as a sponsor of Texas Stadium -- but the football gods winced when, in June, Chicago became the first NFL squad formally to attach a corporate name to its name, in the phrase "Bears football presented by Bank One." Things got so bad that the Bears had to issue a statement denying that they had sold their very name -- that is, they weren't going to be called the Bank One Bears. No, they're just "Bears football presented by Bank One." Or, in the coming season, "this Bears punt presented by Bank One" or "this Bears loss of six presented by Bank One."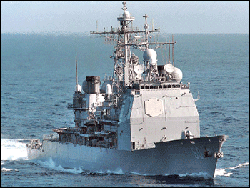 Only Refrigerator Perry and this ship are bigger than Ted Washington.
The Bears were a cover-your-eyes team in 2002, losing 12 of their final 14. True, the team was beset by injuries, and many of the losses were close. But these appear the only personal flotation devices for Bears fans to cling to as the ship sinks. (A few years ago, riding the Cape May-Lewes ferry across Delaware Bay, TMQ spied a large box labeled 50 ADULT LIFE PRESERVERS. The juvenile life preservers must not have hatched yet.)
Coming off a 4-12 season, all offseason news for the Bears was bad. Roosevelt Colvin left, and worse, Kordell Stewart arrived. Last week, the Bears traded Ticonderoga-class DT Ted Washington to the Patriots for an insignificant draft pick. Washington's injury last year is what started the Chicago slide, and his return might have improved fortunes. Why was the team so anxious to get rid of one of its best players? Washington was a favorite of Bears coach Dick Jauron; his unloading suggests team management doesn't listen to its own coach, which in turn suggests another cover-your-eyes season for 2003.
Fun team management fact: During negotiations with Stewart, Chicago promised him that it wouldn't use its No. 1 draft pick on a quarterback. The Bears then drafted quarterback Rex Grossman in the first round. But aha! The pick was obtained in a last-minute trade with the Jets. So we didn't use our first-round choice on a quarterback, we used somebody else's, Chicago management told Stewart. Talk about getting off on the right foot with a new player.
Check out the stats of the 9,600-ton Ticonderoga-class cruisers here.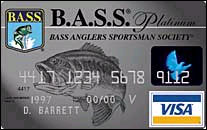 The Bears should have used their Bassmater credit card to purchase a better QB than Kordell Stewart.
Bank One fun fact: The bank offers hundreds of credit cards, including a Bassmaster card ("Enjoy impressive purchasing power while helping bass anglers across the nation" and a Grand Ole Opry card ("the only card that helps you earn points toward FREE Grand Ole Opry tickets."
Dallas Cowboys: Bill Parcells, tuna salad subs -- TMQ suspects you've heard enough on these subjects already.
So let's talk Dallas details, and they are grim. The team led the league in bad run blocking in 2002, with 16 percent of its rushing plays resulting in negative yards. (Emmitt Smith was, of course, slowing down, but still ran for 975 yards -- so get rid of him!) At 14.8 first downs per game, the team's ability to move the chains was worse than Carolina's. The Dallas defense plummeted from fourth-ranked in 2001 to 18th-ranked. Dallas quarterbacks combined for a rating of 69.1 -- which, if Quincy Carter and Chad Hutchinson were one person, would have represented the league's 29th-ranked quarterback. Dallas scored a lachrymose 13.6 points per game, five times failing to break double digits.
But now they've got Bill Parcells, tuna salad subs and are scheduled for two prime-time games owing to Parcells obsession. You might want to set aside those nights to read global-warming studies. TMQ fears that the 90 percent of Americans who can't or don't get DirecTV -- have I mentioned lately that the evil DirecTV monopoly over NFL Sunday Ticket should be investigated by the Federal Communications Commission? -- will be force-fed a lot of bad Dallas games on their tubes this year, owing to Parcells obsession.
Seemingly content with a third straight year out of contention, Dallas owner Jerry Jones brought in Parcells but no players; there wasn't a significant free-agent signing. But there was the weird trade for Terry Glenn, whom Parcells didn't want to draft when with the Pats. Glenn got run out of New England on a rail. Glenn got run out of Green Bay on a rail. Why will Dallas be any different? Last year, Glenn showed up at the Packers training camp declaring that he hoped to be "normal, basically," then went out and caught two touchdown passes on the season.
Maybe Glenn is the perfect running mate for Joey Galloway, who since coming to Dallas in exchange for two first-round draft picks has not recorded a 1,000-yard season. Galloway and Glenn are pretty much a matched set, both lottery-picky draft choices from Ohio State, both perennially disappointing. Now they are together; the results might not be pretty.
Jones continues to remind TMQ of vacuum-cleaner impresario Dave Oreck. A recent comparison test of vacuums rated Oreck's line dead-last, calling them "95-percent promotion and 5-percent product." Another way in which Dave Oreck and Jerry Jones are alike! What came in first in the comparison test? The Dyson Cyclone, developed from 5,000 prototypes, the vacuum of the future here today. Apparently nothing sucks harder. I got to the end of that sentence without even attempting a Jennifer Lopez joke.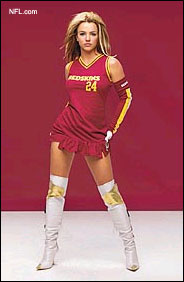 TMQ is already nominating Champ Bailey for the 2004 Pro Bowl.
Duce Staley Is Kicking Himself, Thinking, "Why Didn't I Pay Her $135,000 to Wear a Green No. 22?" Champ Bailey of the Persons, just offered a megabucks contract extension, should give Britney Spears a commission on the bonus.
In television ads for the upcoming Persons-Jersey/B NFL season opener, she wears a (tight and abbreviated, of course) version of Bailey's No. 24 jersey. The ads began to air the week Bailey entered negotiations on his new deal. Britney letting Bailey's number, at least, touch her key marketing assets started people thinking of Bailey as a star. TMQ isn't convinced -- I'm old-school and feel that, while Champ is a good corner, first you have to do something, then you can become a star. (Career stats: one touchdown.) But Britney's opinion might be all that matters. Just free associating here, any ties between their agents?
Detroit Lions "Since Matt Millen's arrival in Detroit, he has re-structured the organization to have a positive impact on the team's strive to claim a Super Bowl crown." So declares the official Lions' website of the team's not-just-president, not-just-CEO, but "president and CEO." This brings to TMQ's mind the scene in the novel "1984" in which Winston Smith is ordered to write Big Brother's announcement that the chocorat -- chocolate ration -- has been increased from 30 grams per week to 25 grams per week. That's right, increased from 30 to 25. In the two years before Millen took the Detroit helm, the Lions were 17-15; in the two years since, 5-27. Millen has "re-structured the organization to have a positive impact," and victories have increased from 17 to 5!
When Millen took over, the Lions had been to the playoffs six of the previous 10 years, and missed the postseason only when an opponent hit an improbable 54-yard field goal on the final snap of the final regular-season game. Inheriting an almost-playoff club, Millen declared that he would clean house. He did. The house was completely cleaned of anyone remotely capable of putting a team into the postseason.
How does Millen keep his job? He works for the Ford family, during whose 40-year reign over the Lions, the team has never won a championship. In 40 years, the Ford family has celebrated a grand total of one postseason victory. Lions failure is the norm to the Ford family, so Millen's track record looks normal.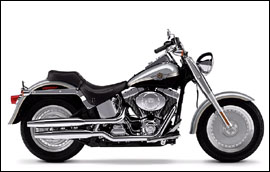 Did Steve Mariucci take the Harley or the Ford Focus when he signed up with the Lions?
Lions' norm: When Marty Mornihnweg arrived in 2001, Bill Ford held a welcoming ceremony in which he presented the coach with a Harley Davidson. Ford's company makes cars, not motorcycles, or didn't Bill Ford know that? Harleys are a product of Wisconsin, not Michigan, and Wisconsin is home to the Lions' ultra-rival Packers. Or didn't Bill Ford know that?
(Harleys were manufactured in Milwaukee from the founding of the company 'til 1972; today the engines are built in Milwaukee and the frames in York, Pa. Check here for the event schedule for this week's 100th anniversary of the Harley Davidson, being held in Milwaukee.)
Now Steve Mariucci takes over, and brings his lifetime 60-43 coaching record to the task. He'll need it. As ESPN.com's Len Pasquarelli has pointed out, the last 10 masters of the Lions, once dismissed, have never worked as NFL head coaches again -- Gary Moeller, Bobby Ross, Wayne Fontes, Daryl Rogers, Monte Clark, Tommy Hudspeth, Rock Forzano, Don McCafferty, Joe Schmidt, Harry Gilmer. What an honor roll! Mornhinweg may make it 11 straight.
As for the Lions players, expect the team to have 53 of them this season.
Fun fact: At 67-71, Wayne Fontes was both the winning-est and losing-est head coach in Lions history.
Imagine When It's Only 800: The Detroit Free Press has begun running a countdown box to the 2006 Super Bowl, which the city will host. Current: 893 days left.
Green Bay Packers: TMQ loves Brett Favre. This guy could wake up from a knee operation and fire a touchdown pass before yanking out the IV line. It's going to be a sad day when he cuts the tape off his ankles for the final time. And it's wonderful that Favre has played his entire (meaningful) career in the same place, honoring sports lore and appeasing the football gods, never demanding a trade to a more glamorous media market.
But even as someone who loves Favre, TMQ thinks his Hamlet act on retirement has worn thin. Favre keeps planting, and then denying, rumors that he is about to hang it up. He calls sportswriters saying he might quit, causing them to write stories about how everyone wants him to stay; then he calls more sportswriters denying that he will quit, causing them to write stories repeating how everyone wants him to stay. Maybe Favre needs to join a publicity-addiction recovery group. The retire/unretire stuff got pretty old with Frank Sinatra and Michael Jordan; it's getting old with Favre.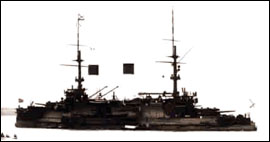 The Packers look strong on paper ... but so did the Russian ship Suvorov.
Last year on Christmas morning, the Packers looked like the team to beat in the NFC with a 12-3 record, at least one home playoff game, inside track for home-field advantage throughout and the sparkling knowledge that the franchise had never lost a postseason contest at home. Less than two weeks later, the Packers were rolling on their sides in flames like the Russian battleship Suvorov at the battle of Tsuhima Strait. Green Bay got clobbered in its final regular-season game and then clobbered at Lambeau for its first-ever home-field playoff loss, honking these two appearances by a combined 69-24. Ay caramba.
This season, the Packers look strong again, plus the team has all but one starter under contract through 2004, an auspicious sign in the free-agency age. But TMQ thinks the Packers' year will come down to whether the Pack and the city of Green Bay decide to sell naming rights to Lambeau Field, currently in dispute.
Sell this storied name? Send it down the memory hole along with Mile High and Three Rivers? A thousand times no! TMQ feels that if the storied name Lambeau Field remains, the football gods will reward the Packers with a great season. If the vote is for lucre and the venue renamed something like the Kraft Cheez-Whiz Field at Lambeau, the football gods will wax wroth; there will be rending of garments and gnashing of teeth in Green Bay as the Packers suffer. Ominous sign: polls show that 53 percent of Green Bay residents want to sell the name.
Fun fact: What did the Falcons receive from Green Bay when they made the canny decision to trade Brett Favre? A draft pick used to select the legendary Tony Smith, a running back who gained 329 yards for Atlanta before being waived OOF -- out of football.
Warning -- Serious Item! Judge Roy Moore, the publicity-seeker who put the 2.5-ton Ten Commandments in the Alabama state courthouse, declared Monday that he could disobey the direct order of a federal judge because "judges do not make laws, they interpret them." Since, Moore continued, an interpretation can be wrong, therefore he may defy a judicial order. So presumably Judge Moore also thinks that if he sentences a man to prison, the man can declare that the interpretation might be wrong and walk free? It's exactly the same logic.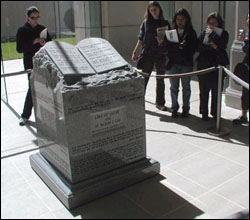 Thou shalt worship Bear Bryant ...
Moore further said that the First Amendment precept, "Congress shall make no law respecting the establishment of religion," does not apply to him because "I am not Congress." Drag this incompetent lunatic out of the court quickly, please. Anyone with entry-level knowledge of Constitutional law knows that the 14th Amendment, ratified in 1868, was intended to extend the Bill of Rights to state governments; that a 1937 Supreme Court decision specifically declared that the First Amendment binds state officials like Judge Moore.
As a church-going Christian -- TMQ was in this church on Sunday -- I find it deeply embarrassing when Christianity is associated, in the public eye, with hucksters like Moore. I find it embarrassing, too, when Christians supporting Moore's hunk of stone suggest that a big object in a public square is what matters, rather than the power of God's message itself. Anyone who needs to look at a big object in order to believe, doesn't really believe.
And consider that in the same state, Alabama, where the Judge Moore sideshow is getting nonstop media attention, Republican Gov. Bob Riley is risking his political neck to campaign for tax-law changes that would increase taxes on the well-off while exempting everyone who makes less than $17,000 annually. Gov. Riley phrases the campaign in religious terms, saying, "According to our Christian ethics, we're supposed to love God, love each other and help take care of the poor." How come this pure and admirable Christian sentiment gets no media attention while the egomaniac with the hunk of stone in the same state's courthouse enjoys round-the-clock coverage?
Minnesota Vikings: Ever so quietly, the Vikes were the league's top-rushing team in 2002. While attention focused on turnovers by Daunte Culpepper and the Randy Moss ego-a-rama -- "If they put the leadership role on me my rookie year, the Vikings would have a ring by now" Moss modestly told ESPN.com's John Clayton last year -- Minnesota runners were picking up 2,507 yards. Sound running, and the sound blocking that makes sound running possible, is what gives the Vikings hope to rebound in 2003.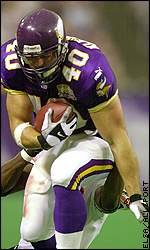 Elsa/Allsport
Tight end Jim Kleinsasser is key to Minnesota's underrated running game.
In this regard, it's revealing that many sports pundits ridiculed Minnesota for making tight end Jim Kleinsasser, who's average at catching the ball, its "franchise" player. When absolutely forced to mention blocking, sportswriters and various touts tend to hype left tackles but not understand that very few running backs have ever been good at blocking for themselves. For a running game to work, everybody has to block well -- all the linemen and all the receivers. Right now Kleinsasser is the best-blocking tight end in the league. It doesn't matter if he's average at catching the ball.
Some believe Minnesota's apparent screw-up in this year's draft -- passing on its seventh overall pick, not writing anything on the card 'til the ninth overall -- was deliberate. The Vikings took the player they would have taken anyway, but by dropping down two notches, saved about $1 million in bonus money under the NFL's slotting system for draft choices. Will such deliberate "mistakes" become common? After the first few picks, each rung down the first-round ladder means about $500,000 less in bonus -- which, in turn, represents enough cap space to add a veteran player.
Two years ago, TMQ wrote about how the fifth pick in the 2001 draft was actually more attractive than the second pick -- prospect quality was expected to be the same, but bonuses would be much lower. In recent years, many teams attempting to trade down in the first round have found no takers: Holders of lower picks are content to sit tight and spend less. If the smaller bonus translates into cap space for more veterans, this might be smart management.
The logic is especially strong at the last pick in the first round. Last April, Oakland would have been better off passing on that pick and using the first selection of the second round, rather than the last pick of the first, to take Tyler Brayton: Being a No. 2 rather than a No. 1 would have meant he'd cost millions less over the length of a contract. Tuesday Morning Quarterback looks forward to that moment in the 2004 draft when several teams in a row are all trying to pass, the commissioner orders that someone choose, and all refuse.
And We Promise Never to Sell It, Unless the Price Is Right: In Bethesda, Md., Official Town of TMQ, my favorite rapid-food place is a Cal-Mex joint called California Tortilla. California Tortilla asks customers for their email and promises, "We will not give your email address to anyone." Well of course they won't give it away.
New Orleans Boy Scouts: Twice the Saints faced eventual Super Bowl champion City of Tampa in 2002 and twice prevailed. But the rest of the year was cover-your-eyes. Another late-season collapse: from 7-2, New Orleans lost five of its final seven to miss the postseason. Worst, on the final regular-season Sunday, the Boy Scouts honked at home to the Carolina Panthers, who'd been eliminated since Thanksgiving. That day the goin'-nowhere Panthers played with more fire than the very highly favored home Saints team. Over the past two seasons, the Saints have started a combined 14-7 and finished a combined 2-9.
New Orleans' struggles are more proof of one of TMQ's immutable laws of football, Either a Coach or a Manager Be. Jim Haslett has veto power over football decisions, making him effectively the general manager - and you can be a headset-wearing coach, or a suit-wearing GM, but not both. Show me somebody trying to do both jobs, and I'll show you a franchise making personnel mistakes.
After the 2001 season, Haslett ripped up the squad, unloading players left and right; after the 2002 season, Haslett ripped up the squad, unloading players left and right. Going into the 2003 season, a mere three starters remain from the 22 who, in January 2001, recorded the sole postseason victory in the history of the franchise. They had to go -- they had violated team policy by winning! The constant roster turmoil means no continuity, and no ability to win down the stretch when we are separating the men from the individuals who merely have XY chromosome pairs.
Jersey/A: This April, the Giants became the first NFL team to use its No. 1 draft choice on a long snapper. Well -- not really, but they might have after the way last season ended. Jersey/A fans are right to still be steaming over the blown no-call that allowed their playoff game in San Francisco to end, rather than letting the Giants re-kick for the win. But bear in mind, Jersey/A kicking was so bollixed last season, the team might merely have missed the re-kick, too.
Giants fanfaronade came back to haunt in the playoff fiasco at San Francisco, where the team blew a 24-point second-half lead. All-me-first Michael Strahan was invisible in the second half; all-tirade Jeremy Shockey dropped a touchdown pass that would have sealed it for Jersey/A; a season's worth of strutting and self-praise showed in the team's inability to stay composed when the Niners' comeback charge began. For years, the interaction between the New York media and the Giants' desire to admire themselves in the mirror has been holding the squad back: consider that Ron Dayne, a benchwarmer, in New York gets more air time than star performers in other cities. This year, will Jersey/A gentlemen please just shut up and play?
Philadelphia Eagles: "The Eagles' biggest problem was no depth behind RB Duce Staley; he went down hurt, the offense became McNabb 24/7. Yet the Eagles acquired no RB help and go into the season once again gambling that Staley won't get hurt. Philadelphia finished free agency with a near league-high in unspent salary cap space -- which could have been used for the extra players that might put the team into the Super Bowl, but will instead be, what, donated to charity?"
That's what TMQ wrote about the Eagles in his 2002 preseason preview; I'm just quoting. That's also what TMQ wrote about the Eagles in his 2001 preseason preview; my 2002 preview merely quoted my 2001 preview.
For two summers running, I've simply clipped-and-pasted the same comment, because nothing at Philadelphia is changed. By mid-August, the Eagles had $12 million in unspent cap space, second-most in the league, trailing only the woeful Arizona Cardinals. The Cards have cap space because no one wants to play for them; players long to sign with Philadelphia, because the Eagles are a force. Yet they're holding themselves back from the Super Bowl by not spending their cap space and, weirdly, year after year showing complacency on the tailback problem.
If a franchise goal is to remain in contention season upon season, hoarding cap space might make sense. But Donovan McNabb is in his prime right now; why not spend every dime and try for the franchise's first-ever Super Bowl win? Two years running, the Eagles have been doorlined at the NFC Championship Game; two years running, they've made no major move in the offseason. Time and tide wait for no man.
Tip to Eagles opponents: Philadelphia onside kicked in unexpected situations in each of its last two opening-day games.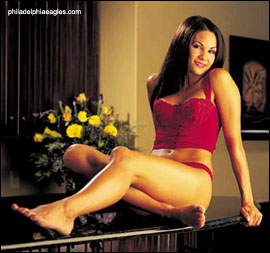 No wonder Duce Staley ended his holdout.
Eagles Cheer-Babe Lingerie Update: Once again this season, the Eagles' cheerleaders posed for a lingerie calendar. Once again it's so hot the calendar is warm to the touch. Once again, this column will show every lingerie pose that decorum will allow. But for all the shameless flak-ing of the last lingerie calendar TMQ engaged in last year, did the Eagles cheer-babes invite me to the recent "VIP reception and lingerie fashion show" at which they modeled their new numbers? No sir. (Please don't tell me Page 2's Jason Whitlock got this invite too, after being the one invited to the Playboy mansion Super Bowl party. The whole business puts TMQ in such a bad mood I hardly even want to provide the link you can use to buy the calendar.)
In fact, if the Eagles cheerleaders won't invite me to their little party, I'm definitely not going to provide the link you can use to buy the calendar. I will, however, offer this year's first sample, of Eagles cheer-babe Natalie, a college student majoring in criminal justice. Natalie, cuff me! Her image alone is reason enough to put down $12.99 for the calendar, but I am not going to provide the link you can use to buy it.
Meanwhile a quick browse of the new Eagles' lingerie edition reveals, as it were, an item of interest. Last season, TMQ often linked to but never actually showed the smoldering photo of cheer-babe and Penn State engineering major Kelly T., explaining that even libertine Page 2 could not display Kelly's pictorial "for thong-based reasons." This year Kelly T. is back in a pose even warmer to the touch. Once again, we can link to Kelly but not show her image and once again -- for thong-based reasons! Kelly, it's good to see that you stick to what you believe in. But because my feelings were hurt, I will not provide the link to buy the calendar.
St. Louis Mouflons: A Super Bowl win, another Super Bowl appearance and then last season the Rams opened by losing five straight and rebounded by winning five straight. It's always a party in St. Louis! What will the Mouflons do in 2003 to top that?
Last season, St. Louis threw on 66 percent of its snaps, most of any NFL team. But the bottom line, 20 points per game - the league average was 22 -- shows that heave-ho alone does not guarantee a flashing scoreboard. As the Rams wheezed out down the stretch, they failed to score more than 10 points in three of their final five games. A 4,154-yard passing offense doesn't amount to much if passing is all a team can do.
St. Louis is on a down cycle regarding talent, partly because Mike Martz insists on choosing high draft picks. A corollary of TMQ's law, Either a Coach or a Manager Be, is: Neither a Scout Nor a Negotiator Coaches Be. Two years ago Martz insisted on using No. 1 picks on DTs Ryan Pickett and Damione Lewis, when there were higher-rated gentlemen available. Martz said he had a feeling about this pair: bookies rub their hands happily when marks "have a feeling" about a bet. Neither Pickett nor Lewis have become steady starters, and in this year's draft Martz insisted on spending a No. 1 on Jimmy Kennedy, though there were higher-rated gentlemen available.
When Kennedy dragged himself into camp, Rams DL coach Bill Kollar gave him this endorsement: "He's definitely not in great condition (but) he is not as bad as Ryan Pickett was when he was a rookie."
So he's ugly, but not as ugly as my last date!
Fun fact: the St. Louis colors are "Rams millennium blue and Rams century gold."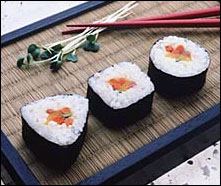 Truth be told: macho ESPN types were just trying to impress TMQ with their choice of restaurant.
Wacky Food of the Week: Recently TMQ his ownself dined with a pod of ESPN.com honchos in New York, greatest city in the world. The honchos chose the restaurant. I expected steak; or maybe ultra-trendy; or maybe very-large-portion Italian; or maybe, considering the oeuvre of Tuesday Morning Quarterback, they'd take me to one of those elegant, high-end stripper establishments for which Manhattan is renowned. No: the choice was a sushi restaurant, Mi, run by "noted Asian/Fusion chef Gary Robins." Actually the food was fabulous, as was the company. But now the shocking truth is revealed: macho ESPN.com types secretly eat sushi.
Next week: TMQ explains "elegant, high-end strippers."
San Francisco Squared Sevens: San Francisco reaches the second round of the playoffs and then fires its coach. He'd only gone 60-43 and taken the team to the playoffs four of six years -- get rid of the bum! The new coach, Dennis Erickson, had a losing record in his sole pro stint. So you cashier a proven winner for a guy who got run out of town on a rail at his last job. What are these, the San Francisco Bengals?
In management terms, as of 2003, yes. This offseason, Denise DeBartolo York completed buying her brother Eddie out of the franchise they jointly inherited from their father, who died in 1994. The wing of the DeBartolo family that oversaw five Super Bowl titles is now gone from Niners management. In its place is Denise, who fired a winning coach, hired a losing coach and appointed her husband John to the team's top executive position.
Of course, it might be countered that Niners coach George Seifert went 108-35, best NFL winning percentage ever, won a Super Bowl, and was eased out by Eddie. In its last two coaching transactions, San Francisco has ditched gentlemen with a combined 168-78 mark, numerous playoff appearances and a garish diamond-encrusted ring. But in this instance, what was the real reason Mariucci was fired? He was hired by Eddie, and Denise wants all trace of her brother's existence erased from the franchise. (Eddie has had his troubles with the law, but in 2002 got on the right side of history by testifying against corrupt former Louisiana governor Edwin Edwards, who was convicted.) Ye Niners faithful, spoiled by endless winning seasons -- you might be about to become un-spoiled.
The San Francisco defense, carpet-bombed with high draft choices in recent years, remains unimpressive. Last season, the Niners allowed a league-worst 46.9 percent third-down conversion rate. It doesn't matter how good your offense is if your defense can't get anyone off the field.
Seattle Blue Men Group: Guru Genius Mike Holmgren is now 31-34 with the Hawks, slightly worse than the record in the same place of Dennis Erickson. Erickson's mark was considered horrifying, and he was jettisoned; the Guru Genius is viewed as untouchable. What does Holmgren have on Hawks owner and mega-billionaire Paul Allen?
Like Andy Reid in Philadelphia, Holmgren's actual title -- something he negotiated when taking the Seattle job -- is "executive vice president of football operations/head coach." As in,
HOLMGREN: Hey you, No. 49! Show a little hustle.

NO. 49: Yes sir, executive vice president of football operations/head coach, sir.
In Holmgren's defense, it can be said that he saw something in Matt Hasselbeck. In the second half of 2002, Hasselbeck was seriously hot: 449 passing yards in one game, 427 in another. Blue Men faithful hope this carries over to 2003. It might, but bear in mind that Hasselbeck's hot finish came against some of the league's worst pass defenses -- San Diego, Kansas City, San Francisco.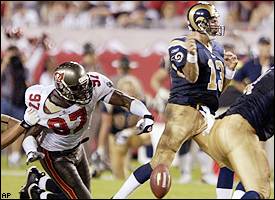 A disappointment with the Cardinals, Simeon Rice terrorized opposing QBs last season with the Bucs.
City of Tampa Buccaneers: There isn't any doubt about who deserved last year's championship. Tampa capped a solid season by pasting San Francisco at home, pasting Philadelphia on the road and pasting Oakland in the Super Bowl, at one point leading 34-3. The last three champs (Baltimore, New England and Tampa) have featured power defense that peaked in the season's second half, getting better each game while saving the best for last. Neither of the first two could sustain its momentum the following season, though. Will Tampa?
Draftnik purists would say Tampa can't be a champ: recently it has invested five No. 1 picks and three No. 2s in just three gentlemen, Jon "I Was A Teenaged Coach" Gruden, Keyshawn Johnson and Kenyatta Walker. Yet the team has combined drafted stars (Derrick Brooks, Warren Sapp) with who-dats (Greg Spires) and retreads (Brad Johnson, Simeon Rice) to sound effect. Arizona spent a lottery pick on Rice and let him go as a disappointment; for City of Tampa of he has been stellar. Will the next Bucs retread be Thomas Jones? Arizona spent a lottery pick on Jones and let him go as a disappointment. Now he's in Tampa.
Financial note: Bucs defensive coordinator Monte Kiffin got a big raise. At $1.5 million for 2003, he will earn more than several head coaches elsewhere. Average salaries of coordinators have skyrocketed in recent years from $200,000 to $400,000 as teams seek the latest magic formula for victory. What next, bidding wars for cheerleaders? TMQ volunteers to scout.
This Week's Anti-Canada Item: TMQ recently bought a new Honda Accord, built in Marysville, Ohio. It's a dark red five-speed with leather, making it a sex machine by the standards of Hondas. (Of course, this is like saying TMQ is a sex machine by the standards of Page 2 columnists.) Near the dash is a coin bin. Inside the bin a bright stamp announces, NOT AN ASHTRAY. Honda since the early 1990s has boasted of being the first no-smoking car company.
As a car, the Accord seems near-perfect, with one maddening exception: no heated side mirrors. Can't get 'em even if you're willing to pay extra, though in addition to being convenient, heated side mirrors are a safety item when driving in cold or rain. Extra maddeningly, while red-blooded Americans cannot get heated side mirrors on Hondas for love nor money, this feature is standard on Accords sold in Canada. Still more proof of the Canadian conspiracy!
Potomac Drainage Basin Indigenous Persons: And so begins Year Five in the evil reign of Lord Voldemort (Dan Synder). Entering the fifth year of his evil reign, Voldemort is on his fourth head coach, fifth defensive coordinator, fourth offensive coordinator, sixth starting quarterback and 11th placekicker. The Persons are 23-26 under Voldemort. They had a winning record in the comparable period before Snyder arrived and put his canny management principles into effect.
Take for example John Hall, Snyder kicker No. 11 in five years. All his predecessors were ordered waived by Snyder after missing a kick. In 2000 alone, Snyder went through five placekickers, ending the season by bringing back the first one he'd cut. That same year, the Persons lost two games on last-minute field-goal honks, and just missed the playoffs: had Lord Voldemort simply kept his nose out of football operations, the Persons might have been in the postseason. This year Snyder personally picked Hall as his new guy, perhaps unaware that Hall had four placement kicks blocked in 2002. How long 'til Hall clangs one off a lineman's backside and feels Voldemort's wrath?
The Persons spent freely in the offseason, bringing in more free agents than any other team. But did they spend wisely? Snyder made most of the personnel selections, and seemed to have a knack for offers to gentlemen their original teams did not fight to keep.
For his part Dobby the Elf (Steve Spurrier) prepared for his 2002 inaugural season the way he prepared for a year at Florida -- by fussing with the skill players and simply assuming the upfront beef would be overpowering. At football factory schools there is always an unlimited crew of 300-pound-plus genetic mutants to do the blocking; Dobby seemed to assume it would be that way in the NFL too, and last year obsessed over receivers and other flashy skinny types while ignoring the Persons' emergency paucity of guards. The 2002 offense was awful in part owing to awful interior blocking.
This offseason, Spurrier dealt with the guard problem but seemed to make the same foolish assumption about unlimited large mutants on defense, waiving both the Persons' starting defensive tackles as if this wouldn't cause a huge hole. It's not even clear what waiving both starting DTs accomplished. Freeing up funds to sign DE Regan Upshaw? Snyder cannily gave him a $2 million bonus, when the Raiders didn't even want Upshaw back. That bonus works out to $1 million per sack Upshaw recorded in 2002.
Rare redeeming quality of Persons: Snyder's is the only NFL team with African Americans at both the offensive and defensive coordinator posts.
Kiss of death: Lord Voldemort said on the 2001 day he hired Spurrier, "I'm fully committed to him, no matter what. He is the head coach for five years at a minimum. I'm going to stand by him through hard times. I will stand by Coach Spurrier for however long it takes."
Next Week: Still America's only all-haiku NFL season forecast.
Gregg Easterbrook is a senior editor of New Republic, a contributing editor of The Atlantic Monthly and a visiting fellow at the Brookings Institution. He is believed to be the first Brookings scholar ever to write a pro football column. You can buy his book, "The Here and Now" here ... and now.