By Gregg Easterbrook
Page 2 columnist
The hottest four minutes of football this season was on national TV for anyone to see -- not that anyone did, all right-thinking people having switched off Monday Night Football last night when it was Tampa 35, Indianapolis 14 with four minutes remaining. Heidi was still watching! Special Colts' comeback analysis below.
But though the best moment was out there for all to see, NFL Week 5 otherwise was an all-time low for bad network choices. Two marquee games highlighted the Sunday card: undefeated Seahawks at Green Bay, and undefeated Broncos at undefeated Chiefs.
So New York City, our nation's largest metropolis, the greatest city in the world, must have seen these monster games? New York City saw neither.
Washington, D.C., our nation's capital, must have seen these monster games? Washington saw neither.
Los Angeles, our nation's second-largest city, must have seen these monster games? Los Angeles saw Hawks-Packers, but not Broncos-Chiefs.
Chicago, city of Big Shoulders, third-largest city in the nation, must have seen these monster games? Chicago saw neither.
Houston, fourth-largest city in the nation, and Dallas, ninth-largest city in the nation, must have seen these monster games? Houston and Dallas saw neither.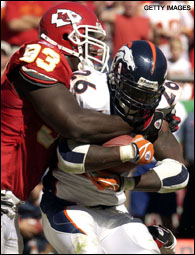 Let's see: two undefeated teams or ... the Jets!
Fast-growing Phoenix, seventh-largest city, must have seen these monster games? Phoenix saw neither.
While Fox showed about half the country the Blue Men Group at Packers, much of the rest of the nation was forced to endure the woofer Arizona-at-Dallas pairing (combined record 3-4 before Sunday). Washington, DC, was among the victims of Arizona at Dallas, while Baltimore was also hit, reader Marc Nelson Jr. writes.
The Southwest, reader Zach of Scottsdale writes, saw Arizona vs. Dallas, San Diego vs. Jax and Detroit vs. San Francisco -- teams with a combined record of 4-18 going into Sunday.
CBS showed much of the country the Dolphins-at-Jersey/A game, not a bad pairing (combined record 4-2) but one that paled in comparison to Broncos at Chiefs (combined record 8-0) and paled further when considering that Kansas City is so far the season's most entertaining team. CBS even put the Dolphins-Giants game in HDTV and sent its number-one announcing team, Greg Gumble and Phil Simms, to New Jersey rather than to Arrowhead. That is to say, CBS passed on a battle of undefeateds in order to show a lesser pairing.
This season, the Washington area, where TMQ lurks, has witnessed every tedious snap of every tedious Cowboys game -- and Washington hates Dallas! -- plus every tedious snap of every tedious game of the winless Jets, while still getting no glimpse of the Seahawks or Panthers (combined record now 7-1) and just one look each at the Chiefs and Vikings (combined record 10-0). Other major cities have been similarly afflicted with bad pairing after bad pairing, while monster games go unseen.
It continues to amaze Tuesday Morning Quarterback how the NFL spends billions of dollars to field a high-quality product, then prevents viewers from actually seeing the games. This doesn't even make economic sense: Surely the propensity for showing woofer games when great games are available drives down ratings, and hence drives down advertising revenue.
And, as Tuesday Morning Quarterback may possibly have mentioned, the solution to the problem of local affiliates airing woofer games -- NFL Sunday Ticket, which allows viewers to pay $209 per season to watch any contest -- continues to be available strictly on a monopoly basis to subscribers of DirecTV, the satellite service. Only about 10 percent of American households subscribe to DirecTV; many millions of American households cannot receive the DirecTV signal for technical reasons, regardless of willingness to pay. (TMQ keeps a running count: Of those people I personally know who have tried to subscribe to DirecTV, three have been able to get the signal and eight found it impossible to sign up, including yours truly.) Bad pairings air on free TV; the best games are often shown only via a monopoly service that 90 percent of Americans can't or don't get.
The Sunday Ticket part seems like total lunacy until you take into account that DirecTV is in the process of being sold to Rupert Murdoch, who thrives on establishing media cartels. Murdoch is paying the league about $400 million a year to maintain this particular monopoly. So the NFL gets many dineros, and Murdoch adds a monopoly to his portfolio. But with all the talk of Congress being opposed to media consolidation, TMQ continues to wonder why Congress doesn't investigate the DirecTV monopoly over Sunday Ticket. The primary effect of the NFL's deal with the DirecTV devil is, after all, to shaft American taxpayers whose tax monies make NFL stadiums and profits possible.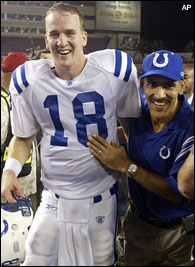 "Peyton, who says we can't win a big one!"
Now, because of the Colts' comeback, there is another battle of the undefeateds this weekend -- Panthers at Indianapolis. Please, please tell me the local affiliates won't screw up yet again and not show this monster collision. Only one other battle of undefeateds is possible in the 2003 season: The Chiefs meet the Vikings on the Sunday before Christmas, but odds are both will not be 15-0 at kickoff. (Actually the Colts or Chiefs might meet the Panthers or Vikings in the Super Bowl and both might be 18-0; but if you think that can happen, you think the Cubs and Red Sox could meet in the World Series!) Undefeated Panthers at undefeated Colts. Affiliates, don't screw up again; show this game.
In other football news, despite their struggles this year -- a combined record of 1-9 -- Dan Reeves and Marty Schottenheimer are the league's winningest active coaches, with a total of 365 career victories. They have also been fired a combined five times, and may both be shown the door at year's end. It's the coaches who have never been fired that TMQ worries about.
Special Lucky Charms Comeback Analysis: Key point: The Bucs did not switch to a prevent defense Monday night, as sports nuts have been assuming this morning. During the final, fateful four minutes of regulation, the defending champs had their corners play soft. Otherwise, it was conventional defense, including two blitzes.
Maybe Tampa should have switched to the prevent, because on the comeback's killer snap -- Peyton Manning to Marvin Harrison for 52 yards to the Tampa 6 with 57 seconds left, setting up the tying touchdown -- Harrison was able to get behind the Tampa secondary. There's a minute left. The Colts are on their side of the field. They have no time outs. Where, oh where, oh where might the pass go? Maybe toward the end zone!
Yet Harrison blew by corner Tim Wansley, who made no attempt to cover him deep. The play didn't involve complex action, just a standard "up" -- Harrison ran a straight line toward the Tampa goal. Wansley, inexplicably, was busy making the high-school mistake of "looking into the backfield," watching Manning instead of watching his man. The Tampa safety on that side, Jermaine Phillips, paid no attention whatsoever to Harrison as he roared deep. Harrison only had an all-time-record 143 receptions last season; why would you think the Colts might throw to him? And Phillips ignored Harrison going deep, despite the fact that Wansley, the corner on that side, was a sub for an injured starter. Harrison was a good 10 yards past Phillips before this gentlemen started chasing him.
How is it physically possible, in a must-go-deep situation, to get behind an NFL zone defense? Here's how: if the corner and the safety both ignore the other team's best receiver. Ye gods.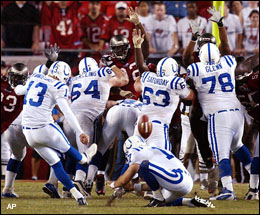 Wait, Vanderjagt's jersey isn't properly tucked in! Where's the flag?!?!
Also key to the comeback: Indianapolis propitiated the football gods by running when Tampa expected passes. The Colts ran on fourth-and-one with 3:43 left, trailing by 21, and got a touchdown. Poised at the Tampa 6 with 57 seconds remaining and no time outs, the Colts ran on consecutive snaps and got a touchdown. The football gods smile on those who keep their heads and run while all others around them are losing their heads and going pass-wacky.
The Bucs, for example! Getting the kickoff to start overtime, Tampa had its chance to take back the momentum of the game by pounding straight at the surely-tired visitors. Instead, Tampa coaches called passes on seven of the Bucs' nine snaps. The defending champs punted and never saw the ball again.
TMQ agrees that the leaping call against City of Tampa, giving the Colts another field-goal try after a miss in overtime, was ticky-tacky at best. The boys should decide the outcome, not the officials. It was well after midnight, and you could tell the officials just wanted to go home. Handing Indianapolis another free shot, in hopes of calling it a night, made the zebras look bad.
But, Tampa faithful, get serious. You've got a 21-point lead with less than four minutes left, in your house, and the league's top defense. If you can't hold that lead, do not coming cryin' about no refs.
And bear in mind the two personal fouls committed by Tampa players in the final three minutes of regulation. Offensive tackle Kenyatta Walker childishly went after a Colt after the whistle; defensive tackle Warren Sapp carelessly roughed Manning after a pass was away. Both these penalties stopped the clock, preserving precious seconds for the Colts' comeback; and both had huge impacts on field position, one forcing a Tampa punt, the other moving the Colts out of a hole in their own territory when it looked like they were beaten.
The Bucs, especially Sapp, have done a lot of dancing, taunting and pointing at themselves since the start of the season. Last night, the football gods exacted vengeance. If you commit stupid personal fouls with the game on the line, do not coming cryin' about no refs.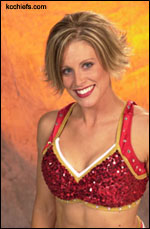 And you thought Dante Hall was the best-looking thing on the Chiefs.
Cheerleader of the Week: TMQ always approves when an NFL cheer-squad adopts the skimpy-outfit look, and the latest to do so are the cheerleaders of the Kansas City Chiefs -- whose skimpy-outfit appearance Sunday in the battle of the undefeateds went unseen by most of the country, exactly as the Chiefs themselves were unseen.
This week's TMQ ESPN Cheerleader of the Week is Kim of Kansas City, a college student majoring in criminal justice. Kim, cuff me! Kim plays golf and tennis regularly, and says the person she would most like to meet is Garcia Burnham, the missionary who was held captive in the Philipine jungle. Kim attended Raymor-Peculiar High School, which must be the butt of unlimited jokes.
Stat of the Week: Since losing 41-0 in last year's playoffs, Indianapolis has won five straight and outscored opponents 158-82.
Stat of the Week No. 2: In their last two trips to Pittsburgh, the Cleveland Browns (Release 2.1) have jumped to a combined 30-3 lead.
Stat of the Week No. 3: Jamal Lewis was held to no yards rushing. (The Ravens had a bye.)
Stat of the Week No. 4: Carolina's Stephen Davis has more yards rushing (565) than the entire Panthers team has passing (499).
Stat of the Week No. 5: The Cardinals had more punts and penalties (11) than first downs (9).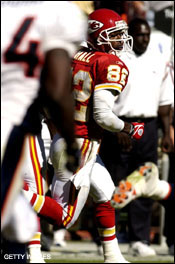 Of course, TMQ couldn't actually see Hall's return as it happened.
Stat of the Week No. 6: Dante Hall of Kansas City now has four kick-return touchdowns in five games -- tying the NFL season record set in 16 games. (But why has the sports-announcer world not pointed out that Hall benefited from an obvious clipping no-call just as he broke away for Sunday's 93-yard score?)
Stat of the Week No. 7: Buffalo now has the most overtime wins in league history, 17.
Stat of the Week No. 8: The Chiefs, Dolphins, Panthers, Patriots and Vikings won by a combined 41 points, despite being outgained by a combined 442 yards.
Stat of the Week No. 9: The Cowboys and Dolphins are 4-0 in Giants Stadium this season; Jersey/A and Jersey/B, the stadium's tenants, are 1-4 there.
Stat of the Week No. 10: Stretching back to 2002, San Diego has followed a 6-1 run with a 2-12 run.
Tis Better to Have Rushed and Lost Than Never to Have Rushed At All: Trailing the Cleveland Browns (Release 2.1) 23-10 early in the third period, the Steelers faced third-and-one on the Cleveland 32. The home crowd was roaring at military-afterburner decibels; Pittsburgh staged a big comeback against the Browns the last time the teams met; there was almost a full half remaining in the game. Plus, this is the part of the field where logic dictates that you go for it on fourth down. So did the Steelers pound, pound for the almost-certain first?
You know what they did.
TMQ's reaction: "aaaiiiiiiiiyyyyyyyyeeeeeeeeeeee!"
Tommy Maddox dropped back to pass, and it wasn't a 1960s-Packers-style attempt to hit the home run; no, some guys ran quick dodge routes designed for short gains. The Pittsburgh Steelers, playing at home, thought they had to throw a short junky pass because they could not run for one single yard against the team that just allowed Jamal Lewis the NFL's best-ever rushing day. Ye gods. That the pass was intercepted and returned for a Browns' touchdown, breaking open the game, was the direct intervention of the football gods: This pass-wacky moment could not have gone unpunished.
Sweet Play of the Week: With the unseen battle of the undefeateds scoreless in Kansas City, Denver took over on first-and-10 at its own 20. Receiver Rod Smith took the end-around running right, then threw a pass 30 yards in the air to tailback Clinton Portis; Portis went 72 yards, setting up the game's first touchdown. Downfield blocking was superb. TMQ cannot explain why, but trick plays seem to work best if they come on the first snap of a possession.
Sweet Play of the Week No. 2: Play-faking against Denver in the unseen battle of the undefeateds, Kansas City QB Trent Green "crouch"-faked -- bent his body over to hide the ball -- then hit Johnnie Morton for a 28-yard touchdown. Crouch fakes are often effective, yet few pro QBs are coached to crouch-fake. The crouch-fake is always in style in Kansas City, though; the previous QB, Elvis Grbac, used to execute this play well under the previous coach, Gunther Cunningham.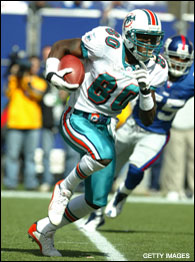 James McKnight had 68 yards on one carry while Ricky Williams had 39 yards on 22 carries.
Sweet Play of the Week No. 3: Miami's James McKnight took a reverse from Ricky Williams and went 68 yards behind fabulous downfield blocking from the Marine Mammals receiver corps. This play is worth watching over again just for the sight of half the Jersey/A defense continuing to chase Williams long after he has surrendered the ball.
Sweet Blocks of the Week: Jax's Fred Taylor got fabulous blocking from the Jaguar OL as he went 60 yards to the house with a screen pass to give the team a winning margin against San Diego. It's always nice to run when everyone in your path has already been knocked on the ground.
Sour Sequence of the Week: Trailing Dallas 20-7 in the middle of the third quarter, the Arizona (caution: may contain football-like substance) Cardinals faced third-and-14 from their own 1-yard line. Nothing gets defensive linemen excited more than the chance for a safety. Cards QB Jeff Blake dropped 10 yards back, almost to the end-zone line, before being taken down for the safety by Cowboy lineman La'Roi Glover. On their next possession, the Cardinals faced third-and-10 from their own 1-yard line. Did Arizona learn a lesson? No. Blake dropped all the way to the end-zone line, where he was pushed out for another safety by Cowboy lineman Kenyon Coleman.
Safety Sidelight No. 1. How did Arizona get stuck on its own 1 twice in a row? The fiasco sequence began when rookie Anquan Boldin signaled a fair catch on his 5-yard line. Punt returners are taught never to touch the ball inside their own 10. By calling fair catch at the 5, Boldin only insured that the ball did not roll into the end zone for a touchback.
Safety Sidelight No. 2. Minnesota also recorded two safeties Sunday, both when Atlanta committed penalties (grounding and holding) from its own end zone.
Stop Me Before I Blitz Again! Game tied at 21, Oakland had Chicago facing second-and-20 on its own 40-yard line with 15 seconds left in regulation. Since the typical NFL pass attempt yields about six yards, and the Bears held only one time-out, all the Raiders had to do is play straight defense and the odds strongly favored overtime. Instead, it's a blitz! Six gentlemen cross the line, including a cornerback. Twenty-nine yard completion to Dez White, who went through the area vacated by the blitzing corner. Bears field goal to win on the final play.
Sidelight: Two plays before, Chicago faced fourth-and-one at midfield with 45 seconds left. Rather than play it safe and punt -- playing it safe doesn't make much sense for an 0-3 team, but six-nines of NFL coaches (that's 99.9999 percent) would punt in this situation -- the Bears went for it, setting up the fantastic finish. The football gods may smile on this display of manly manhood.
Stop Me Before I Blitz Again! No. 2: San Francisco leading Detroit 17-3, the Niners had the Peugeots facing third-and-five at the San Francisco 6-yard line. Since the closer you get to the end zone, the less territory the defense must defend, odds favored San Francisco if they played straight defense. Instead, it's a blitz! Six gentlemen cross the line, touchdown pass to Mikhael Ricks.
Stop Me Before I Blitz Again! No. 3: New England 7, Tennessee 6 late in the second quarter, the Flaming Thumbtacks faced third-and-10 at the Patriots' 44. Since the average pass attempt yields about six yards, all the Patriots needed to do was play straight defense, and the odds favored a stop. Instead, it's a blitz! Seven gentlemen cross the line, including a safety; Steve McNair completes a 43-yard pass to the New England 1; Tennessee scores for the lead at the half.
Stop Me Before I Blitz Again! No. 4: Leading 16-13 with 3:31 left in regulation, the Cincinnati Fudgsicles had Buffalo facing third-and-11 on its own 40. Since the average pass attempt yields about six yards, all the Fudgsicles needed was to play straight defense, and the odds favored a stop. Instead, it's a blitz! Six gentlemen cross the line; 14-yard completion for the first; the Bills tie the game with 28 seconds left, and win in overtime.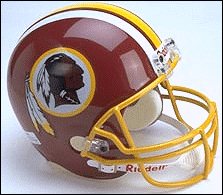 Ahh, nothing like seeing federal power employed to preserve an offensive racial stereotype.
On the Plus Side, This Insures TMQ Can Keep Calling Them the Potomac Drainage Basin Indigenous Persons: Things went well for Lord Voldemort (Dan Synder) last week. While the football world focused on Rush Limbaugh -- maybe, possibly, you heard something about that -- attention was distracted from what otherwise would have been a big story: a federal judge's inexplicable ruling that the name "R*dsk*ns" has not been shown to be disparaging to native groups.
U.S. District Judge Colleen Kollar-Kotelly tossed out a Patent and Trademark Office finding that the name is offensive, sending the case back down for yet more consideration. Kollar-Kotelly inexplicably said it was unclear whether linguists considered "R*dsk*ns" disparaging. ("Offensive slang:" American Heritage Dictionary.) Kollar-Kotelly also declared that the Patent and Trademark Office should not have relied on a random poll of 300 American Indians, most of whom objected to the term; Kollar-Kotelly said survey results cannot be extrapolated to the population as a whole. Reader Jason Grady notes, "Apparently, the judge has never taken a statistics course. The fundamental rule is that if a population sample is random, it is indicative of the population as a whole." Judge, what was the Patent and Trademark Office supposed to do -- call up every American Indian in the United States? Anyway, some wouldn't come to the phone because they're busy watching a "R*dsk*ns" game.
Had it not been for the Rush razzle, editorialists might have focused on this decision, in which federal power is employed to preserve an offensive racial stereotype. Say what you will about Rush, he was speaking off the cuff; Kollar-Kotelly had weeks to ponder her decision.
Stop Me Before I Blitz Again! (College Edition): Many readers, including Chris Lordan, pointed out that West Virginia had No. 2 Miami facing fourth-and-13 deep in its own territory, trailing, with a minute left. Since the average pass attempt yields about six yards, all the Mountaineers needed was to play straight defense -- what they'd done well most of the night -- and the odds favored victory. Instead, it's a blitz! Six collegiate gentlemen cross the line, completion for the first down, Miami goes on to kick a game-winning field goal with 10 seconds left. Ay caramba.
Wacky Food of the Week: According to this scary article, the latest "in" dish at Manhattan's most expensive super-restaurants is -- fat. The hip, $100-a-head restaurant WD-50, is serving "the best high-end pork belly in town, with turnips and spicy-sweet gingerbread-inspired garnish." The best pork belly in town! And not just any old pork belly but "high-end" pork belly. According to the scary article, the dish consists of a large slab of fat. "Celebrity chef Wylie Dufresne" becomes upset if diners do not finish the slab of fat.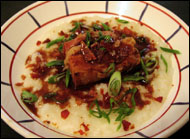 No matter how you dress the pork belly up, it's still just a piece of fat.
Meanwhile, Manhattan's high-fashion Le Cirque 2000 now serves "lardo." Lardo is pure pork fat, though at Le Cirque 2000 it is "shaved into thin slices and draped on warm toast." The ultra-trendy Jean-George's 66 of downtown Manhattan is offering "lacquered pork, a blatantly fatty dish napped in a sickly-sweet marmalade." Yum -- fat in sickly-sweet marmalade! Jeeves, ring up Bertie Wooster and we'll head over to Jean-Georges.
All this may sound like some "Magic Christian"-class parody of the absurd things the rich can be tricked into. But men and women are entering New York City restaurants and, of their own free will, paying top dollar to swallow slabs of fat. When will sautéed coffee grounds and deep-fried post-consumer paperboard become status foods?
TMQ won't even pause to point out that pure fat is awful for your health, or that pork belly traditionally has been cheap because no one who has any choice in the matter wants to eat it. The African-American playwright August Wilson once gave a moving speech about how, through history, blacks have gotten only the fat of the pig while whites dined on the ham. Attention August Wilson! The role reversal you dreamed of has come to pass. Head on over to Le Cirque, order healthful grilled fish and have a good chortle as rich white idiots wolf down slabs of fat.
TMQ Thought for the Day: How exactly does one become a "celebrity chef" -- by joining the National Association of Celebrity Chefs?
There Was a Time When Being Propositioned Was a Good Thing: California is about to elect a new governor who will serve six months before himself being recalled; state law specifies a minimum of six months between recalls. Also on the ballot is one of the state's infamous plebiscites, Proposition 53, which concerns fiscal policy. Other propositions were proposed for the ballot, but a judge ruled that only one could appear. Here is a list of propositions that will have to appear on a future California ballot:
Proposition 20. Requires that all motion pictures produced within the borders of California must open with a "tracking shot," in which the camera moves along as if the viewer were walking or driving. Critics have protested that Proposition 20 is unnecessary because all motion pictures produced within the borders of California already open with a "tracking shot."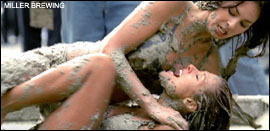 If you lived in California, would you vote in mud wrestling as the state's official sport?
Proposition 92. Makes mud-wrestling the official sport of the state of California; grants Rupert Murdoch's DirecTV a monopoly over mud-wrestling broadcasts.
Proposition 38. Mandates that all California state employees be paid in bags of salt, as Roman soldiers once were.
Proposition 6. Requires that all future California gubernatorial candidates speak in a foreign accent.
Proposition 109. Makes survival of the fittest the law on all California freeways.

Where Was the Defense? Trailing by eight, the Potomac Drainage Basin Indigenous Persons faced first-and-10 on the Eagles' 32 with 19 seconds to go. The Persons' sole hope was to score, and they held just one time out. So where, oh where, oh where might the pass go? Maybe toward the end zone! Yet Person WR Darnerien McCants got behind the entire Philadelphia secondary on an "up" route -- three gentlemen watched him go by -- for the touchdown that set up the last-second almost-comeback. How can any receiver ever get behind a defense in this situation?

What Did Jim Fassel Do In a Previous Life to Deserve This? Jersey/A suffered yet another kicking fiasco as its second starting placekicker this year went out injured, and punter Jeff Feagles hooted a short field-goal attempt.

The Football Gods Have Promised An Investigation: You may find this hard to believe -- TMQ certainly does -- but the Dallas Cowboys have the No. 1 offense in the NFL.

Dallas offensive coordinator Maurice Carthon has installed what looks like a college offense: lots of roll-outs and bootlegs, receivers dragging back across the action, basic one-man routes for deep routes. Carthon has designed the passing plays so that the formerly-erratic quarterback Quincy Carter has a simple three-step progression. Carter looks at his primary receiver, who usually is directly in front of him on the roll-out; if the primary receiver isn't open he looks at his secondary receiver; if the secondary receiver isn't open, Carter takes off running.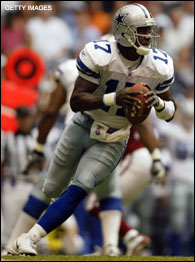 From the book of "TMQ didn't predict this in August": Quincy Carter quarterbacks the NFL's leading offense.
There's no standing there scanning the field, looking for a mistake to make: On every play, Carter knows where he is supposed to look and goes through the same three-step progression. This is the way college quarterbacks are coached, and Carter is responding well to it. Why don't other NFL teams try the approach?
Meanwhile, the Dallas offensive line, which had a terrible season run-blocking last year -- 16 percent of runs lost yardage, worst in the league -- is blocking well. TMQ would like to know what kind of vitamins they are taking.
Note to NFL coaches: Time to stop considering Dallas the automatic win on the schedule.
The Football Gods Chortled: The Steelers faced fourth-and-two on the Browns' 38, trailing 16-3. This is the part of the field where logic dictates that you go for it. Pittsburgh lined up, and Tommy Maddox used a "hard count" to try to get the Browns to jump offsides. The hard count made the Steelers jump offsides. Pushed back to fourth-and-seven, Pittsburgh punted and a scoring opportunity was lost.
Tis Better to Have Rushed and Lost Than Never to Have Rushed At All No. 2: As TMQ noted last week, Buffalo doomed itself against Philadelphia by passing too much on short yardage at home -- specifically, twice reaching third-and-short at the Eagles' 32, the part of the field where logic usually dictates going for it, and passing instead of just pounding the ball, both times coming away with no points.
Flash forward to Sunday. Buffalo, again at home, leading 3-0 in the second, reaches third-and-four at the Cincinnati 34. Do the Bills learn their lesson and pound, pound? Incompletion, incompletion, turnover on downs. Cascading boos from the home fans, who appear to have spent more time with game film than has Buffalo's pass-wacky offensive staff.
Purist Drive of the Week: Oakland held the ball for 16 plays to drive for a touchdown against Chicago -- and 12 of the snaps were runs.
Purist Drive of the Week No. 2:Trailing Denver 10-7 in the unseen battle of the undefeateds, Kansas City took over on its own 24-yard line in the second quarter. The Chiefs held the ball for 12 plays and moved 70 yards, recording the tying field goal -- and nine of snaps were runs.
Purist Series of the Week: Trailing New England 7-6 at the two-minute mark of the second quarter, the Flaming Thumbtacks reached first-and-goal on the Patriots 1. Did they go pass-wacky? Extra lineman into the game at tight end, pound, pound, touchdown.
Worst Purist Sequence of the Week: Beginning in the second quarter at Green Bay, game still close, the Blue Men Group passed on 11 of 12 plays.
But Since It's the 21st Century, the Bedroom Question Is Who Spanks Whom: Researchers Diana Baumrind and Elizabeth Owens of the University of California at Berkeley concluded after analyzing dozens of psychological studies that occasional spanking is not bad for a child. "We found no evidence for unique detrimental effects of normative physical punishment," Baumrind said. What's really needed is the carefully-researched University of California at Berkeley scientific study that shows that occasional spanking is beneficial for your date/spouse/significant other. Spanking should get out of the nursery and back into the bedroom where it belongs!
The Football Gods Winced: Travis Henry, who fumbled 16 times in 2001 and 2002 -- by far the most fumbles by a non-quarterback -- has already fumbled twice this season despite missing considerable time for injuries. In a terrifying temptation of the football gods, reaching first-and-goal at the Cincinnati 3-yard line in overtime, Buffalo handed off to Henry on consecutive plays.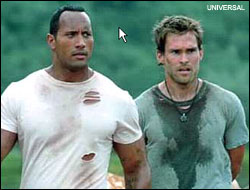 TMQ predicts teenage boys will love "The Rundown."
The Sequel Will Warn of Adventure Marketing: Though pro-sex, TMQ is anti-violence, and considers the distinction between the two, in entertainment, too self-evident to require much further discussion. Last year, TMQ did a column on ridiculous movie disclaimers that warn of "action violence" or "science fiction violence," as if this were somehow different from "violence." Comes now the movie "The Rundown," whose disclaimer warns of "adventure violence." So it's okay to smash things and shoot people, so long as you're having an adventure!
In full, the disclaimer for "The Rundown" warns of "Action violence and some crude dialogue." Just once, it would be nice to encounter a movie disclaimer warning of "sophisticated dialogue."
"Kurt Warner," Regrettably, Reverts to Kurt Warner: Tuesday Morning Quarterback is now totally convinced that the August northeast power blackout was caused by the muon neutrino backscatter field of a starcruiser departing from the St. Louis Rams training camp to return "Kurt Warner" to his homeworld. The superpowered alien who had been pretending to be "Kurt Warner" is now back on his planet -- a place where the mega-babes have four tentacles and a vestigial proboscis -- while the actual human Kurt Warner is wearing the uniform of Les Mouflons.
How else to account for Warner selfishly demanding a trade during the season, with his team winning? The alien-in-human-form "Kurt Warner" who came from nowhere to win the Super Bowl MVP trophy was humble and team-spirited. The Kurt Warner of today is rapidly becoming a self-centered jerk, obsessed with his own stats and money, forgetting that the NFL is at heart a business -- and whoever is performing, plays.
The Kurt Warner saga could end in this once-lovable guy being tossed out of the league on his rump. Bear in mind that Warner is being pressured to complain by his wife, whom the sports media have begun to call Yoko, owing to her appearance. But behavior matters far more than appearance! TMQ will call her Leona, as in Leona Helmsley.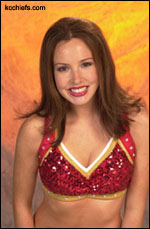 Since the Chiefs are 5-0, let's give them some more props.
Another Unseen Chiefs Cheerleader: Tara of the red-hot, unseen Kansas City Chiefs is a student at the University of Missouri, majoring in psychology. This means your lines would not work on her!
Weirdly, the Part About the New DARPA Website Is Actually a TMQ Exclusive: Remember the bizarre news of last July, that the Pentagon's Defense Advanced Research Projects Agency would sponsor a website at which people could use credit cards to place bets on when the next terror attack would occur? The White House promptly ordered the bizarre project "cancelled." Well, it's baccckkkkkkkk. Check here; the Policy Analysis Market will now debut as a privately managed project in March 2004, and now accept wagers on the "future of the Middle East." Like, giving 10:1 on whether the entire Middle East will be an irradiated wasteland in a generation?
Supposedly, bets placed at the Policy Analysis Market will create useful information about whether people think bad things will happen. But that's like saying the movement of the line on a football game creates useful information about who will win. The line moves to reflect where bettors are willing to place money; the only thing the line tells you is which team bettors are leaning toward. Similarly, the Policy Analysis Market won't create useful information. It will just be a form of legalized gambling.
Turns out such legalized gambling is already in full swing! Check NewsFutures, a "powerful new tool to answer the forecasting and decision support needs of your business, organization, or governmental agency." It's Internet wagering dressed up as information prediction. NewsFutures employs the World News Exchange to allow customers to place bets -- excuse me, to "trade" -- on the outcomes of future events.
Yesterday, for example, there were 47,412 bets registered on whether Arnold Schwarzenegger would win. Bettors bid for contracts that pay $100 if Schwarzenegger wins and nothing if he loses; a rising price indicates bettors believe Arnold will prevail, a falling price a belief he'll lose. Schwarzenegger contracts were trading in the low $40s in early September, and yesterday traded at $83 -- meaning you risk $83 to gain $17 by winning $100 -- so bettors must feel pretty confident about whom the next California governor will be. But that's not "information" in any meaningful sense, except information about how people gamble.
Here, you can legally wager on whether the United States will catch Saddam. Here, you can wager on the Democratic presidential contenders, with Howard Dean trading highest at $45 (you are risking $45 to win $55) and John Edwards trading lowest at $2 (you are risking $2 to win $98, but almost certain to lose your $2).
Similar web sites now offer this legalized gambling on topics like athletic statistics. Brendan Koerner of the New America Foundation discusses the phenomena here. Joyce Berg and Thomas Reitz, two academics, analyze the development of such "predictions markets" here. At any rate, it's all gambling, and TMQ's compromise with his Baptist upbringing is to be pro-topless but anti-gambling.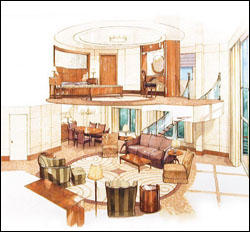 No, this isn't TMQ's office -- it's a luxury apartment on the Queen Mary.
57 Tons -- That's Almost As Much As Schwarzenegger's Hummer Weighs! The newest U.S. supercarrier, the Ronald Reagan, displaces 78,000 tons. The new ocean liner Queen Mary 2 displaces 150,000 tons -- twice the weight of a Nimitz-class supercarrier. The Queen Mary 2, designed to revive the North Atlantic passenger trade between New York and Southampton (England, not Long Island), has berths for 2,620 people. That's 57 tons of ship per passenger! The 46,000-ton Titanic offered 3,320 berths, or 13 tons per passenger. So the latest luxo-liner packs 44 tons per passenger more ship than the Titanic.
All that added tonnage translates into cabin space, discos, restaurants, exercise rooms, motion-dampers and, of course, a much stronger hull. If you don't believe we are privileged to live in a favored age, just think about an ocean liner that offers 57 tons of ship for each passenger.
Of Course Arnold Has a Platform, and He Stands On It: On the question of whether Arnold Schwarzenegger is really 6-foot-2, as he claims, or much shorter, as those who have met him contend, comes now Frank Easterbrook, an Official Brother of TMQ and a scientifically confirmed 6-4, to report that he once shook hands with AHH-nold at a charity event. Frank's verdict? America's first cybernetic gubernatorial candidate is either 5-9 or 5-10.
Hidden Play of the Week: Hidden plays are ones that aren't flashy, but stop or sustain drives. Miami 10, Giants 7 in the late second quarter, the Marine Mammals faced second-and-10 on the Jersey/A 30. The call was screen left to fullback Rob Konrad; he rumbled 25 yards for a first-and-goal behind fabulous blocking from Jamie Nails and Tim Ruddy. Miami got a field goal just before the end of the half, and controlled the rest of the game.
Running Items Department

Obscure College Score of the Week: Walsh 44, Malone 36 in five overtimes. At the end of regulation, this game was knotted at 20, meaning there were 40 points scored during the three hours of the main game and 40 points scored during the brief flurry of overtimes. Located in Canton, Ohio, the shrine city of football, Malone was founded in 1892 as Cleveland Bible College by Walter and Emma Malone, two Friends -- preferred name of Quakers -- and moved to a larger Canton campus in 1957.
Friends are supposed to be pacifists, although this philosophy did not seem to have much impact on Richard Nixon, raised as an evangelical Quaker by his mother, Hannah, who dreamed Nixon would become a pacifist missionary. The Society of Friends asks members to promote a "Peace Testimony" and specifies, "Quaker practice does not permit the overcoming of some persons by other persons." So Malone has to lose to Walsh; otherwise, its persons would have overcome other persons! Pacifism is a challenging concept to work into a football pregame speech.
Bonus Obscure College Score: Indiana of Pennsylvania 24, Clarion 20. Checking in with TMQ's favorite obscure college team, we find the Indiana of Pennsylvania Indians undefeated at 5-0, aiming toward their annual clash with rival California of Pennsylvania, which will occur this season on Oct. 18. And, yes, IUP's teams continue to be the Indians -- many readers have suggested the school can solve its name problem while maintaining tradition by becoming the Indianans -- though using a bear logo.
While "Indians" is far from an ideal moniker, the term is not inherently derogatory, like "R*dsk*ns."
Obscure College Defeat of the Week: As pointed out by reader Ben Domenech, William & Mary managed to lose without even playing. Hurricane Isabel, which struck hard in the Tidewater region of Virginia on a Thursday, caused William & Mary to cancel its Saturday home date against the University of Maine. Whether the collision really needed to be cancelled was controversial, and Maine was steamed because it traveled to William & Mary despite the conditions, only to be told the host school was bailing. Atlantic 10 conference commissioner Linda Bruno awarded the victory to Maine, while handing William & Mary a "no contest," which counts as an L in the standings.
No contest? That's what Spiro Agnew pleaded after he resigned the vice presidency on corruption charges -- except he had the good taste to say it in Latin. Tuesday Morning Quarterback thinks Bruno should have written down nolo contendere in the official standings. This is, after all, college.
Obscure High School Feat of the Week: David Rosenbaum of Wilson High School in the District of Columbia kicked what may be the longest PAT of all time, a 62-yarder. After a touchdown against Springarn High, Wilson was assessed multiple celebration penalties; the conversion attempt ended up spotted in Wilson territory, at the team's own 48-yard-line; Rosenbaum's try was true. His previous longest kick had been a 27-yard field goal.
New York Times Final-Score Score Once again, the Paper of Guesses goes 0-14 in its quixotic attempt to predict an exact NFL final score, bringing the New York Times Final-Score Score to 1-907 since TMQ began tracking. The goal of 1,000 inaccurate predictions, once just a dream, now comes into view for the Multicolored Lady.
Reader Animadversion: Got a complaint or deeply felt grievance? Register it at TMQespn@yahoo.com.
Many, many readers, including Jarratt Clarke of Lynchburg, Virginia, wrote to note that Jerry Falwell's Liberty University is in his town, not, as TMQ said, in Lynchburg, Tennessee -- where the all-important Jack Daniels whisky distillery is located. One reader, Virginia native Rachel Borek, alluding to Pat Robertson's competing Regent University in Virginia Beach, phrased the matter in haiku:
Geographical
blunder: Liberty haunts the
Old Dominion State.

But on second thought,
Pat Robertson is enough;
Boot Falwell next door!
-- Rachel Borek, White Plains, New York
A Pittsburgh reader was one of many who noted that, while certain prima-donna NFL receivers refuse to block, this is not a problem for Hines Ward:
Wide receiver Ward
could give blocking clinic and
hand Terrell his shorts.
-- Dan Elbarto, Pittsburgh
Reader Jennifer Warzala haiku-ized that although this column is Tuesday Morning Quarterback, it usually does not appear until about 1 p.m. Eastern:
Today is Tuesday.
It's already after noon:
Where is TMQ?
-- Jennifer Warzala, Syracuse, New York
Jennifer, 1 p.m. Eastern is still morning in four of the six time zones of this great nation! The problem is that long before TMQ brought his internationally-known brand to ESPN.com, Page 2 had committed to a daily update at the highly precise "noonish Eastern" -- see the dateline at the top of Page 2. Tuesday Morning Quarterback tends to take a little longer to post, because it's time-consuming to convince all those mega-babes to unbutton their cleavage and mega-hunks to doff their shirts. (Actually, because TMQ is the longest feature on Page 2, requiring the most copy-editing attention and the most illustrations.)
Last Week's Challenge: Playing off the Chicago Bears Presented by Bank One, readers were asked to propose a corporate sponsor for an NFL team.
Bob of Wilmington, Delaware, suggests that Verizon Wireless should sponsor the Arizona Cardinals. The tester nerd could be shown at Sun Devil Stadium saying, "Can you hear me now? Of course you can because there's nobody here."
Sandra Helquist of Menlo Park, California, proposed another wireless sponsor for Arizona: "Cingular advertises its plan to rollover minutes, and the Cardinals appear to be rolling over their salary cap space into the future. Also, during games they roll over and play dead."
Kevin Gier of St. Louis proposed that the Chiefs' Dante Hall be sponsored by Kansas City's American Century Mutual Funds, whose slogan is, "We're Small But We Promise Great Returns." Check the photo of Hall running one back -- he makes the ball look big!
Andrew Sroufe suggests the Cleveland Browns (Release 2.1) be sponsored by First Energy, the Ohio utility that may have trigged the August blackout in the Northeast. In haiku,
First Energy Browns.
Another blackout would help:
We won't have to watch.
-- Andrew Sroufe, Athens, Ohio
Shane F. of Rich Hill, Missouri, suggests the New Orleans Saints be sponsored by the Kroger supermarket chain: "Would you like paper or plastic to use to hide your head?"
Martha Meldrum of Raleigh, North Carolina, suggested the New England Patriots be sponsored by the United States Department of Justice, in order to promote the USA Patriot Act. "Of course, John Ashcroft would have to monitor all conversations in the huddle," Meldrum notes. "Players would have to agree to government cameras in their bedrooms, and implantation of mind-control chips. But isn't loss of freedom a small price to pay for preserving our freedoms?"
Steven Levy suggests the Tennessee Titans be sponsored by Staples: "Your source for thumbtacks."
Rob Caldwell of St. Francisville, Illinois, suggests San Diego be sponsored by MasterCard, using this script:
Ticket to the game: $45
Hot dog and souvenirs: $35
Receiver who won't play: $47 million
Listening to management excuses for David Boston: priceless
Brian Greenwald of Dallas proposes that the Denver Broncos be sponsored by Microsoft: "Denver hit with only a $25,000 fine for uniform 'error' in San Diego; Microsoft pays only a $23 million out-of-court antitrust settlement. These two are the kings of getting off easy."
Reader Amr Hiram proposes in haiku that the aging Long Johns seek out Levitra's competitor as a sponsor:
The Oakland Raiders
need an increase in blood flow.
Sponsor? Viagra.
-- Amr Hiram, Toronto
Ted Ames wins this week's Challenge with this haiku proposal:
Searching for answers:
The Cincinnati Bengals,
sponsored by Google.
-- Ted Ames, New York
This Week's Challenge: What test should you have to pass to become a celebrity chef? Submit your clever answer at TMQespn@yahoo.com.
Gregg Easterbrook is a senior editor of New Republic, a contributing editor of The Atlantic Monthly and a visiting fellow at the Brookings Institution. He is believed to be the first Brookings scholar ever to write a pro football column. You can buy his book, "The Here and Now" here ... and now.