Great work if you can get it
Following one of the more peculiar sports transactions in recent memory, Keith Van Horn is $4.3 million richer, thanks in large part to the big mouth of Jerry Stackhouse.
If Stackhouse hadn't said these words: "I get 30 days to rest, then I'll be right back. I ain't going nowhere," then the original Jason Kidd trade might not have been overturned and Van Horn wouldn't have been signed by Dallas and included in the final swap.
Although the NBA sought confirmation from Van Horn that he truly intended to resume his career, it's highly unlikely that the former No. 2 overall pick will play much of a role in New Jersey. For all we know, he might never appear in a Nets uniform again.
All this got us to thinking about other sports figures who got money for nothing. Here's a sampling:
Josh Booty, Florida Marlins
The Marlins coaxed 1994 draft pick Josh Booty to give up football for a then-record $1.6 million signing bonus. What they got for their money was a .198 batting average in 1,745 minor league at-bats, 13 games of major league cameos (hey, he hit .269) and a good deal of angst. After failing to win a regular job with the team, Booty went back to college football. Last week, he was tasered by police and arrested for suspicion of drunken driving in California.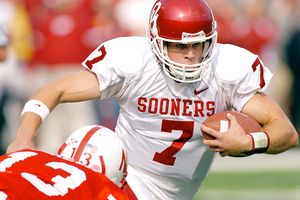 AP Photo/Dave Weaver
Rhett Bomar led the Sooners to eight wins in 2005. No wait, the NCAA says it was a just a figment of our imagination.
Rhett Bomar, Oklahoma football
The former Sooners quarterback made $18,000 while working five hours a week at a Norman, Okla., car dealership. The NCAA forced Oklahoma to vacate its eight victories from 2005, but the Sooners subsequently enjoyed the financial windfall of back-to-back BCS bowl berths the next two seasons. Good thing the coaching staff didn't make too many phone calls to recruits, or else the NCAA might have actually gotten upset.
Paris Hilton
The overexposed heiress to the Hilton Hotels empire commands appearance fees of up to $300,000 abroad, according to Forbes. She might even have been paid for "acting" in "House of Wax."
Bobby Bonilla, New York Mets
The Mets are still paying for the mistake of signing Bobby Bonilla in 1992 … and they will be for a long time. Bonilla struck a deal with the team in 2000 in which it purchased an annuity rather than pay him the remaining $5.9 million of deferred money that he was owed. So every July 1 from 2011 to 2035, Bonilla will receive $1.19 million, with the total payments adding up to nearly $30 million.
Drew Henson, New York Yankees and Dallas Cowboys
Henson successfully cashed in on two sports. In 2001, he signed a six-year, $17 million contract with the Yankees, forgoing his senior football season at Michigan. He hit .111 in nine major league at-bats before giving up and returning to football. That didn't work either. Henson received a guaranteed $3.5 million from the Cowboys in 2004 as part of an eight-year contract. Henson appeared in seven games for the Cowboys, making one start. He hasn't appeared in an NFL game since, despite comeback efforts with the Vikings and Jaguars.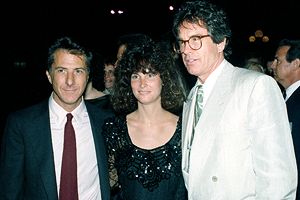 AP Photo/Reed Saxon
It seemed like heady times at the "Ishtar" premiere. More than $40 million in losses later?
Not so much.
Dustin Hoffman and Warren Beatty, "Ishtar"
Each actor was paid $5 million to appear in the 1987 film, which wouldn't have been so bad if it didn't ultimately lose more than $40 million.
Derek Bell, Pittsburgh Pirates
Despite hitting .173 for the Pirates in 2001, Derek Bell threatened to go into "Operation Shutdown" in spring training if he wasn't promised a starting job in '02. After suffering through a miserable spring training, Bell was released by the Pirates, who paid him $4.5 million not to play another game in the majors.
Juan Gonzalez, Cleveland Indians
Gonzalez received $600,000 for one major league at-bat in 2005. He strained his hamstring in his first game and was done for the season. Fortunately for the Indians, Gonzalez's injury made room for Grady Sizemore to become an everyday player.
Jim Sorgi, Indianapolis Colts
Sorgi pulled down more than $430,000 in salary last season, serving as backup quarterback to Peyton Manning. Did we mention that Manning has yet to miss a start during his 10-year career?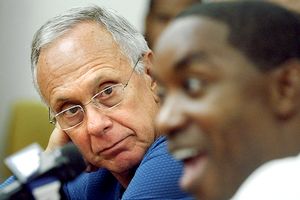 AP Photo/Stephen Morton
Larry Brown got an $18.5 million settlement from the Knicks … but he did have to put up with Isiah Thomas for a year.
Larry Brown, New York Knicks
Brown made $10 million in 2005-06, his lone season coaching the Knicks. Then he cleared another $18.5 million in a settlement with owner James Dolan after being fired with four years left on his contract.
Jerome James, New York Knicks
No one has a sweeter deal than James, the Knicks' out-of-shape center who's in the third season of a five-year, $30 million contract. James has been healthy enough to appear in two games this season -- playing a combined five minutes. He has a chance to become the NBA's first million-dollar-per-minute player.
David Beckham, Los Angeles Galaxy
Teams would do well not to "Spend It Like Beckham." There's still plenty of time left for David Beckham to make good on his $250 million deal, but the early returns weren't great. Beckham had one goal and three assists in eight matches last season, missing six weeks with a sprained knee.
Dan and Ozzie Silna, Spirits of St. Louis
The former owners of the ABA's St. Louis franchise have made out like bandits, thanks to an arrangement made during the league's merger with the NBA. The Silnas folded their team in exchange for a lifetime one-seventh share of television revenues from the four ABA teams that entered the NBA (Nets, Pacers, Nuggets and Spurs). The total profit from this deal, for not owning a team, is upward of $200 million and counting.
Eric Gagne, Milwaukee Brewers
Gagne signed a one-year, $10 million pact with the Brewers in the offseason -- just three days prior to being named in the Mitchell report. But will he be able to get anyone out this season?
ESPN researcher Mark Simon, the ESPN research department and Page 2 editor Thomas Neumann contributed to this story. Sound off to Page 2 here.