By David Vecsey
Special to Page 2
I am a connoisseur of bad behavior. In the same way some people really know their wine, I really know my whine. There are few, in fact, who appreciate the louts and boors, the petty and the catty, the showboats and the hotdogs as much as I do. When confronted with life's tricky situations, the more devout among us might ask, "What Would Jesus Do?" Me? I wonder, "What Would Al Czervik Do?"
So it's no wonder that I'm drawn to Terrell Owens, the foremost authority on anti-authority in sports today. He's led the NFL in outlandishness the past four seasons, and he's running away with the title again this year. The 2004 season has been a virtual Terrell Owens Reality Tour with games against his former coach, his former quarterback and his former friend, as well as games at the sites of some of his greatest ego explosions.
And he hasn't disappointed. Not only is Owens the offensive catalyst for an unbeaten team, but he's managed to offend pretty much everybody who dares cast an eye upon him. In the week since his already-infamous Halloween pimp job on the Ray Lewis dance, Owens hasn't let up on the psycho-babble. The message from his Wednesday news conference, basically, was "Just because I'm a jerk, it doesn't make me a bad person."
Well, I'll be the judge of that. Let's review T.O.'s Greatest Hits, and rate them on the Jackass Scale ...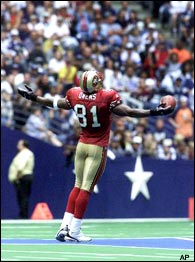 Owens stomping on the Texas star really started it all.
Deep in the Heart of Texas Stadium
Date: Sept. 24, 2000
The Ruckus: This is the one that put Owens on the map -- as the capital of Jackass-ville. En route to the 49ers' 41-24 rout at Dallas, Owens twice catches touchdown passes and twice runs to midfield to desecrate the sacred blue star of "America's Team" in a raised-arms, praise-be-to-me celebration. He gets away with it the first time. On the second one, though, Cowboys' safety George Teague sprints to midfield and bowls Owens over, igniting a brawl. Niners coach Steve Mariucci fines Owens $24,000 and suspends him for a week, perhaps setting the wheels in motion for the eventual fallout between Owens and the Niners.
Rationalizing This Behavior: With light pouring through the hole in the roof and penetrating an otherwise shadowy Texas Stadium, there is something almost mystical about Owens' epiphany at midfield, something almost holy. Yeah, as in "HOLY &$@*, did he just do that?!"
Jackass Rating: World-class Jackass. And by the way, in two weeks, Philadelphia plays at Dallas on Monday Night Football. Set your TiVo.
Excuse Me While I Whip This Out
Date: Oct. 14, 2002
The Ruckus: After catching a 37-yard touchdown pass late in a 28-21 victory over the Seattle Seahawks on Monday Night Football, Owens pulls a Sharpie from his sock and signs the ball. World goes bonkers; film at 11.
Rationalizing This Behavior: At least Owens has the class to toss the ball to a sick kid in the front row. Well, actually, it's his financial adviser. But why split hairs, right? Didn't Babe Ruth once promise his financial adviser he'd hit a home run in the World Series? What a lot of people don't remember is that Seahawks defensive back Shawn Springs is also a client of that financial adviser; and while the cameras are trained on Owens, Springs is signing the jockstrap out of which he was faked on the play.
Jackass Rating: Mind-Boggling Jackass
Gimme a T! Gimme an O!
Date: Dec. 15, 2002
The Ruckus: After scoring on a 45-yard touchdown run against the Green Bay Packers, Owens picks up a pair of gold pom-poms and gives the crowd a little sis-boom-bah routine.
Rationalizing This Behavior: You know, a 6-foot-3, 220-pound dude dancing with gold pom-poms isn't really that unusual in San Francisco.
Jackass Rating: Mildly Jackass
Coach, Can I Have a Word, Please?
Date: Sept. 14, 2003
The Ruckus: During a loss at Minnesota, the Niners are stopped on a fourth-and-one running play. The television cameras swing to the Niners bench to find Owens laying into offensive coordinator Greg Knapp. A week earlier, Owens had gone nuts in a temper tantrum during a loss to Cleveland.
Rationalizing This Behavior: Owens is hardly the first player to go off on a coach in public. This episode attracted attention simply because of T.O.'s track record for controversy. Latrell Sprewell pretty much set the 'coach assault' bar too high for us to be impressed by Owens' mere shouting.
Jackass Rating: Run of the Mill Jackass
Is Philly Big Enough For Two Answers?
Date: Nov. 17, 2003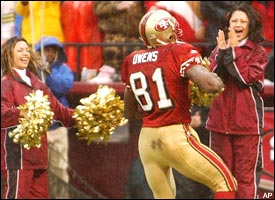 "Shake shake shake, shake shake shake, shake your booty."
The Ruckus: One year after Sharpiegate, Owens again uses Monday Night Football as a platform to demonstrate his keen wit. After hauling in a 61-yard touchdown catch against Pittsburgh, Owens finds the cameras and shows off wristbands emblazoned with the cryptic message: The Answer. Asked about the wristbands after the 30-14 victory, Owens responds in the manner of a Zen koan: "Because I am The Answer."
Rationalizing This Behavior: If Terrell Owens is The Answer, then the question must have been: Who's the biggest Jackass in sports?
Jackass Rating: Not all that Jackass, I guess. But the NFL would rather its players pickpocket a Salvation Army Santa Claus than play with unauthorized writing on their equipment. They HATE that.
Did You Get That Memo?
Date: Feb. 21, 2004
The Ruckus: On record for months with his intent to leave San Francisco, all T.O. has to do to accomplish it is file paperwork by Feb. 21 to void the final three years of his contract. And yet, he doesn't. The Niners retain his rights, although they will eventually trade him to Baltimore (see next item).
Rationalizing This Behavior: You're going to sit there and tell me you don't have a stack of DVDs in your den right now that are two weeks overdue at Blockbuster? You're going to tell me you never turned in a term paper late, even though the professor specifically said that no late papers would be accepted? It happens, man.
Jackass Rating: Overflowing with Jackass-ocity.
Home Is Where The Heart Is
Date: March 4, 2004
The Ruckus: When San Francisco trades Owens to Baltimore for a second-round pick, the Niners probably think they've finally made everybody happy. But it takes more than simply granting Owens his wish to make Owens happy. Though he fails to file the proper paperwork, Owens insists he is a free agent and refuses to show up for a Ravens' physical. The NFL players' union agrees, and files a grievance on behalf of Owens. In the end, a three-way deal is orchestrated that sends Owens to Philadelphia.
Rationalizing This Behavior: Crab cakes vs. cheesesteaks? Push. Inner Harbor vs. Penn's Landing? Push. Kyle Boller vs. Donovan McNabb? Yeah, that's what I thought you'd say.
Jackass Rating: Stupendously Jackass, as most good business decisions are.
I Smell Pulitzer
Date: September 2004
The Ruckus: The literary world turns on its axis with the release of Owens' autobiography, "Catch This! Going Deep with the NFL's Sharpest Weapon." As soon as we find somebody who's read it, we'll let you know what it says.
Rationalizing This Behavior: I give you this review from borders.com, written by one Kenneth A. Bzik: "A stupid book. This guy is a jerk who decided to write a self serving book because his agent thought it would help his image. It doesn't."
Jackass Rating: 288 pages of Jackass
Not That There's Anything Wrong With That
Date: September 2004
The Ruckus: In the September issue of Playboy, Owens publicly lambasts former teammate Jeff Garcia yet again. That's nothing new, but Owens does more than rip Garcia's football skills. He goes on to insinuate that Garcia is gay, stating: "If it looks like a rat and smells like a rat, by golly, it is a rat."
Rationalizing This Behavior: There are interviews in Playboy? But seriously ... Did he really say "by golly"? I mean, "by golly"? Well, gee whiz, Opie, we'd better head on home before Aunt Bea starts a-wonderin' where we been off to.
Jackass Rating: Pretty Jackassy
Six-Minute Abs
Date: Oct. 3, 2004
The Ruckus: After scoring a touchdown in a victory over the Bears, Owens stretches out in the end zone and does six sit-ups -- one for each of his touchdowns to that point in the season. The Bears react angrily, saying that if every one of their opponents did that, games would be five hours long. But really, here is T.O.'s response: "If they're going to be ticked off, then keep me out of the end zone. I'm going to have fun with the game. If that's the way they think, they should do something about it. I was just trying to get my workout going a little."
Rationalizing This Behavior: T.O. is hardly the first guy to break out in calisthenics after a touchdown. In fact, I'm pretty sure the Cadets at Army do the same thing, don't they? What a bunch of jerks!
Jackass Rating: Considering the source, Barely Qualifies As Jackass
A Banner Day In Cleveland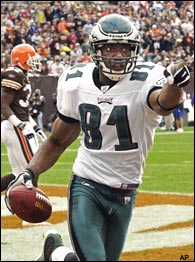 "Hey you -- how'd you know I had B.O.?"
Date: Oct. 24, 2004
The Ruckus: Never say the NFL schedule-makers don't have a sense of humor. After months of bashing his old pal Garcia, Owens finds himself on Garcia's home field ... surrounded by anti-T.O. signs. So when Owens hauls in a 39-yard touchdown in the first quarter, he ventures into the Dawg Pound to throw the ball at a banner that reads, "T.O. has B.O." When he catches a 40-yarder for another TD in the second quarter, he sprints toward the stands and pulled down a sign that reads, "T.akes O.ne to Know One" and pictures Owens and a rat. A gay rat, we can only presume. Not that there's anything wrong with that. Garcia and the Browns nearly get the last laugh by forcing overtime against the heavily favored Eagles, but, alas, nobody gets the last laugh on T.O. Eagles win.
Rationalizing This Behavior: Let's let the master himself explain. Here's a sampling of his postgame jewels: "All I did was tear a sign down. Other than that, I didn't see any harm in it." And: "I never criticized (Garcia)." And, asked if he could patch things up with Garcia: "I'm not a guy that holds grudges, and we've been in situations like that before where we've had our spats and we've both come together and put it behind us, so maybe so."
Jackass Rating: Quite The Jackass
Doin' Dat Ol' Ray Lewis Rag
Date: Oct. 31, 2004
The Ruckus: After catching an 11-yard touchdown pass late in a 15-10 victory over Baltimore, Owens breaks into an imitation of Ravens' linebacker Ray Lewis's pre-game shimmy. Owens, of course, was traded to Baltimore in the offseason, only to spurn Lewis and the Ravens and force the trade to Philadelphia.
Rationalizing This Behavior: Look, first of all, Lewis's trademark epileptic fit makes Mark Madsen and Elaine Benes look like Fred and Ginger. It deserves to be mocked. In fact, it's quite possible that Lewis' dancing technique played a role in whatever it was that happened outside the Cobalt Room in Atlanta during Super Bowl weekend in 2000. Owens makes a good point after the game when he reminds reporters that Lewis duckwalks, flexes and convulses every time he makes a tackle.
Jackass Rating: Absolute Jackass, according to Lewis. But you know what? It takes one to know one.
Former ESPN.com staffer David Vecsey works for the Atlanta Journal-Constitution. You can reach him at DVecsey@aol.com.
David
Vecsey
T.O.'S GREATEST HITS