Commentary
Tony Gonzalez goes au naturale
Originally Published:
May 13, 2010
By
Adam Watson
| Special to Page 2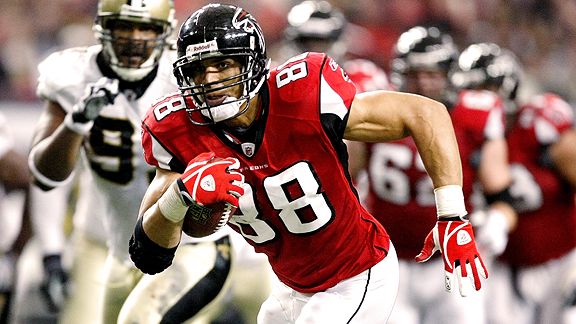 Kevin C. Cox/Getty ImagesWhen Tony Gonzalez couldn't find the right food, he made his own.
One more catch.
That's all Tony Gonzalez needs to reach 1,000 receptions in his NFL career.
But the Atlanta Falcons tight end might not even be close if it weren't for a wakeup call a few years ago. In the spring of 2007, the right side of Gonzalez's face became partially paralyzed. After an ambulance ride and battery of tests, he was diagnosed with Bell's Palsy; a condition that results in the inability to control facial muscles on the affected side.
What was even more troubling to Gonzalez was there is no known cause for the disorder. As a professional athlete he exercised vigorously and didn't smoke. There was only one part of his life that he saw major room for improvement: his diet. He was eating too many cheeseburgers, fries and other fast food. Gonzalez was fortunate enough to fully recover from the Bell's Palsy in several weeks with the help of acupuncture treatment, but the health scare had made an impact. He believes the resulting changes he made to his diet not only made him feel better, but also increased his longevity in football.
"Honestly, I don't think I'd be playing right now if it weren't for that," Gonzalez says.
He tried to go completely vegan at first, but after losing about ten pounds in a month realized it wasn't for him. Gonzalez liked the all-natural philosophy behind the concept though and decided to make it part of his life by changing the supplements he took. He used as many vegan alternatives as possible, but found himself playing mad scientist in his kitchen making his own blends with various types of plant-based proteins.
"I was mixing a little of this and a little of that. I had to buy so many things. It was expensive and inconvenient," Gonzalez said. "Also you never know what you're getting in those, and my body is my moneymaker so I want to know everything I'm putting in it."
That was the beginning of All-Pro Science, a supplement company that Gonzalez founded. He was tired of products with a ton of fillers and artificial ingredients. He figured there were other people like him, and he was right. The company is gaining a following in the professional sports community with Dick Vermeil, Warren Moon and Colorado Rockies shortstop Troy Tulowitzki among the many clients. All-Pro Science now offers a protein powder that is 100% vegan and a more natural version of whey protein powder derived only from grass-fed cows.
"There wasn't a company out there like (mine) and there still isn't," Gonzalez says. "And if other companies do come out with an all-natural line, then what were they putting in there before?"
Gonzalez has spent the offseason working on his product line and plans to add new supplements in the future. He also recently finished a book, "The All-Pro Diet", detailing what he went through and encouraging others to make changes before they have a wakeup call of their own. But he's not ready to make his company a full time job yet. Gonzalez is entering his 14th season in the league and has no plans to retire anytime soon. Thanks to his dietary changes he feels like he could play for another three or four years.
He won't need a fraction of that to reach the 1,000 receptions mark though. Falcons quarterback Matt Ryan is going to his big tight end the second the season starts.
"He told me, 'first play, on the road against Pittsburgh, you're getting the record,'" Gonzalez said.