By Royce Webb
Page 2
Moore Moore Moore, how do ya like it, how do ya like it.
Some hate it, some love it. Michael Moore and his movie "Fahrenheit 9/11," which torches George Bush, are all the rage. Bush's defenders say Moore is less than honest in his attacks. Moore's fans say that just because Moore turns the president into a lazy, greedy, dimwitted cartoon character doesn't mean he isn't.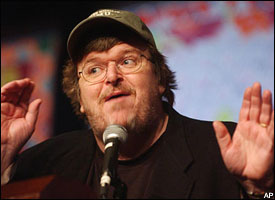 What if the controversial filmmaker tired of political issues ...
Whether the movie is fair or "unfairenheit," pretty much everyone agrees that it gets its point across. It's expected to be the first documentary nominated for a Best Picture Oscar, and clearly deserves an award for Best Use of "Shiny Happy People," the R.E.M. song.
But at Page 2, we don't think Moore should be wasting his time on petty issues like politics and world peace. What about the important stuff?
So, here are the films we want to see -- the topics Moore should tackle in the sports arena, listed in a lame countdown form to build phony suspense and hold your attention.
And it helps if you imagine Michael Moore narrating all of these in his trademark sarcastic voice:
5. White Knights, Blue Devils: The Scandal of Duke Basketball

Play theme music

"Blue Devil Jump" (written by Robert Johnson; performed by Eric Clapton).
Michael Moore voiceover
In 2001, President George W. Bush placed Duke coach Mike Krzyzewski and his basketball program squarely in the Axis of Goodness, saying, "[Duke] recruited for athletic talent, but they also recruited character, as well. ... Good people do finish first."
And that's when I became a Duke fan. I mean, who doesn't like good people?
Of course, Bush is the guy who said when he met Russian president and former KGB man Vladimir Putin, "I looked the man in the eye. I found him to be very straightforward and trustworthy. I was able to get a sense of his soul."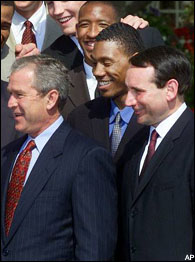 Who knew how much Coach K and former KGB man Vladimir Putin had in common?
Bush isn't the only president who gushes over Coach K. Earlier this month, Duke University President Richard Brodhead said, "He's a person of high integrity who teaches character as much as he teaches basketball."
It makes me wonder, though -- what was Coach K teaching when he schooled the Lakers and his own university? As Jason Whitlock said on Page 2, "[A] little public flirting with the Lakers is the easiest way to modify your 'lifetime' contract, the one Krzyzewski signed in 2001." You mean that wasn't a sincere flirtation with the Lakers?
Whatever Krzyzewski was teaching at Duke, Carlos Boozer was taking notes. He just screwed the Cleveland Cavaliers into the ground so hard they'll need a bulldozer to dig out.
Or maybe Boozer learned from Jay Williams, former NCAA Player of the Year at Duke -- like Boozer and Krzyzewski, Williams was part of the 2001 team that visited the President at the White House, one of Bush's "good people."
Williams broke his Chicago Bulls contract when he bought a motorcycle and rode it on the street. Sad to say, he also crashed, broke his pelvis, tore up his legs and probably ended his career. In all, Williams deprived the Bulls and their fans of his services, the second pick in the 2002 draft, which they used to take him, and about $3 million in cash they used to buy out his contract.
It was awfully nice of Jay to settle for $3 million of the Bulls' money after doing that to the team. Maybe former Blue Devil Grant Hill should follow Williams' example. Hill is still collecting on the seven-year, $93 million contract he signed with the Orlando Magic in 2000. Four years later, how many games has he played in a Magic uniform? 47. The Magic have urged him to retire. He won't. They need to get his $13-plus million annual salary off their books. He'd rather keep the franchise crippled for years than give back a penny.
Maybe Hill learned from former teammate Christian Laettner, the Golden Boy of college basketball in the early '90s. He was named NCAA Player of the Year over Shaquille O'Neal, and was the only non-NBA player on the original Dream Team -- apparently, they needed a character guy. Never mind that he's been been considered a flop and a pain in the ass during his six-team NBA career. And maybe Laettner learned from his former teammate, Danny Ferry, another NCAA Player of the Year from Duke. Ferry decided he was bigger than the NBA, so he refused to play for the Clippers, forcing them to trade him to, yes, Cleveland -- where he bombed.
Duke, Coach K and his players are the White Knights of basketball. Goodness knows where we would be without their chivalry.
Cut to grainy video of Coach K in a tuxedo and singing at a podium

"The Greatest Love of All:" "I believe the children are our are future, teach them well and let them lead the way . . . Everybody searching for a hero, people need someone to look up to ... Learning to love yourself is the greatest love of all."
4. Rose/Bud: The Hit King Gets Whacked

Play theme music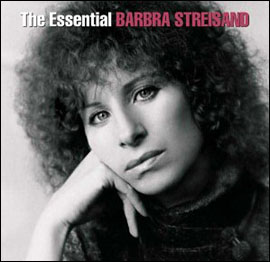 Barbra knows how you feel, Pete.
"You Don't Bring Me Flowers" (Barbra Streisand and Neil Diamond): "It used to be so natural ... but used-to-bes don't count anymore. They just lay on the floor till we sweep them away ... You don't say you need me, you don't sing me love songs, you don't bring me flowers anymore." Michael Moore voiceover
We know that Major League Baseball commissioner Bud Selig would never lie to the American people. Or even to Pete Rose.
But what happened there? Who missed a sign? Rose thought he got the wink-wink that would signal a blind eye from Bud -- and instead he ends up on the outside looking in.
In his book, "My Prison Without Bars," Rose admitted to betting on baseball. OK, so now he's come clean, right? That's good, right?
But, we started wondering, how can we trust him? After all, in an ESPN.com poll, 63 percent said they believe that Rose is still not telling the naked truth.
I mean, how can you believe this guy? So we asked him what really happened.
Moore: "So, Pete -- now you're saying you had a deal with the commissioner?"
Rose: "Yes I did, Michael. If I said I bet on baseball, I would be reinstated and I could go into the Hall of Fame. So I made up a story that I thought I had to tell everybody to get what I deserved."
Moore: "You lied, Pete? Say it ain't so."
Rose: "Yes, I did. But I'm telling you now: I never did bet on baseball, but I had to say I did because that's what they wanted to hear. So that's what I said. Everybody deserves a second chance."
Moore: "You had a second chance already."
Rose: "Well, in baseball, you get three strikes before you're out. And I bet if you look back in the history of the game of baseball, you'll see that Pete Rose was the greatest two-strike hitter ever. Give me one more swing -- that's all I'm asking for."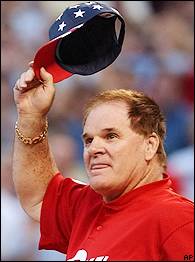 Pete should have just kept it all under his hat.
Cut to video of Pete Rose running bases and diving into third.
Play theme music
"The Hustle" (Van McCoy and the Soul City Symphony): "Do the Hustle! Do the Hustle! Do the Hustle! Hey! Do it! Everybody! Everybody! Hey! Do the Hustle! All the boys and all the girls doin' the Hustle. Do the Hustle. Everybody! Get up! It's fun! It's free!"
Last year, Hollywood could have made a movie called "The Passion of Pete Rose," showing him hanging on a cross and forced to answer questions from Jim Gray. Fans would have eaten it up. He was the most popular man in America, or at least the most popular felon this side of Martha Stewart. But now Rose is toxic, and Bud is off the hook.
But, come on, Pete, give it up -- who needs the Hall of Fame when you're this famous already?
3. The Ballclub: Good Ol' Boys Will Be Good Ol' Boys

Michael Moore voiceover

Now that I've got all this money from my movies, I decided to buy a piece of my beloved Detroit Tigers so that I can become the U.S. Ambassador to Luxembourg.
That makes no sense, you say. That's what I thought, too, until I noticed a funny trend: baseball owners named to prestigious European ambassadorships by former baseball owner George W. Bush. Probably just a coincidence, but I thought I'd examine a little more closely.
Play theme music

"King of the World" by Sam Bush.
Here's a starting rotation of ambassadors, with one relief ambassador. See if you notice a pattern: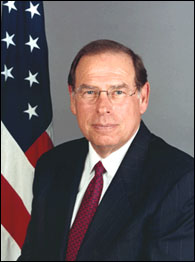 Mariners fans remember George L. Argyros as the worst owner in team history.
George L. Argyros, U.S. ambassador to Spain, 2001-present:
Owner, Seattle Mariners, 1981-1989; team compiled 614-790 (.437) record during his tenure, with no winning seasons.
Speaks fluent English.
No habla espaņol (does not speak Spanish).
No. 265 on Forbes 400 Richest Americans list, 2003.
Republican party campaign chair, California, 2000.
GOP contributions in 2000: $123,000.
"Pioneer" for George W. Bush reelection campaign, 2004.

Mercer Reynolds III, U.S. ambassador to Switzerland, 2001-2003:
Former co-owner (with George W. Bush), Texas Rangers, 1989-1998.
Co-owner, St. Louis Cardinals, current.
Speaks fluent English and basic French.
Speaks no German, Italian or Rhaeto-Romansch (official languages of Switzerland, along with French).
GOP contributions in 2000: $373,173.
George W. Bush reelection campaign's National Finance Chairman, a.k.a. "Fundraiser-in-Chief," 2003-present.

Stephen Franklin Brauer, U.S. ambassador to Belgium, 2001-2003:
Co-owner, St. Louis Cardinals (present).
Speaks fluent English.
Speaks no German, Flemish or French (official languages of Belgium).
GOP contributions in 2000: $415,830.
"Pioneer" for George W. Bush reelection campaign, 2004.

Jeffrey A. Marcus, U.S. ambassador to Belgium, 2003:
Co-owner, Texas Rangers.
Replaced Brauer and served for four days before resigning due to divorce proceedings.
GOP contributions in 2000: $275,000.
"Pioneer" for George W. Bush reelection campaign, 2000.

Craig Roberts Stapleton, U.S. ambassador to Czech Republic, 2001-2003:
Former co-owner (with George W. Bush), Texas Rangers, 1989-1998.
Married to cousin of George W. Bush.
Resigned ambassadorship to serve as fundraiser for George W. Bush re-election campaign.
"Pioneer" for George W. Bush reelection campaign, 2000.

OK, so we all know diplomacy and international relations aren't that important these days. I mean, it's just talk, talk, talk. The only thing most of these folks understand is a big stick.

Play theme music


"F--- the World" by Karon the Don & Cozzy Montana (E of S: Enemies of the States).

And that's why I want to buy the Detroit Tigers, and that's why I should be the U.S. ambassador to Luxembourg -- so I can travel around the world, all expenses paid, and tell those foreign folks the score. No, I don't speak Luxembourgish. But there is one thing that Luxembough and baseball have in common: great beer. And I love beer.

And remember, you can't spell ambassador without the word "ass."

2. Keepin' It Real Quiet: Why Don't Athletes Speak Up Anymore?


Play video of Minnesota Timberwolves coach Flip Saunders speaking

"What opinions you have, it's important to keep them to yourselves, I think. There's no question, though, that everybody supports the people that are over there serving our country, because they're serving us."

Michael Moore voiceover

So let me see if I've got this straight. It's not OK to state your opinion about anything. Unless you are stating your support for the war.

Saunders was responding to the fact that Steve Nash was wearing a T-shirt that said, "No War. Shoot for Peace." But Nash is Canadian, and we all know what that means -- it means we really don't want to hear what he has to say.

Well, OK, who wants to talk about the war anyway? Iraq, Saddam, Al-Qaeda, Bush, Saudi Arabia, Rumsfeld. oil ... nobody cares about that stuff.

So let's talk about an issue that athletes can understand -- getting paid.

According to the National Labor Committee, a human rights group, the NBA until very recently was selling official sweatshirts made in Burmese sweatshops -- by workers earning as little as seven cents per hour. The NBA was marking up these sweatshirts by $46.92 and selling them for $60, according to the NLC -- this despite the fact that it was it was against U.S. law to import goods made in Burma (the NBA received several shipments in the days before the law went into effect).

Likewise, the official baseball used by MLB is made in Costa Rica by workers who get 30 cents per ball -- which is then sold for $15 by Rawlings.

How many NBA players have you heard expressing concern about where and how their shoes are made? Or about any controversial issue at all? How many major league baseball players?

We love to think that we've come so far. If so, then why is everyone so afraid to speak?

Muhammad Ali, Jim Brown, Bill Russell, Kareem Abdul-Jabbar, Arthur Ashe, Dave Meggysey, Ted Simmons ... the roll call goes on and on. When they call roll for our generation, will our jillion-dollar jocks be AWOL?

Play theme music:

"The Sound of Silence"

1. Fahrenheit 755: Baseball Gets Hammered, or The Thrill of Victory, and the Agony of Da Fetus


Michael Moore voiceover


755 -- it's the most important record in sports. In that one stat is an amazing story: how Henry Aaron, a shy, thin kid from Mobile, Alabama, born into segregation, took on the mighty Babe Ruth and beat him, through dedication and hard work.

Play theme song


"Fight the Power" (Public Enemy).

Barry Bonds works hard, too, but when they tell the story of how Bonds beat Hank Aaron's home run record, no one will cue the violins. Syringes don't make music; and unless Bonds is able to clear away the suspicions, we'll hear a lot more about BALCO and Bonds' physique than about how he overcame the odds to beat Hammerin' Hank.

OK, OK, so you've already heard all about steroids. And who really cares, right? I mean, they're doing it to themselves. No real victims, right?

But not all doping involves steroids. And some doping definitely has victims.

Heard about abortion doping? That's getting pregnant to boost your athletic performance, and then aborting the fetus.

It's kept so quiet that no one knows how many athletes do this, but it's suspected to be a worldwide phenomenon.

According to some reports, abortion doping started in the 1970s, when young female athletes were forced to have sex with their coaches -- some of the girls were said to be as young as 14.

Abortion doping enhances the body just like steroids do -- by increasing the testoterone level. Best of all, there's no test for it. The U.S. Olympic rules ban abortion doping, of course. But they can't make a rule against getting pregnant.

According to one sports medicine expert in Finland, "Now that drug testing is routine, pregnancy is becoming the favorite way of getting an edge on competition."

So when you watch the Olympics in August, and they go on and on about how "Lydia (or Maria or Sophie) has made tremendous sacrifices and overcome great adversity," think for one second about what it takes to win a gold medal. It takes heart, and sometimes a whole lot more.

There is one good thing about abortion doping, however -- at least we know major league baseball players won't be trying it anytime soon.

Play theme song


"Only the Good Die Young" (Billy Joel): "They showed you a statue, told you to pray. They built you a temple and locked you away. But they never told you the price that you pay, for things that you might have done. Only the good die young."

What other sports movies should Michael Moore make? Send in your suggestions here.