Who is the real single-season NFL sack king?
This is a story about several determined men and a football record that may or may not belong to one of them. As is often the case in these situations, it comes down to an argument about the nature of sports and statistics and comparative eras that probably will never be resolved.
Over the years, multiple parties have become embroiled in this dispute, including a gift shop owner from Alamogordo, N.M., a pro wrestler known as "Boom Boom," at least one man named Bubba and Brett Favre. But it begins in the mid-1960s, when a ferocious defensive lineman with one of the greatest nicknames in sports history coined a phrase that would become both a statistical category and a source of great angst.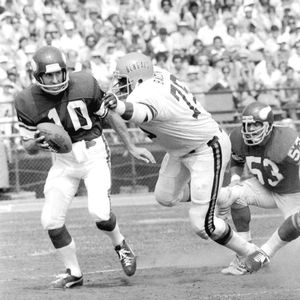 Diamond Images/Getty Images
Coy Bacon, shown pursuing Fran Tarkenton in 1977, believes he recorded 26 sacks the previous season.
David "Deacon" Jones was a revolutionary pass-rusher for the Rams, a 6-foot-5 mercenary whose signature move -- a ringing blow to the helmet of an offensive lineman that came to be known as a head slap -- was straight out of the Three Stooges playbook. Jones has said more than once that the only regret he harbors about his career is that he wishes he had taken the time to "kill more quarterbacks." Sometime in the 1960s, the legend goes, Jones began referring to brutal takedowns of signal-callers in the offensive backfield as "sacks." At the time, there was no statistical category for such a craven act, and the National Football League saw no need to add such a statistic.
So all through the 1960s and 1970s, men chased quarterbacks and smothered them in the dirt and grass and mud largely for fun rather than for any political or contractual purpose. Deacon Jones ushered in the modern era of the pass-rusher, passing on his techniques to his protégés, including another colleague with an unforgettable name. Born Lander McCoy Bacon, he was known to the public as Coy. He is retired now, 66 years old, but until recently Coy Bacon was a corrections officer at a youth facility near his hometown of Ironton, Ohio. Before that, he had a very brief career as a professional wrestler named "Boom Boom," and before that, he spent several years battling a cocaine problem in Washington, D.C. On Aug. 15, 1986, someone came to his door late in the evening and shot him in the upper abdomen. Bacon may or may not have owed this person money for drugs; he cannot remember anymore. This, he says, sobered him up immediately.
But way back before all those things occurred, Coy Bacon was a defensive lineman who co-opted his tactics from Deacon Jones. He was flamboyant. His emotions never lay far from the surface. He was a yapper and a head-slapper. The rumor about him, which Bacon vehemently denies, is that he was so interested in taking down quarterbacks that he refused to play against the run. Either way, he spent 14 seasons in the NFL, playing with four teams, and he made three Pro Bowls.
But it is Bacon's 1976 season with Cincinnati that lies at the center of this story. Because in 1976, Coy Bacon was virtually unblockable.
Masters of the sack

Coy Bacon
Unofficially recorded 26 or 22 or 21½ sacks in 1976, depending on whom you believe.

Al "Bubba" Baker
Unofficially, Lions DE had 23 or 21½ -- again, depending on whom you believe -- as a rookie in 1978.

Chris Doleman
Former Viking led NFL with 21 in 1989 and ranks No. 4 all-time with 150½; also played for Falcons, 49ers.

Mark Gastineau
Former Jets star led the NFL with 19 in 1983 and 22 in '84, the latter a record that stood until 2001.

Deacon Jones
Unofficially, the former Rams star and Hall of Famer had 22 sacks in
both 1964 and '68.

Bruce Smith
The NFL career leader with 200, his single-season best was 19 for Bills in 1990; eligible for Hall of Fame in 2009.

Michael Strahan
Former Giants star owns the official single-season record with 22½; ranks fifth on the career list with 141½.

Lawrence Taylor
Giants Hall of Famer led NFL with 20½ in 1986 and is tied for eighth on the career list with 132½.

Derrick Thomas
Former Chiefs star led NFL with 20 in 1990 -- including a league-record seven in one game -- and ranks 11th all-time with 126½.

Reggie White
Eagles and Packers Hall of Famer led NFL with 21 in 1987 and ranks second on career list with 198.
"Couldn't anybody stop me," he said recently. "They just double-teamed me, because I had confidence one man couldn't stop me on a pass rush. That was a good year."
It was so good that, according to certain tallies, it has never been matched. That year, according to the inital counts, Coy Bacon had 26 sacks. Bacon recalls the number being printed on his football card. He says he still has a videotape of an announcer (he couldn't remember who it was) proclaiming on national television that he finished the season with 26 sacks, and, for him, this is enough to make it official.
"Twenty-six sacks would be a record," he said. "We know that for a fact."
According to the ESPN Sports Almanac, Michael Strahan set the NFL record for sacks in a single season when he recorded 22½ in 2001. But there is also this note, underneath the official tallies:
The NFL did not officially begin compiling sacks until 1982. Cincinnati's Coy Bacon is widely, although not officially, credited with 26 sacks during the 1976 season.
Let us also not forget the culmination of Strahan's season, in which he essentially cuddled on the turf with his good friend Brett Favre to set the record. It was such an obvious fraud that it made many people question how this could possibly count, and it made you wonder, as Deacon Jones once asked, "Since when does 'all-time' begin in 1982?"
So I called the Elias Sports Bureau, which keeps all the official statistics for all the major sports leagues in this country. I spoke to a man whose name I cannot use because he never gave it to me, and whom I cannot quote because he declined to be quoted, and who didn't want to be forced to repudiate my premise. At times, I felt like I was engaging in a semantic discussion with the Comic Book Guy from "The Simpsons."
To summarize: The Elias Sports Bureau feels as if there is no need to revise the history before 1982 because it would be impossible. They claim it would be impossible because there is no uniformity, because there was no standard definition of a sack before 1982, because then you fall into that statistical booby trap of comparing generations, and therefore, to go back to the play-by-play sheets and videotapes is both time-consuming and useless. In fact, Seymour Siwoff of Elias told Pro Football Weekly a couple of years ago that the only reason sacks were adopted as an official statistic in 1982 is because an increased number of incentive clauses and bonuses were built into contracts. This led to increased complaints and queries about statistics, which essentially, Siwoff said, "forced our hand."
It is a reasonable argument, I suppose. Except a few days earlier, I had spoken to a man named John Turney who seems to have accomplished the impossible. Turney is the aforementioned gift shop owner from New Mexico, but he is also a statistical wonk of the highest order, and he spent several years of his life traveling to various cities and studying those play-by-play sheets and studying film and attempting to determine how many sacks men such as Deacon Jones and Coy Bacon really had.
Turney acknowledges Elias' argument that the play-by-play sheets are not perfect, and that they might, in fact, contain errors. But, he adds, "There are errors in all statistics," and therefore, who's to say the "official" numbers are airtight? For instance, in 2000 -- well, I'll allow him to explain:
"The year La'Roi Glover led the NFL in sacks, he was credited with one sack that should have gone to Joe Johnson. Johnson forced a fumble and when Glover tackled the quarterback the ball was already free, so in my opinion Johnson should have gotten that sack. That would have given Glover 16 for that season. Warren Sapp had 16½, so in my view Sapp led the NFL in sacks in 2000, not Glover."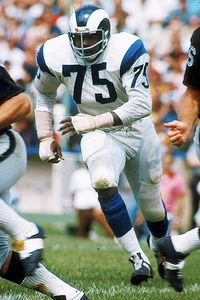 Tony Tomsic/NFL/Getty Images
Deacon Jones began the use of the now-illegal head slap in the '60s.
Clearly, this man has done some homework. And according to Turney's numbers, Coy Bacon did not, in fact, have 26 sacks in 1976 -- not unless you count half-sacks as complete sacks, which is not the way it is done today. But Bacon had 21½, which, considering he did it in 14 games instead of 16 games, is still pretty remarkable, and arguably more impressive than either Mark Gastineau's 22 in 1984 or Strahan's 21½ (subtracting one Favre flop) in 2001 -- even though Strahan and Gastineau did it years after the head slap had been outlawed. "That ought to be wondrous in and of itself," Turney said of Bacon.
Equally wondrous: Deacon Jones, who, according to Turney's counts, had 22 in both 1964 and 1968, and Al "Bubba" Baker of the Detroit Lions, who had either 21½ or 23 in 16 games in 1978, depending on whether you believe Turney's count or the count of a friend of his, who studied film and insists Baker had five sacks in a game against Tampa Bay that year rather than 3½. (For what it's worth, the Lions' media guide credits Baker with 23 in 1978; the Bengals' media guide credits Bacon with 22 in 1976. Which only makes this more confusing.)
Turney says he has reached a "detente situation" with Elias, regarding his tallies of both single-season and career sack numbers, which is probably in the best interest of both parties. This can all get a little nauseating after a while, especially for those of us who still struggle with remedial mathematics. His only purpose for pursuing an objective truth, he says, was his own edification, and, at some level, he is satisfied. "Now I at least know the answer," he said. "Whether the NFL accepts this or not is not really relevant."
It's a fair point. Maybe there is no way to argue this rationally. Nobody is going to forget Deacon Jones, who is now in the Pro Football Hall of Fame, or Michael Strahan, who will soon be there himself. The value of their career numbers might be in dispute, but the value of their careers is not.
For men such as Coy Bacon and Bubba Baker, perhaps there is something to be said for practicing their craft in the era of unofficial numbers. Maybe it is the best thing that could have happened to them because no one will ever be able to dispute them with some so-called "objective" truth. And aren't the best arguments in sports those that cannot possibly be examined objectively? In Coy Bacon's mind, the number is 26, and it will always be 26, and if he says he did it while running uphill, both ways, in a snowstorm, while wearing a suit of armor underneath his uniform, who are we to say he's exaggerating?
"They bring Jim Brown's stats up, so why can't they bring the sack numbers up?" Bacon said. "Strahan -- that was a gimme, man. That was terrible. We didn't have that stuff back in the old days, but what can you say? They're gonna do what they want to do, anyway."
He sighed into the phone.
"Ain't no real deal," he said. "We know that."
Michael Weinreb's book "Game of Kings: A Year Among the Oddballs and Geniuses Who Make Up America's Top High School Chess Team" has been released in paperback by Gotham Books. He is working on a book about sports in the 1980s. He can be reached at michaelweinreb.com.