Can romanticism survive corporate branding?
I lost a good sweatshirt the other day.
I realize this is a silly thing to obsess over, but it is my strong contention that this was no ordinary sweatshirt. I had worn it approximately every other day for the better part of a decade. Over time, in stressful moments spent fretting over sporting events being played out hundreds of miles from my home, I came to believe this sweatshirt, if properly wielded, endowed me with the supernatural ability to alter the course of sporting events. I came to believe -- as others of varied intellect and sanity have come to believe over the years, based on the unseen properties of their own T-shirts and socks and undergarments -- that I was a partner in my team's success, largely because this particular piece of finely woven cotton was somehow lucky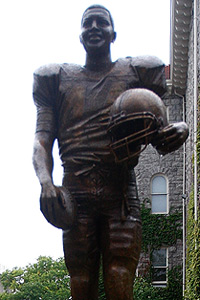 Marc Squire/Getty Images
Ernie Davis played a decade before the swoosh debuted, yet the logo initially found its way onto this statue of the Syracuse great.
My totem was a navy blue zip-up hoodie with the title (abbreviated) of my alma mater printed on the front in white block letters. At one point, during a particularly close game, I chewed the left drawstring to a viscous pulp. Another time, in the midst of an otherwise unblemished season, I left my sweatshirt at the local Wash-and-Fold, and my alma mater lost on a last-second score. Then, a short time ago, I left my sweatshirt on the luggage rack of a Long Island Rail Road train headed westbound toward Manhattan, a mistake for which I will never forgive myself, especially if my alma mater's season implodes in the coming weeks. I know, on a rational level, that this is an incredibly stupid thing to feel but I don't care. There are few areas of my life in which I am still given to romanticism, and my alma mater has always been one of those things, and this sweatshirt came to represent the one shred of "brand loyalty" I could wear on my body that didn't make me feel like a corporate automaton.
But I worry I will never get this feeling back. The reason I worry I will never get this feeling back is because I fear that in order to replace it with a sweatshirt of comparable quality and design, I will, in fact, become a corporate automaton.
I don't remember the manufacturer of my sweatshirt -- it certainly didn't seem a priority at the time of purchase, and it never seemed important enough for me to examine the label -- but here is what I can tell you: The manufacturer of my sweatshirt was not Nike, Inc. of Beaverton, Ore., even though Nike, Inc. is said to be the "official manufacturer" of all "authentic" products by, of and relating to my aforementioned alma mater. In fact, if it pertains to my alma mater and it is not manufactured by Nike, it is essentially considered a fraud and a forgery and a heresy, and the wearer should be viewed as both A.) cheap and B.) extremely unattractive.
At some level, I understand why this is. I recognize the vagaries of the free-market system. I do not think Nike is an evil corporate entity any more than most major American corporate entities designed to maximize profits (though, personally, I also think their shoes fit me like a wet sponge). I recognize that Nike, in exchange for embroidering a swoosh on the front of my alma mater's otherwise prison-issue uniforms, has probably endowed a ridiculous percentage of real estate on campus (as well as earned the right to perform genetic experiments on the squirrels). This is the mission, as a corporation; existing for the sole purpose of selling as much stuff as possible.
The problem is not really with Nike, anyway. The problem is we largely seem to have stopped noticing the convergence of commercialism and romanticism in sports, to the point that our alma maters feel they can sell us on virtually anything manufactured by their corporate partners, so long as it makes us feel appropriately nostalgic.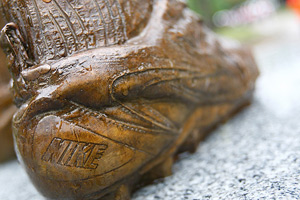 Marc Squire/Getty Images
Here's a close look at the footwear with which the Davis statue was originally adorned.
Here is what I mean: In early September, Syracuse University (which is not my alma mater) unveiled a bronze statue of legendary running back Ernie Davis, the first African-American to win the Heisman Trophy. The statue was created by an 82-year-old, New York-based sculptor named Bruno Lucchesi, and it was rife with anachronisms, including the fact Davis, who played for Syracuse from 1959-61, was wearing Nike shoes at least a decade before Nike, Inc. came into being. It was, we were told, an innocent mistake, and the statue is now back in New York, where Lucchesi is performing a sort of reverse retrofitting. But the fact remains someone at the university initially provided Lucchesi with the wrong equipment, according to a statement by the sculptor. Meanwhile, university officials continue to insist that just because the swoosh of Nike, Inc. -- "a great, great partner of ours," the school's athletic director, Daryl Gross, told the Syracuse Post-Standard -- wound up on the shoes, this does not mean they purposefully engaged in a cynical plan to commercialize the school's history.
But I ask you this: Wouldn't ignorance, in this case, be even more disturbing than cynicism? Because ignorance on the part of the Syracuse administration would suggest the people in charge didn't even think about the inherent conflict. Ignorance would mean we've reached the point that the swoosh no longer even registers to its partners (and our alma maters) as a corporate symbol, and that it has actually become as vital a part of the uniform as, say, the stripes on the sleeves, or those endearingly doltish buckeye stickers on a certain Big Ten school's helmet. Ignorance on Syracuse's part would suggest commercialism has swallowed romanticism altogether, and that those of us who desperately cling to our beliefs in the spirit of college athletics, and in the mysticism of our various alma maters, might just as well purchase clothing embroidered with the words, "BOARD OF DIRECTORS!"
Maybe that sounds skeptical. But I miss my sweatshirt, and I worry that in replacing it, I will be forced to choose between loyalty to my alma mater and deference to my alma mater's corporate benefactor, and to their omnipresent swoosh, which seems to appear in conspicuous spots on a greater percentage of college memorabilia each year.
And I wonder if, in the future, I will still be irrational enough to believe that my alma mater's great, great partner is me.
Michael Weinreb's book "Game of Kings: A Year Among the Oddballs and Geniuses Who Make Up America's Top High School Chess Team" has been released in paperback by Gotham Books. He is working on a book about sports in the 1980s. He can be reached at michaelweinreb.com.
Also See
ESPN Top Headlines