A team that chose principles over gold medals
For years, the men said nothing at all. One day they went into an office to cast a vote by secret ballot that changed their lives, and the next day they moved on into a future clouded with doubt. A few days later, a defiant Adolf Hitler pushed German troops into the Rhineland, and there were more pressing concerns than a basketball team and a sacrifice that seemed minuscule in comparison to the storm raging in Europe.
Seventy-three years later, each of the men who cast a ballot is gone, and the New York City they grew up in has been paved over and rebuilt and then paved over again. Even the basic truths that form the core of this story seem impossibly removed from the modern day: Imagine a tiny college in Brooklyn forming the best basketball team in America, its roster composed of the sons and grandsons of Jewish and Italian immigrants, its coach a man who eventually would write a series of wildly popular children's sports books.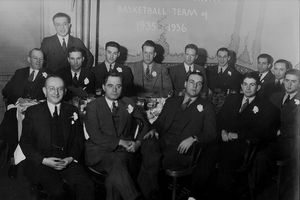 Long Island University
Here they are, members of the LIU team that turned down a tryout for the Olympics.
The coach's name was Clair Bee, and his was a remarkable American life -- he was said to have invented the 1-3-1 defense and the 24-second shot clock. He coached some of the greatest teams in college basketball history and later got caught up (unwittingly, most believe) in the gambling scandals of the early 1950s that changed the face of college basketball. His stories about Chip Hilton, an All-American boy and an All-American athlete, were among the most beloved books of a certain generation of schoolchildren -- including a young man from Orrville, Ohio, named Bob Knight, who found in Bee a friend and a coaching mentor.
And yet this part of Bee's remarkable biography, the secret ballot of 1936, has remained largely hidden from view. Not long ago, Mike Farley -- Bee's grandson and the family's unofficial historian -- called up Knight and asked him: What did he know about Bee's Long Island University basketball team's boycott of the 1936 Olympic trials? What did he know about the vote the players had taken, about the decision they had made -- that if one team member chose not to participate, they all would refuse to participate, and that if they had chosen to participate they almost certainly would have won the first Olympic gold medal in men's basketball in Hitler's Berlin?
There was a long pause. And then Knight, bewildered, said, "Michael, I didn't know anything about your grandfather and the Olympic trials."
There is an undercurrent of silence in this story, and the odd thing is, no one who remains alive can explain why these men felt the need to stay quiet for so long. In retrospect, what they did was unquestionably courageous. We can see that now.
But maybe you had to be there to understand how complex this vote actually was, to understand the implications and the repercussions and its effect on their lives. One sports columnist declared LIU's decision would cause "ill feelings" and was "the wrong answer from a sports angle." This was five years before Pearl Harbor. The questions being asked were entirely different -- there was an overarching sense, as there often is, that sports and politics should remain separate.
Maybe, to some, it felt like a missed opportunity: Here were eight men who had gone 25-0 during the 1935-36 season, who had won 33 games in a row by an average margin of 23 points, who had been referred to by at least one opposing coach as "the greatest team in the country" despite the fact that they shared a cramped gym with the Brooklyn College of Pharmacy. All they had to do was show up at the Olympic trials, and they almost certainly would have prevailed. (Given the formula of the day for choosing the Olympic team, Farley says, the likelihood was that every member of that LIU team would have had a place on the squad.) And so maybe there was a lingering bitterness about what happened in Berlin when a group of players clearly inferior to LIU won Olympic gold in Hitler's Germany.
Or maybe it was simply too difficult to talk about the war at all. For Melissa Merson's father, Leo, this had always been the case. Basketball, he could speak of all day long -- he later built his children a lighted court in their backyard, and both of his sons would go on to play college ball. He would share stories about his time at LIU, and he would speak of Coach Bee and the years he spent as a player and coach in the American Basketball League. And then one day in 1995, with her father confined to a wheelchair, Melissa Merson took him to the Holocaust Museum in Washington, D.C., and there was an exhibit about the 1936 Olympics, about the heroism of Jesse Owens, and Leo Merson began telling this story he'd never told before.
"I was supposed to go to the Olympics," he said.
There were so many stars on that team -- Julie Bender, the leading scorer, and Ben Kramer, the captain, each played several seasons in the ABL. Marius Russo went on to pitch for the Yankees in the World Series, and Ken Norton would later spend 22 years as the basketball coach at Manhattan College. Harry Grant became an expert bowler. Arthur Hillhouse, at 6-foot-6, was a dominant presence at the pivot, and Bill Schwartz, a senior, had already helped elevate the LIU program into the upper echelon. They were not all Jewish, of course, but several were, including Merson. He lived in the Brownsville neighborhood of Brooklyn. His father owned a grocery store and had rushed out one afternoon to return some change to a patron when he was killed by a careening taxicab. After that, Leo lived with his mother, and in 1936, in a Jewish neighborhood, the pressure to do something about Hitler was all-consuming. His grandfather would come home from synagogue and plead with him not to go to Germany. His mother, working at the grocery store, would come home and tell him that the customers were speculating about what LIU would do, about whether it would set an example.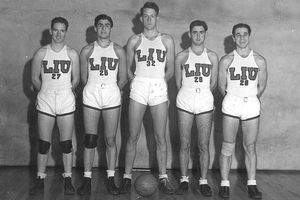 Long Island University
The story of these players' secret vote is finally out.
And so, in early March, with their season almost complete, the players held the vote in Bee's office. They had already agreed: A single no meant a unanimous no. And so it is impossible to know the final tally, or to know how much Bee influenced their decision, though the coach was known to wield a strong hand, and to advocate for the less fortunate. (He had, in fact, been orphaned as a teenager.) All that can be said for certain is that the men came out of that room in unanimity.
They were not the only team to drop out of the trials; at least three other schools declined as well, blaming exhaustion and academic concerns. But none of the others cited the political climate as the basis for its decision. None of the others even alluded to Hitler and his persecution of the Jews. Only Long Island University did, in a sweeping statement by the university's president, Tristram Walker Metcalfe: "Our conviction that the United States should not participate in the Olympic Games since they are being held in Germany has not been altered by the fact that our basketball team is now recognized generally as a possible Olympic representative. Such participation would be indirect, if not direct, contribution of the raising of funds to finance such participation."
And that was the end of it. Until Leo Merson told his daughter about it 60 years later. Until she informed the United States Olympic Committee, and until word slowly began to spread among the sons and the daughters of the men in that room. In 2001, a few months after Leo's death, Melissa Merson ran with the Olympic torch in his honor. They've since been honored by LIU, and on April 26 they'll be inducted into the National Jewish Sports Hall of Fame in Commack, N.Y.
Still, the vote and its repercussions have remained shrouded in secrecy. When a reporter from a Jewish newspaper called Russo's daughter in the fall to inform her of her grandfather and the boycott, she had no idea.
"How could you have any kind of a selfish feeling after such an unselfish act?" said Farley, Bee's grandson. "How in the world did no one know about it?"
What compelled so many men to remain silent for so long, we will never know. All that remains now are old newspaper clippings, and grainy photographs, and our own attempts to grasp at what it means for a group of athletes to vote their conscience.
Michael Weinreb's book "Game of Kings: A Year Among the Oddballs and Geniuses Who Make Up America's Top High School Chess Team" has been released in paperback by Gotham Books. He is working on a book about sports in the 1980s. He can be reached at michaelweinreb.com.