Commentary
Will the future of football grow taller?
I have never actually met Ali Villanueva, but I think it is safe to assume that he is the kind of human one would not particularly enjoy encountering during hand-to-hand combat. In fact, a grizzly bear might be a preferable adversary. This is because Villanueva is 6 feet, 10 inches tall, and weighs in somewhere to the north of 280 pounds. He is also a cadet at the United States Military Academy at West Point, and a football player for the Army Black Knights. And it is here, on the football field, where Villanueva has threatened to become the sort of experimental weapon that threatens to change the parameters of the game itself.
At the behest of his coach, Villanueva switched positions this spring. He shifted from offensive tackle, where aberrant behemoths typically reside.
And he lined up at wide receiver.
[+] Enlarge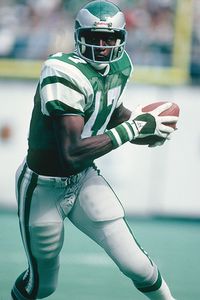 Focus on Sport/Getty ImagesThe tallest wide receiver in NFL history, Harold Carmichael caught 79 career TD passes.
On an intuitive level, coach Rich Ellerson's decision seems utterly logical. Villanueva caught two touchdown passes in one spring scrimmage; upon hearing this, the first thing I asked myself was: Why didn't anyone do this before? Many of the defensive backs Villanueva would match up against are a foot shorter. In the red zone, this would mean Army's quarterback would simply have to lob a pigskin into Villanueva's considerable atmosphere, and, by doing so, the Army could metaphorically downsize an entire opposing secondary. Even as a decoy, he becomes the most gargantuan fake out since the Trojan horse; on run plays, he could potentially level cornerbacks into two-dimensional renderings of themselves.
All of which begs an obvious question:
Why aren't there more extremely tall dudes all over professional football? Why can height be a good thing, up to a point, and then it suddenly begins to detract? And how much of this is the fault of Al Davis?
The answer, as you would expect, comes in many forms, though none of them seem utterly unimpeachable or inarguable. This is, after all, the National Football League we are talking about, and no American institution -- with the possible exception of the Army itself -- prides itself upon more inherent traditions and proscriptions to guide its thought processes. In football scouting, there are always several reasons as to why something out of the ordinary cannot possibly work, and this is why virtually every player taller than 6-6 is generally classified as a genuine risk.
But perhaps the time has come to re-examine this orthodoxy.
---
In 1967, the Oakland Raiders used their 10th-round draft pick on a 7-foot tall defensive lineman out of North Carolina Central. His name was Richard Sligh; he played a total of eight games in his career. And yet the Raiders, as we know, have never shied away from taking chances on freaks of biology, if only because their team happens to be owned by one. Later, Al Davis would also trade for 6-7 Ted Hendricks, the tallest linebacker in NFL history, and sign 6-8 defensive lineman John Matuszak.
Davis did not pioneer a trend here. He did not inspire his fellow owners to begin scouting professional wrestlers and Sudanese tribesmen. Players like Matuszak and Hendricks and the Dallas Cowboys' 6-9 defensive end, Ed "Too Tall" Jones, are still viewed as exceptions to a rule that guides the culture of scouting: That too much height creates a bigger target for injury, that tall people are not as quick or as flexible and cannot generate the same bursts of speed as their shorter counterparts.
"One of the major reasons is simple," explains Matt Williamson of Scouts Inc. "This is a physical, collision sport, and the low guy wins. Whoever has lower shoulder pads, bent knees and a lower power base is usually going to win the confrontation."
This makes a certain amount of sense, especially among linemen and linebackers, who are most often involved in those high-impact collisions. It does not account for former Baltimore Ravens' lineman Jonathan Ogden, who at 6-9 became one of the best offensive tackles in modern history. But Ogden is classified -- perhaps rightfully so -- as yet another freak of nature who somehow managed to defy the geometry of the game.
[+] Enlarge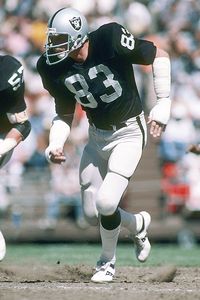 Al Messerschmidt/Getty ImagesHall of Fame linebacker Ted Hendricks stood 6-foot-7 and was nicknamed "The Stork."
So, too, was Harold Carmichael, who doesn't buy Williamson's theory at all.
"I know whoever said that isn't a scout for us -- among wide receivers, I don't see anybody getting low," said Carmichael, who is employed as a director of player development by his former team, the Philadelphia Eagles. "I always prided myself that whatever a short guy could do, I could do, too. Dances, roller skating -- whatever they could do, I could do, too."
Carmichael is 6-8; in 14 seasons as an NFL wide receiver, he hauled in 590 passes (though none were caught on roller skates). He was also rarely injured; at one point, he caught a pass in 127 consecutive games. A four-time Pro Bowler, his mere existence raises the question as to why there haven't been more receivers of his ilk. Especially since the scouting culture seems to regard it as virtually impossible to find a credible cornerback who stands much above 6-foot, given the need to play with bent knees and generate short bursts of speed (most tall defensive backs get shifted to safety, where they can collide with extreme prejudice).
Carmichael attributes the dearth of tall wideouts to the lack of precision route running in the modern game. Today's receivers, he says, are taught speed routes rather than "stem" routes, and it is hard to find anyone taller than 6-4 who can run a 4.4 40-yard dash. But what about the tall receiver as goal-line specialist? What about a receiver like, say, Villanueva, who could burst through physical contact at the line and win jump balls while hardly jumping at all?
The obvious answer, of course, is that there are not many 6-10, 280-pound specimens who do not have (a) hands of granite, or (b) a full scholarship to a Big East basketball program. "If you have a decent athlete, and he's 6-foot-9," said Williamson, "he's going to go play basketball."
Villanueva is, indeed, the tallest player in the Football Bowl Subdivision of college football. But there seems to be some evidence that other teams may be experimenting with height, as well, and luring athletes away from basketball: At Louisville, 6-8 Josh Chichester, who played briefly for Rick Pitino's squad, stands atop the depth chart at wideout; at West Virginia, 6-8 Wes Lyons played as a slot receiver this spring, and was one of the team's most improved players. And when the Giants recently drafted Ramses Barden, a 6-6 receiver out of Cal Poly, general manager Jerry Reese specifically touted him as a red-zone threat.
Carmichael is a staunch advocate for the statuesque, on both sides of the line of scrimmage. He claimed that if he were running a pro team, he would draft a tall cornerback, merely to counter the opposing team's tallest receiver; and if receivers do grow considerably larger, this would seem an inevitable counter-move. This year, the Miami Dolphins drafted 6-3 cornerback Sean Smith out of the University of Utah in the second round, though they are undecided as to whether he might eventually move to safety.
And while we're at it: Could this presage the emergence of a 6-10 quarterback, in order to be able to see over all these gargantuan defenders?
"Actually, I immediately thought about quarterback," Williamson said. "I can't really think about any huge negative to being a really tall quarterback."
(Unless, of course, you are related to a reclusive former home run king.)
Still, all of these experimental possibilities coincide with the Darwinist nature of football itself. The game has progressively become bigger and faster and stronger. It seems inevitable that it will eventually grow taller, too.
Michael Weinreb's book "Game of Kings: A Year Among the Oddballs and Geniuses Who Make Up America's Top High School Chess Team" has been released in paperback by Gotham Books. He is working on a book about sports in the 1980s. He can be reached at michaelweinreb.com.
Could LeBron Play in the NFL?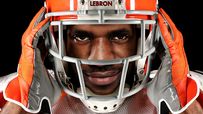 Could LeBron James make the transition from NBA MVP to impact NFL player? You might be surprised by what the experts say.
Story
MORE COVERAGE
PODCAST