Commentary
Strokes of Genius
Roger Federer, Rafael Nadal and the greatest match ever played
Updated:
June 17, 2009, 9:31 AM ET
By
L. Jon Wertheim
Editor's note: Excerpted from "Strokes of Genius: Federer, Nadal and the Greatest Match Ever Played" by L. Jon Wertheim. Copyright © 2009 by L. Jon Wertheim. Reprinted with permission of Houghton Mifflin Harcourt.
In one of the most gripping sporting events in recent memory, Rafael Nadal beat Roger Federer in five sets to win the 2008 Wimbledon final. Tick off the "Classic Sporting Event" prerequisites and this match had it all. Skill? Check. Courage? Check. Self-sufficiency, sportsmanship, grace, discipline, gallantry, poise, intelligence, humility, injury, recovery, fibrillations of momentum, even acts of God. Check, check, check, check, check ... The match was also significant for what it lacked: melodrama, trash talk, gamesmanship. There was neither a scoreboard telling fans when to clap nor a public address announcer with a cartoonishly baritone voice. No cheerleaders, no goofy mascots, no booing, no piped-in music during breaks in play or unnaturally peppy men firing free T-shirts into the crowd via air cannon. The moral might be this: Invest some dignity in a sporting event and everyone responds in kind.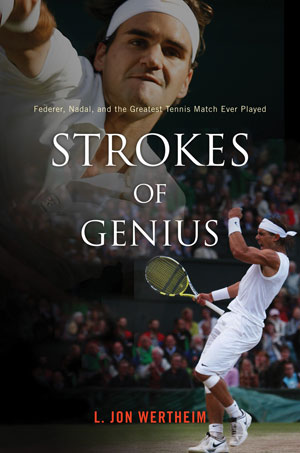 BUY THE BOOK:
Click here
to purchase "Strokes of Genius: Federer, Nadal and the Greatest Match Ever Played" by L. Jon Wertheim.
It was 13:00 Greenwich Mean Time on July 6, 2008, an hour or so before they were to face each other in the 122nd Wimbledon final -- the most important match of the year's most important tournament -- when Switzerland's Roger Federer and Spain's Rafael Nadal came face to face. Federer was sitting in front of his usual locker, No. 66, relaxing on a pine bench, when Nadal trudged in, headed for locker 101 maybe a dozen paces away. Inasmuch as one man considered the other an interloper or a space invader -- the groom spying the bride in advance of the wedding ceremony -- they suppressed any outrage. Federer smiled as if to say, "So, I guess we meet again." He looked genial and unthreatening. Nadal nodded in response, neither coldly nor warmly. Then each went back to pretending he had the room to himself.
Federer and Nadal form the most dynamic rivalry, not just in tennis but in all of contemporary sport. Together they have created a firewall, dividing themselves from the rest of the field. One or the other had won 14 of the last 16 major championships. For more than a century, never had two men played each other in both the French Open and the Wimbledon finals in the same year; Nadal and Federer had done it three years running. The 2008 Wimbledon final marked their 18th encounter. At the time, Nadal led the head-to-head encounters 11 to six, including all three matches they'd played previously in 2008 -- though it should be noted, most of the matches were played on his preferred surface of clay. Four Sundays earlier, Nadal had pasted Federer in the French Open final in Paris. The victory was so comprehensive (scoreline: 6-1, 6-3, 6-0) and so unworthy of their rivalry that it embarrassed both players. Nadal tried to avoid going into the locker room afterwards, lest he glimpse Federer. Immediately after the match, Federer wore a brave face in public; but within days, he would characterize the defeat as "brutal." Nadal's analysis was more charitable: "I played an almost perfect match and Roger made more mistakes than he usually does."
Yet, Nadal was still second in the tennis org chart, consigned to No. 2 in the rankings, Federer having inhabited the top spot for 230 straight weeks and counting, a tennis record. What's more, Federer had beaten Nadal in the previous two Wimbledon finals -- the 2007 edition was a five-set insta-classic. The loss had driven Nadal to tears and left him to wonder if he had squandered his best opportunity to win the one title he coveted most.
Beyond the records, their rivalry was heightened by clashing styles. One could spend hours playing the "compare and contrast" game. Federer versus Nadal embodies righty versus lefty. Classic technique versus ultra-modern. Artist versus conquistador. Feline light versus taurine heavy. Middle European restraint and quiet meticulousness versus Iberian bravado and passion. Dignified power versus an unapologetic, whoomphing brutality. Zeus versus Hercules. Relentless genius versus unbending will. Polish versus grit. Metrosexuality versus hyper-muscular hyper-masculinity. A multi-tongued citizen-of-the-world versus an unabashedly provincial homebody. A private jet flier versus a steerage passenger. A Mercedes driver versus a Kia driver.
The tennis salon's comparison of Federer's evolved beauty with Nadal's Neanderthal drudge is as unfair as it is crass. But accepting the premise that they're both artists, they're of decidedly different schools. Federer is a delicate, brush-stroking impressionist and Nadal is a dogged, freewheeling abstract expressionist.
[+] Enlarge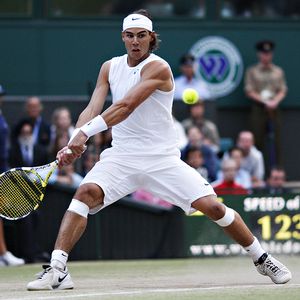 Adrian Dennis/Getty ImagesNadal had lost the Wimbledon final the previous two years to Federer.
While fewer than five years separate them -- Federer's d/o/b 8/8/81; Nadal's d/o/b 6/6/86 -- they are on opposite sides of a generation gap. (Federer counts among his best friends a married Swiss investment banker in his late 30s; Nadal's gran amigos are mostly PlayStation savants in their early 20s.) Amazingly, they are both listed at the exact same physical dimensions, 185 cm and 85 kg (6-1, 188 pounds), but they could scarcely be more corporeally different. Federer is lithe and wiry, all sinewy strength and fast-twitch muscle. Nadal is built as if he could have had a career as an NFL halfback -- if not a UFC cage fighter -- had this tennis pursuit not panned out so magnificently.
Now, even in the locker room, awkwardly passing the time together/apart as rain delayed the start of their third straight Wimbledon final encounter, their differences were glaringly apparent. Befitting a player preparing to compete in the finals for the sixth straight year, undefeated at Wimbledon since 2002, Federer radiated calm. As one neutral observer later put it, "It was almost as if he were stoned." He sat on the bench, smiling and cracking cocktail party jokes. Having drained a 20-ounce bottle of Pepsi that accompanied the plate of pasta primavera he ate for lunch, Federer munched one of his beloved Kit-Kat chocolate bars. (At Federer's behest, the club had stocked them in the locker room along with the bananas other, lesser players had requested.) Severin Luthi, the captain of the Swiss Davis Cup team and the closest thing Federer had to a coach that week, sat nearby. But when they spoke, it was mostly about matters other than tennis. Single-handedly setting the emerging field of sports psychology back a good decade, Federer did no visualization or other mental exercises. He resembled a rock star, lounging backstage before a gig he had performed innumerable times.
The previous night, at the house he was renting near the courts, Nadal had been so charged with nervous energy that he tossed in his bed. Images of his previous two Wimbledon finals invaded his thoughts -- first a disappointing and then a devastating loss to Federer -- and much as he tried to banish them, they kept screaming back. He listened to music, got up to watch movies. He didn't fall asleep until 4 a.m. and woke up at 9:30 a.m. When Nadal made it to the breakfast table, he saw that, for the first time all tournament, it was raining. "Finally, it's Wimbledon!" he joked.
Now, swinging his arms wildly and taking practice strokes in the locker room just a few feet from Federer's head, Nadal cut the classic figure of a warrior preparing for battle. He had just taken a cold shower and now, with his sympathetic nervous system kicking into high gear, Nadal was in fight-or-flight mode. His heart-rate surely jackhammering, stress hormones coursing through his body, his pupils enlarged, he stretched and paced and pissed, making sure his urine was clear and odorless, an indication that his body was properly hydrated. Even when he tried to conserve some energy, he fiddled with the tight bands of tape below his knees, worn to prevent the patellar tendonitis that has bothered him in the past. As if afflicted with low-grade OCD, he riffled through his swollen racket bag again and again. Another "ritual," he lowered and elevated his socks until they were precisely the same height. Sitting nearby, Nadal's uncle and coach, Toni Nadal, offered some motivational bromides in intense staccato bursts. "There is no such word as 'cannot.'" ... "Do what you have to do." ... "Obligations are obligations."
At around 2:15 p.m., half an hour after their initial estimated departure time, Federer and Nadal were advised that the sky, though still inky, had stopped spitting raindrops and the "tarp tent" protecting Centre Court from the moisture was being deflated and disassembled. Federer and Nadal walked out of the locker room, wended down a long, carpeted hallway and slowly descended a set of stairs leading to the court. With Nadal walking 10 feet ahead, they both passed a photograph of Bjorn Borg and John McEnroe's Wimbledon final in 1980, the match against which all other tennis clashes are judged.
[+] Enlarge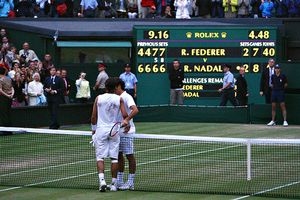 Julian Finney/Getty ImagesNadal would prevail in the epic match, 6-4, 6-4, 6-7 (5), 6-7 (8), 9-7.
Here again, the Federer-Nadal differences were italicized and in boldface. Having outgrown the cream, gild-trimmed blazer he'd worn without irony (and, miraculously, pulled off without mockery) in past years, Federer was now clad in a cream, gold-trimmed cardigan straight out of "Brideshead Revisited" -- conservative attire that represented a sense of respect and history. The sweater, made by Nike, retailed at the Wimbledon gift shop for the larcenous price of £260, and only 230 had been produced, an inventory made to correspond with the 230 consecutive weeks Federer had spent ranked No.1.
Nadal, who would sooner wear a grass skirt than a $500 cardigan sweater, donned a white warm-up. Federer wore classic tennis shorts cinched with a belt; Nadal wore his customary clamdiggers that sagged below his knees, no belt required. Federer's ration of hair was carefully styled, while Nadal's simply draped down his olive-skinned neck. They both wore Nike headbands and white Nike socks that poked out of white Nike shoes.
Just before walking on the court, they endured a pre-match interview, an excruciating drill that requires players to offer a sound bite or two on a match yet to be played. The "host networks" have negotiated this access as a condition of their hefty TV rights fee, and the players, lacking as they are in a real union, are forced to abide it. Still in their mental spaces, the players clearly resent this intrusion and usually offer a banquet of clichés. It should be a good match. Winning the first set will be key. I need to serve well. I'm going to try my best and we'll see what happens.
Yet even these hollow phrases can be pregnant with meaning. When Federer stood before the interviewer, he remarked, "I feel good [but] it might be a tough day with the rain and everything and a tough opponent so it should be interesting," betraying what sports shrinks call "negative mental hygiene." When Nadal was asked a similar question about the rain delay and the inauspicious forecast, he rocked his head from side to side and shrugged, his default gesture. In his thick accent, he said softly, "The rain is for both [of us] so no problems. I just accept the weather conditions and I just play."
Jon Wertheim is a senior writer for Sports Illustrated, where he covers tennis, the NBA, sports business and social issues. His previous book, "Blood in the Cage," examined the rise of mixed martial arts and the culture of ultimate fighting.