By Jason Whitlock
Page 2
Kevin Garnett doesn't need to win a title -- or even a playoff series -- to legitimize his standing as the game's best baller. He's not Anna Kournikova.
The NBA playoffs begin this weekend, and you'd think that Garnett's entire reputation is riding on his ability to lead the Minnesota Timberwolves past the Denver Nuggets in the first round of the playoffs.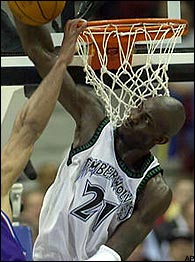 Kevin Garnett's game has risen to heights of greatness.
The Wolves, you see, have never won a playoff series (they're 0-7 in the past seven seasons) and are 7-22 overall in the playoffs. And now that Phil Mickelson has shaken the "major" monkey off his back, and there's no one fun left in the game of golf to pass the monkey to -- Colin Montgomery is too old, too fat and too whiny -- my American sports-writing peers are intent on jumping the monkey to another sport and another high-profile, likeable athlete with amazing talent.
Well, K.G. doesn't even deserve it for a week, the length of time it should take the Wolves to dismiss Carmelo Anthony's surprising Nuggets. Passing the monkey to Garnett is a terrific marketing ploy for TV. Mickelson's victory delivered spectacular, almost-Tiger-esque ratings to CBS.
But the ploy is an insult to Garnett.
He's a superstar in a team sport. If the NBA conducted a one-on-one tournament, Garnett would be the overwhelming favorite. He's clearly the most versatile player the game has ever seen. There's no hole in Garnett's arsenal. He's a 10-tool player. He can shoot from three, score with his back to the basket, take a defender off the dribble, rebound, pass, lock up an offensive player, block shots, handle the ball, run the court and shoot from the line.
Garnett has more game than Michael Jordan in his prime. I'm not calling Garnett better than Jordan. Garnett, at seven feet, simply has more weapons than Jordan or Magic Johnson or Larry Bird or Wilt Chamberlain. We've really never seen anything like K.G. He's the Tiger Woods of basketball. Unfortunately, Garnett plays a team sport.
K.G. is completely blameless in the Wolves' playoff failures. That's not a revelation. We all know this. He's never had a proper supporting cast. Stephon Marbury was only in Minnesota for two seasons and 18 games. Garnett and Marbury were both young and just trying to figure out the league at that time.
Not even this season -- when the T-Wolves posted the best record (58-24) in the West -- has Garnett been properly supported. Oh, much has been made of the Three Amigos -- Garnett and offseason pickups Sam Cassell and Latrell Sprewell. You'd think it was Jordan, Pippen and Grant or Bird, McHale and Parish or Magic, Kareem and Worthy.
It's not. Cassell and Sprewell are past their primes. Yes, I know Cassell made his first-ever All-Star game. That's a testament to Garnett's ability to elevate the play of the players around him. Cassell is 34, scored a career-high in points and shot a career-best .488 from the field. Sprewell, 33, hasn't had a career season. But Garnett has dusted Sprewell's image. Just being around K.G. has made Sprewell, who's shooting 40 percent from the field, more sympathetic.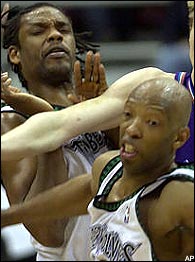 Latrell Sprewell and Sam Cassell have been along for the ride.
There's been so much focus on the addition of Cassell and Sprewell that we've been slow to comprehend what Garnett has played without this season. He's worked with a couple of old guys and survived for most of the season without his in-their-prime teammates. Injuries should've destroyed the Timberwolves.
Guard Troy Hudson, who turned into a reliable scorer last season, played in just 29 games this year. His scoring average fell from 14.2 to 7.5. Wally Szczerbiak appeared in just 28 games. His scoring averaged dipped nearly nine points. Center Michael Olowokandi, Minnesota's other big offseason acquisition, played in 43 games and averaged just six points.
Here's all you need to know about the Wolves this season. Oliver "Big Ruben" Miller and Mark "MC Hammer" Madsen have been getting key minutes throughout Minnesota's season. You think Miller and Madsen put any fear in Shaquille O'Neal and Tim Duncan? You think Kobe Bryant has much respect for Minnesota 'two' guard Trenton Hassell? Who is Trenton Hassell? I'm sure he's a fine defender and an all-round good guy. But the starting 'two' on the best team in the West?
Garnett doesn't need to beat the Nuggets to prove his greatness. He did it this season with one of the most amazing, flawless performances we've ever seen. He played all 82 games. He recorded career highs in scoring (24.2), rebounds (13.9) and blocked shots (2.17), and also averaged five assists and 1.46 steals.
Who wouldn't take those numbers? We haven't seen that kind of across-the-board production since Wilt. And Wilt wasn't nearly as skilled as Garnett.
You can go too far in judging team-sports athletes by their postseason success. Barry Bonds doesn't need a World Series title to cement his legacy. All he needs is a clean urine sample. John Elway didn't need two Super Bowl titles late in his career. Before SportsCenter, sports talk radio, the Internet and all the new media, we didn't need titles to define an athlete. That's why they called title-less Ted Williams "Teddy Ballgame."
Kevin Garnett is "Mr. Basketball."
Jason Whitlock is a columnist for the Kansas City Star (kcstar.com) and a regular contributor on ESPN The Magazine's Sunday morning edition of "The Sports Reporters." He also hosts an afternoon radio show, "The Doghouse," on Kansas City's 61 Sports KCSP. He can be reached at ballstate68@aol.com.