By Jason Whitlock
Special to Page 2
You would think his name is Kobe Tillman or Pat Bryant. You would think Kobe Bryant is an American hero, shuttling back and forth between Baghdad and Los Angeles.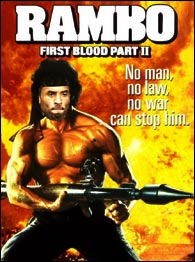 There's no stopping RamKo.
"The mental part that Kobe's going through, nobody can imagine,'' a Lakers' assistant coach was quoted as saying in an ESPN.com story. "He's done that consistently when he's come back from Colorado. There's a lack of sleep involved, so much else. It's pretty incredible."
Yes, RamKo-be, the American TV ratings superhero predicted by Dallas Mavericks owner Mark Cuban, has finally hit the NBA playoffs.
We, the media, are thoroughly impressed that RamKo can fight Colorado prosecutors by day and San Antonio Spurs by night. He does it with virtually no help. The Lakers and their all-Hall-of-Fame lineup have eliminated the triangle from Phil Jackson's offense. RamKo simply goes one-on-one night after night against the Spurs, and he always does his best work after a Colorado shootaround session.
Tuesday night, RamKo dropped 42 points on the Spurs, and commentators and journalists are hailing it as one of the most remarkable performances in NBA history. The performance, which included a 15-point fourth quarter and 15-of-27 shooting, sparked Shaquille O'Neal to call RamKo the greatest player ever. One of Phil Jackson's assistants compared RamKo's effort to the flu shots that Air Jordan once rained on the Utah Jazz during the NBA Finals.
All this hype is because RamKo pleaded not guilty to sexual-assault charges inside a Colorado courthouse on Tuesday, and then jetted to L.A. to battle Bruce Bowen six-and-a-half hours later.
RamKo, crime fighter by day, hoop-head by night, is making a habit of spectacular performances immediately after he duels judges and prosecutors.
RamKo in action
Estimated travel time from Eagle, Colorado to Staples Center (Sources: mapquest, travelocity)

Court house to Staples Center
From Courthouse back to the Jet Center: 8.8 miles, 13 minutes
Vail, CO back to LA: 944 miles, 3 hrs, 10 minutes
Van Nuys back to Staples Center for game: 24.4 miles, 26 minutes (depending highly on traffic)

Total time: 3 hours, 49 minutes.

Kobe's numbers when playing on the same day as a court date


April 28th vs. Rockets
31 pts, 6 rebs, 10 asst
(arrived 26 minutes before tipoff)
March 24th vs. Kings
36 pts, 6 rebs, 6 asst
(arrived at arena an hour before game)
December 19th vs. Nuggets
13 pts, 3 rebs, 5 asst
(hit GW shot, arrived at game w/ 4 min left in 1st qtr)
Back in December, he hit a game-winning shot to beat the Nuggets. In March, he spanked the Kings with 36 points. In L.A.'s first-round series against the Rockets, he scored 31 and added 10 assists in the series-deciding game.
You'll hear all about it Thursday night on ABC as the Lakers and Spurs resume a series that's deadlocked at 2-2. You'll see the footage of Kobe Bryant in business attire, entering a not-guilty plea. You'll see him get into a chauffeured SUV, get whisked to an airport, enter another chauffeured vehicle and emerge at the Staples Center dressed as RamKo. All the while, several narrators and commentators will gush about RamKo's mental strength.
No one will comment about the absurdity and the stupidity of the situation.
Not once will you hear anyone speak this truth: "Man, it's a damn shame that Kobe Bryant is putting himself, his teammates, his fans and his family through all of this crap. Wow. As good as he played Tuesday, just think: If the idiot hadn't stepped out on his wife and slept with a teenage woman he didn't know, he might have been even better Tuesday night. Or maybe the Lakers would be winning this series and wouldn't find themselves in so much turmoil. But these are the dangers of a high-profile, married man sleeping with a teenager he's only known for 30 minutes. You might catch a case and wind up on national TV looking like Boo-Boo the Fool."
That captures the sad reality of RamKo's existence. RamKo isn't Martin Luther King Jr. writing a letter from an Alabama jail. RamKo isn't a victim. His teammates are victims. His fans are victims. Hell, I feel like a victim myself, being forced to listen to and read the glowing accounts of RamKo's heroism.
RamKo is not Pat Tillman. There's nothing heroic about fighting rape allegations by day and playing basketball by night. Nothing.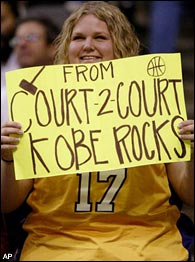 Hey, she needed something to cover up her Rick Fox jersey.
Most people accused of sexual assault don't get the benefit of 20,000 supporters showering them with love just hours after a court appearance.
Well, there's Michael Jackson. But besides me, Jacko has virtually no defenders in the media. You'll never convince me that Michael is capable of the crimes he's accused of. I just don't believe it.
Excuse me, let me get back to RamKo. I like Kobe Bryant, and I've made no negative judgments about his guilt or innocence.
I'm just sick of the way the media is manipulating this story for ratings and attention. Mark Cuban predicted this. He said the Kobe case would be good for NBA business. Cuban said it would be an amazing reality TV show. We ridiculed Cuban at the time. We said he was stupid and insensitive. But Cuban was right. RamKo is developing into the summer blockbuster for which NBA execs had been hoping.
The story before Lakers playoff games used to be about the throwback jersey Kobe would wear to the game. Now we have Court-TV and motions to suppress. The RamKo drama on TNT is more intense than "Law and Order."
Jason Whitlock is a columnist for the Kansas City Star (kcstar.com) and a regular contributor on ESPN The Magazine's Sunday morning edition of "The Sports Reporters." He also hosts an afternoon radio show, "The Doghouse," on Kansas City's 61 Sports KCSP. He can be reached at ballstate68@aol.com.