By Jason Whitlock
Special to Page 2
David Chase should be fired. It's that simple. His five-year plan for "The Sopranos" is failing miserably. The 2004 season, Chase's fifth as head coach/general manager, a season that began with Super Bowl-sized expectations, has turned into a nightmare punctuated by an embarrassingly confusing, pointless 20-minute dream sequence in the middle of last Sunday's New York-New Jersey showdown.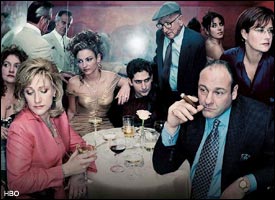 How can you mess up with a cast like this?
If he had any class, Chase would announce his resignation at the conclusion of the 2004 season. He would acknowledge that he lost control of his cast and storylines during the 2003 season and has failed to re-invigorate his team despite the offseason acquisitions of high-impact free agents Steve Buscemi and Robert Loggia.
HBO CEO Chris Albrecht provided Chase with all the tools necessary to make Season 5 an all-time great. Adding Buscemi and Loggia to the cast was the equivalent of Payton and Malone joining Kobe, Shaq and the Lakers. Some thought this "Sopranos" season would run the table, every episode would be can't-miss, a perfect 13-0. Hell, the '72 Dolphins uncorked bottles of champagne by week 7, when Chase wasted an episode on Fran Felstein, Tony's father's ex-goomah. It's been nothing but losers ever since.
Chase is no Phil Jackson. We haven't seen this much talent wasted since Mike Dunleavy coached the Portland Trail Blazers. Last Sunday's dream episode guarantees that "The Sopranos" won't even qualify for the playoffs as a wild card ... no matter what happens in the final two episodes.
It's over. And that means it's time for Chase to step aside. If Chase is unwilling to resign, Albrecht needs to force him out and immediately replace Chase with David Simon, executive producer of "The Wire," which is now clearly the best real-life crime drama on TV. In just two seasons of "The Wire," Simon has shown enough creativity and vision to warrant a promotion to head coach of "The Sopranos" and "The Wire."
Everything the past two seasons "The Sopranos" has lacked can be found on "The Wire." Yes, Simon is a more traditional storyteller. He's a former newspaper reporter for the Baltimore Sun. He teamed with a former Baltimore cop to write about the drug war in Baltimore. "The Wire" is gritty and realistic. Storylines are introduced, followed and completed. The truth is stranger than fiction. "The Wire" remembers that. Chase has forgotten, or he's drunk on his press clippings.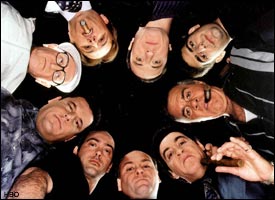 Chase is making the wrong calls in the huddle.
Chase reminds me of Mouse Davis, the old run-n-shoot football coach. Remember Davis? He made Neil Lomax a star at Portland State. He helped Jim Kelly throw for 5,000 yards with the Houston Gamblers. Mouse Davis became the hottest story in football. He was the coaching star of the USFL. Davis' revolutionary run-n-shoot offense swept the National Football League and never pee'd a drop in the playoffs. The offense bombed in Detroit, Atlanta and Houston. Warren Moon racked up Hall of Fame numbers, but Jack Pardee got fired, Kevin Gilbride got punched and the Buffalo Bills rallied from the biggest playoff deficit -- 35-3 -- in the history of the league. Davis was last spotted in the Arena League.
David Chase wants to revolutionize the way TV dramas are written. Chase is trying to break every rule. He has a run-n-shoot mentality when it comes to plots. It's all or nothing, three-n-out. There's no reliable running game. He throws a lot of passes that don't consistently move the chains. Storylines don't wrap up in an hour. They don't wrap up in a season. Hell, many of the plot twists Chase introduces are never even followed up. For a while this was cute. Now it's annoying and frustrating. It's a tease. No one likes to be teased episode after episode, season after season.
What happened to the Russian dude Christopher and Paulie "chase-d" through the woods? Will the Feds ever get any valuable information out of Adriana? It's an absolute unforgivable sin that Meadow's boyfriend Finn could witness a 400-pound wiseguy giving a security guard an oral examination and then have that storyline dropped for at least two weeks. It was a jarring, water cooler-discussing curveball with no payoff. You might think Chase is a genius for doing this. It's a reason to tune back in. It's not. I don't really care about Finn and Vito Spatafore. Their roles aren't developed enough for me to care. It's like Furio Giunta, the ponytailed mobster from the Old Country who fell for Carmela. He wasn't around long enough or his character wasn't developed enough for me to care whether he ever comes back to the States.
After Chase is canned as executive producer of the show, he should work a pole at the Bada Bing. He's great at taking you to the point of titillation. He's a tease. He's Mouse Davis. He's Marty Schottenheimer. Chase can build the foundation for a championship team, but he's never going to take us to the promised land.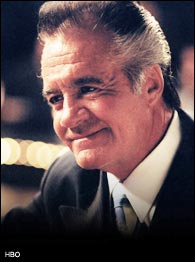 Where have you gone Paulie Walnuts?
He must go. Last Sunday's episode was a fireable offense. We don't need weird dreams that waste 20 minutes. The show finished 10 minutes before the top of the hour anyway. We sat through a half episode. Chase has forgotten what makes mob "movies" great. We watch for the violence, the perversion, the betrayal, the affairs, the crimes. Chase thinks we're watching for the psychobabble spewed between Tony Soprano and Dr. Melfi. We're not. As much as I've enjoyed Lorraine Bracco's nude scenes, Dr. Melfi could get whacked this Sunday and I'd throw a party. Chase has said the inspiration for "The Sopranos" was his real-life dealings with a therapist over his dysfunctional relationship with his mother. Great. I'm glad that inspired him. But no one cares. Just because something inspired you doesn't mean you have to be beholden to it for life. I'm glad Livia Soprano is gone. Chase should have Tony Blundetto clip Melfi.
It won't happen. Chase isn't writing for hardcore "Sopranos" fans. He's too self-indulged. He writes for himself and his friends. He prides himself on being able to fool his viewers. Nothing ever happens the way we anticipate. I've never had one of my "Sopranos" predictions come true. Not one. I'm now embarrassed to even talk "Sopranos" with my friends. I sound stupid. Like, right now, I'm convinced that Tony B is going to eventually form an alliance with Johnny Sack and take out Tony S during the middle of next season. Tony B will find out that Tony S had the money and drugs thrown out in the streets as an inducement to draw Tony B back into the life.
But that's the kind of plot twist David Simon would provide "The Sopranos" next season. It's exactly what the show needs. We've lost track of the characters -- Paulie, Silvio, Hesh -- who made the show great. Avon Barksdale, Brother Mouzone and Omar -- roughnecks from "The Wire" -- would absolutely wipe out what's left of Tony's crew.
Before that happens, let's eliminate Chase. He had a good run. It's time to move on. Simon4Chase in '05!
Jason Whitlock is a columnist for the Kansas City Star and a regular contributor on ESPN The Magazine's Sunday morning edition of "The Sports Reporters." He also hosts an afternoon radio show, "The Doghouse," on Kansas City's 61 Sports KCSP. He can be reached at ballstate68@aol.com.