By Jason Whitlock
Special to Page 2
Larry Brown vs. Phil Jackson is a complete no-brainer.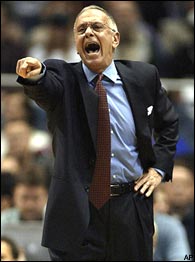 Larry Brown should be given credit for doing more with less.
No disrespect to Phil. But it's the equivalent of arguing Magic vs. Bird. You can't really go wrong. But one guy played all five positions in the NBA Finals as a rookie. I mean, he didn't fart around at center, power forward, small forward and shooting guard. It wasn't Kevin Garnett masquerading as a point guard for six seconds. Could you imagine what Scottie Pippen in his prime (or even Dennis Johnson) would do to KG at the point? I love KG, but KG at the point is a publicity stunt.
Magic at all five was 42 and 15 and the destruction of Dr. J's 76ers. Magic vs. Bird? Two all-time greats, you're gonna win titles with both of them, but it's not even worth discussing.
Same goes for Larry vs. Phil in the NBA Finals. No disrespect to Phil.
Winning titles with Michael and Scottie, Shaq and Kobe has given Phil a Red Auerbach-esque résumé. It's impossible to knock Phil and his triangle offense, even though it nearly cost the Lakers their playoff series against the Spurs.
But I'm more impressed that Brown has carried Allen Iverson and Rash(w)eed Wallace to separate Eastern Conference titles. Seriously, Larry vs. Phil is like comparing the parenting skills of James Evans vs. Mr. C. You know damn well that James and Florida Evans displayed more patience and more savvy raising J.J. in a Chicago housing project than Mr. and Mrs. Cunningham did rearing Richie in a Milwaukee suburb.
That's what we'll be watching in the upcoming NBA Finals: "Good Times" (Pistons) vs. "Happy Days" (Lakers).
Phil has it so easy compared to Larry. Yes, I know Kobe is on trial for sexual assault, and Gary Payton can't stand Phil's strategy, and Karl Malone has fossilized into a mediocre jump shooter, and Shaq disappears from time to time. The Lakers allegedly have all sorts of problems. It's like the episode of "Happy Days" when Fonzie Evil Knievel-jumped his motorcycle over 14 garbage cans for a local TV show. It was a two-part episode and the first episode ended with Fonzie and his bike in midair over the cans. Yeah, I was nervous all week wondering what would happen to the Fonz, but I never doubted the jump would be successful. It's like Shaq with five fouls in a close game. Come on, you're surprised the refs wanted to know exactly how many times they'd blown the whistle on the Big Shaqerelli?
The Lakers are predictable. Their troubles never amount to anything. Phil specializes in coaching the most talented, spoiled, two-parent, suburban basketball players in the world. Phil has all the new equipment and deluxe accommodations. He cherry-picks the best coaching jobs. He's won nine titles with four of the top 50 players in league history (although you can debate if Pippen is a top-50 player). Phil reminds me of the Chris Rock standup routine about how brothers want credit for (stuff) they're supposed to do:
"I's takes care of my kids!"
Well, you're supposed to. And Phil is supposed to win the title with Shaq, Kobe, Malone, Payton, the refs, David Stern and the TV networks all pulling for him.
Meanwhile, Larry Brown is a social worker. He brings basketball joy where there had been none. There's not always a happy ending. Remember, James Evans died on "Good Times," and the kids never got out of the ghetto. Despite carrying a record seven different NBA franchises to the playoffs, Brown hasn't won a NBA title. This is his second trip to the Finals. Brown also lost once in the ABA Finals. He's coached in three NCAA Final Fours, appearing in two title games, and won one championship. He's in his fourth decade of coaching -- and although he's won wherever he's coached, Brown has won it all only once.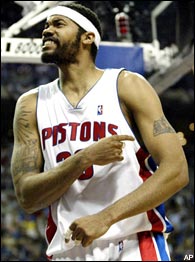 Many believed no coach could tame Rasheed Wallace -- Larry Brown has.
It doesn't matter.
Winning it all isn't the only way to define a coach. Winning, and winning big, in 10 different locations -- Carolina Cougars, Denver Nuggets, New Jersey Nets, UCLA, Kansas, San Antonio Spurs, L.A. Clippers, Indiana Pacers, Philadelphia 76ers and Detroit Pistons -- says a lot more about Brown than riding a few of the game's greatest players to multiple titles. Larry Brown is the ultimate winner. And lately he's been winning with some of the game's ultimate problem children.
Brown works with kids from dysfunctional backgrounds. I'd love to see Phil put Allen Iverson inside a triangle for six seasons. I once talked with Brown for an hour inside Puffy's New York restaurant/nightclub.  Brown was there supporting Iverson, who was hosting a party for his new Reebok shoe. It was an all-hip hop affair. At the time, Brown was in his mid-50s and was, as far as I can remember, the only white guy in the joint. He was definitely the only person at the party who didn't know the difference between Puffy's Bad Boy and Isiah's Bad Boys. Brown was there reaching out to Iverson, trying to connect. It didn't do him much good. Iverson ignored him for much of the night. But it was an example of Brown's desperation for winning. He'll do whatever it takes.
Look at nappy-headed Rash(w)eed Wallace. The kid doesn't even know how to shave. He takes the court night after night looking like Grady from "Sanford and Son." But Larry has made progress with Rash(w)eed. Wallace has yet to melt down in these playoffs. In Game 6 of the Eastern Conference finals, it was Rick Carlisle's Ron Artest who melted in the game's final minutes, drawing a (questionable) flagrant foul and firing up bad shots. Compared to Artest, Rash(w)eed was as classy and clutch as Julius Erving.
Brown's Pistons don't stand much of a chance against the Lakers. Phil's squad just has too much talent and too many advantages. It's "Good Times" vs. "Happy Days", James and Florida vs. Mr. and Mrs. Cunningham, J.J. vs. Fonzie, Thelma vs. Joanie. (Thelma was dy-no-mite!). Too bad it won't matter that Brown is a superior director.
Damn, damn, damn.
Jason Whitlock is a columnist for the Kansas City Star and a regular contributor on ESPN The Magazine's Sunday morning edition of "The Sports Reporters." He also hosts an afternoon radio show, "The Doghouse," on Kansas City's 61 Sports KCSP. He can be reached at ballstate68@aol.com.