By Jason Whitlock
Special to Page 2
I guarantee you this: Even if football coach Jim Tressel, athletic department officials and Ohio State fans knew then what they know now, Maurice Clarett still would have lined up at tailback in the 2003 Fiesta Bowl against the Miami Hurricanes.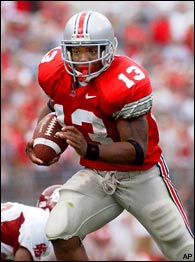 Maurice Clarett didn't go to Ohio State to get an education -- he went to win a national championship.
Yes, he would.
Clarett, the poisonous Buckeye, was worth the risk. He delivered a national championship, which most certainly helped elevate athletic and academic donations to Ohio State. He sold merchandise. He justified the hiring of Tressel and made his one-time college coach far more marketable and valuable.
There are no regrets. And there won't be any.
It doesn't matter whether or not NCAA investigators eventually substantiate some or all of Clarett's claims of unethical behavior at Ohio State, including his direct allegation that Tressel brokered car deals for Clarett. The damage or embarrassment caused by Maurice Clarett, the snitch, will never outweigh the value to the Buckeyes of Maurice Clarett, the football player.
Even if Clarett's allegations spark an investigation that causes the NCAA to strip Ohio State of its 2002 national championship, the governing body of college sports can't strip Tressel, athletic director Andy Geiger or the school of the money it made from its national-title run.
Of course, the only reason the school recruited Clarett in the first place is so the Buckeyes could get the national-championship monkey off their back. The only reason Ohio State so graciously swallowed Clarett's insubordination just before the Fiesta Bowl is so the Buckeyes could collect as much money as possible.
Remember when he was hailed as the second coming of Jim Brown? We, the media, fell for Clarett's line of (crap). He was ticked that Ohio State wouldn't finance a trip home so he could attend the funeral of a friend. He spoke out and spoke his mind. He said the system was exploiting poor, little Maurice Clarett. We bought it. We wrote glowing editorials about the snitch.
Clarett didn't tell us then that the system (Ohio State boosters) was putting thousands of dollars in his pocket, placing him in stay-eligible classes and providing him with luxury vehicles.
Heck, maybe Ohio State officials just figured Clarett already had a wad of their cash and could purchase his own plane ticket. Maybe Tressel was just teaching Clarett a lesson about staying within his illegal allowance.
Whatever the case, I don't feel sorry for anyone involved in the Clarett affair. There are no victims. There never were any victims.
Clarett is a greedy punk who turned into a snitch. Tressel is just another coaching climber forced to masquerade that he cares about more than winning football games. Should Miami be awarded that national title because Ohio State allegedly seduced Clarett to Columbus with illegal benefits?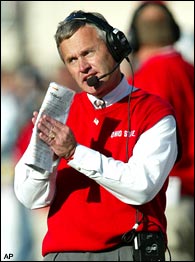 And Jim Tressel's top priority at Ohio State was winning a national championship.
Oh, that never happens at The U. Miami is squeaky clean.
Should we believe everything Clarett is alleging? No. I find it difficult to believe that Tressel (or any high-profile coach) is stupid enough in this day and age to personally broker a car deal for one of his players. That's a graduate assistant's job. Young assistants are hired to give the head coach plausible deniability.
But I do believe there's a kernel of truth in Clarett's claims. This is big-time college athletics. Head coaches make millions of dollars. Assistant coaches earn six-figure salaries. Freshmen who barely graduate from high school hit the practice field long before they ever crack a college textbook.
College football and basketball programs are filled with hypocrisy that make the games fertile ground for all sorts of corruption.
So what should we do?
The obvious. Acknowledge that there will always be a handful of Maurice Claretts -- young men with their hands out and totally uninterested in a college education -- on every Division I football team. Pay the Claretts of the world a modest salary to play college football, and don't force them to enroll in school.
It's really that simple. Let the players who want to go to school go to school. Pay the others a modest salary and end the charade. For some reason in this country, the land of capitalism, we still buy the myth that there's something special about being an amateur athlete.
"Amateur" is just a word. What's the value in being an amateur athlete? There is none, unless it's the man-made value. You get to retain your NCAA amateur status and help middle-aged men become wealthy.
That's not nearly enough. And kids such as Maurice Clarett figured that out a long time ago.
Jason Whitlock is a columnist for the Kansas City Star and a regular contributor on ESPN The Magazine's Sunday morning edition of "The Sports Reporters." He also hosts an afternoon radio show, "The Doghouse," on Kansas City's 61 Sports KCSP. He can be reached at ballstate68@aol.com.