By Jason Whitlock
Special to Page 2
Please, I'm begging. Could my respected and talented colleagues in the media lay off Jeff George this time?
Let him re-enter the NFL without being the butt of merciless pre-game television jokes, without suffering through a rash of newspaper columns questioning both his character and the sanity of the Chicago Bears' management.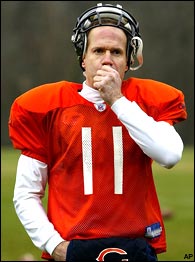 Whenever George joins a new team, the media is all over him.
Is that too much to ask?
I'm not asking this for Jeff's benefit. He's a grown man and realizes he made this bed with the media. He's willing to suffer the consequences of his previous mistakes. He isn't looking for any mercy.
Instead, I'm the guy looking for mercy. I'm the guy who has been the leader of the Jeff George Fan Club since the late 1970s, when we were both little kids living on the east side of Indianapolis, cheering on Jeff's older brother, Dave, the best quarterback ever to wear a Warren Central High School jersey. Longtime readers of this column know that Jeff and I, inspired by his brother's high school career, later led Warren Central to the 1984 Indiana big-school state championship.
Jeff went on to become a star at the University of Illinois, the No. 1 pick in the 1990 NFL draft, the league's rookie of the year and a guy perceived by many as a watered-down, early version of Ron Artest.
Through it all, I've remained the leader of the Fan Club. I've been the No. 1 fan of his six different NFL ballclubs; and this weekend, when George takes the field for the Bears, I'll add a seventh team to my all-time favorites list. Over the years, I've spent countless hours explaining to people that George is misunderstood, and is just the right system away from leading a team to the Super Bowl.
I'm worn out now, but I still plan to build my Sunday afternoons around watching George's games. I've already looked at Chicago's schedule and figured out a way for George to dig the Bears out of their 4-7 hole and into the playoffs. I have a fantasy about the Bears advancing to the Super Bowl and George giving me exclusive interviews the whole week we're in Jacksonville.
I'm still fired up. But I don't want to do any more explaining. I want to hop on the Internet, read the Chicago newspapers and not be hit with an avalanche of negative stories about George. I want to watch the pre-game shows without having to sit through unnecessary jokes about him.
I just want to enjoy the games. So please, guys, lay off Jeff George. For me.
Seriously, Jay Mariotti, I know you've already written one column in the Chicago Sun-Times blasting George, as well as Chicago head coach Lovie Smith for bringing him back to the league. C'mon, Jay, I know you can find tougher targets. Besides, beating up on George can't be any fun for you. It's too easy for a guy with your writing talent.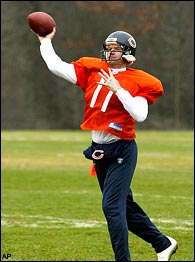 Chicago fans are hoping George has something left in that arm.
You, too, Jon Saraceno. Please don't pile on. Last year, when you visited George and his family in Indianapolis and then wrote a column in USA Today that belittled him, it nearly killed me. Jon, I love your work. You're a great guy. Please, no matter what happens with George, don't write anything negative. If things don't work out for him in Chicago, don't write an I-told-you-so column. We already know what you told us.
Terry Bradshaw, dude, you remember what it was like in your early years in Pittsburgh when everyone questioned your intelligence and unfairly criticized you. Man, I love watching you on Fox. You're the best. But cut Jeff some slack. You've been a consistent George-basher, and it's beneath you, Terry. You're a Hall of Famer, an ambassador for the game. J.B., maybe you can talk to Terry. Tell him that I'm a nice guy and don't deserve the George-bashing.
Shannon Sharpe, your entire rookie season on CBS might very well be judged by how you handle the George situation. Deion Sanders, the man you replaced, was a Jeff George supporter. Deion's commentary would've been the one safe haven to which I could've turned.
Don't let me down, Shannon. It isn't too late, even if I already saw your tongue-in-cheek remarks on NFL.com about wanting to come out of retirement as a QB because George is back in the league.
I don't even have to address the guys on ESPN's "NFL Countdown" and "Primetime." Chris Berman, Tom Jackson and Steve Young have far too much class and are much too professional to criticize George. Berman, Jackson and Young are the gold standard in television sports broadcasting.
OK, if all of this sucking up doesn't work, guys, maybe this will: We Jeff George supporters have been humbled enough. Our leader summed up our sentiments in a comment he made to a Sun-Times reporter:
"Hey, I'm humbled by this whole situation, and I'm not too proud to say I'm a third-string guy who has to work his way up and show I deserve to be in this league."
Does anything else need to be said?
Jason Whitlock is a regular columnist for the Kansas City Star. His newspaper is celebrating his 10 years as a columnist with the publishing of Jason's first book, "Love Him, Hate Him: 10 Years of Sports, Passion and Kansas City." It's a collection of Jason's most memorable, thought-provoking and funny columns over the past decade. You can purchase the book at TheKansasCityStore.com. Jason can be reached by e-mail at ballstate68@aol.com.