By Jason Whitlock
Special to Page 2
The reason Reggie White is the best defensive football player I've seen in 30 years of passionately following the NFL is simple: He was the absolute last man an offensive player wanted to see take the field.
Reggie White struck more fear in an offense than Lawrence Taylor. Period.
Reggie White did more damage to an offense than Lawrence Taylor. Period.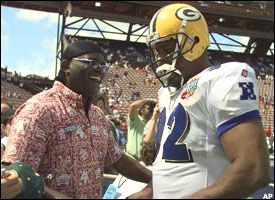 At the 1999 Pro Bowl, the retired L.T. greeted White.
L.T. has always received more hype than The Minister of Defense. L.T. was more outrageous, played in the star-making Big Apple, was the enforcer for a larger-than-life head coach in Bill Parcells, and had more personal demons than the Linda Blair in "The Exorcist." For all those reasons and two Super Bowl titles, Taylor has long been regarded as the greatest defensive player of the past 30 years, if not the greatest defensive player of all time.
The perception is inaccurate.
L.T. is No. 2 behind Reggie White.
This is not a case of an artist or an object gaining value in death. I'm not overstating White's dominance because he looks better in the rearview mirror. If there is any bias at work, it's the fact that I'm a former offensive lineman, and Reggie White is every offensive lineman's worst nightmare.
Reggie couldn't be blocked. You could get in his way. You could cut his legs out from underneath him. As a backside tackle, you could jump on his legs. You could pray. But blocking Reggie White was a near impossibility. And Reggie didn't take plays off. He played the game with the same sort of intensity and energy that made L.T. famous. It's just Reggie played the game as a gentleman.
| | |
| --- | --- |
| | Great defensive ends are generally 260-pounders who get up field, rush the quarterback and survive on running plays. White thrived against the run. |
| | |
At 6-foot-5 and 300 pounds, White was a once-in-a-lifetime defensive end. He was just as devastating against the pass as against the run. His combination of speed, strength and bulk was unprecedented. Even during this era of performance-enhancing drugs, you don't find 300-pound men quick and athletic enough to play defensive end. Reggie was an original and has yet to duplicated.
Offensive tackles had to respect his speed. White's first step wasn't as lightning as Bruce Smith's, but it was lethal. To make matters worse, he possessed a devastating club. Deacon Jones, a pure speed rusher, made a killing swatting offensive tackles across the helmet. White scared tackles with his speed rush and then clubbed them in the shoulder and snuck inside for the sack.
White retired with a then league-record 198 career sacks. He didn't really have a signature rush. His sacks were split among bull rushes, swim moves, speed rushes, stunts and coverage sacks.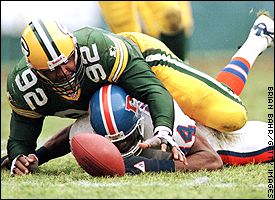 White was a 13-time Pro Bowler.
You could argue that White was the most complete pass rusher in league history. You don't even have to argue that White was the NFL's best defensive end against the run. It's not even close. Great defensive ends are generally 260-pounders who get up field, rush the quarterback and survive on running plays. White thrived against the run.
He couldn't be moved. He had a natural strength that couldn't be defined by weight-room numbers. White would do well at the NFL combine, but he'd never post Tony Mandrich-type numbers. We talk about how Deion Sanders shut down half of the field by being a shutdown corner. Well, if that's the case, White was a shutdown defensive end. He shut down his side of the field. You just didn't run at Reggie White.
White should've been MVP of Super Bowl XXXI, a 35-21 Green Bay victory over New England. White destroyed the Patriots' offensive line, picking up three sacks. White tossed around New England's linemen like rag dolls.
Cowboys offensive linemen Erik Williams and Larry Allen were the only players who could play White close to a stalemate. Every Sunday White was the most dominant player on the field. Period.
You could probably say the same thing about a sober Lawrence Taylor. But White gets the edge because he struck more fear.
Here are, besides White, the top 10 defensive players of the last 30 years:
10. Ray Lewis: Is slightly overrated by most NFL experts. Some people actually put Lewis in the same classification as Dick Butkus and Mike Singletary. I don't. Lewis needs to do finish his résumé before I'm willing to consider him an immortal.
9. Junior Seau: It's popular now to bad-mouth Seau and try to denigrate what he did in San Diego. The knock is that Seau was undisciplined and freelanced too much. Everyone on this list freelanced. Great players use their instincts. Seau carried a horrible San Diego team to the Super Bowl in 1995.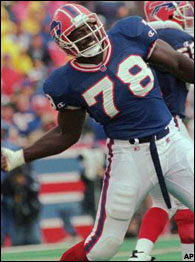 Smith had plenty of opportunities to celebrate a sacked QB.
8. Bruce Smith: Retired as the NFL's all-time sacks leader, surpassing White by hanging on for a couple extra seasons with the Redskins. Smith played two seasons too long, but it in no way damaged his legacy, which included four Super Bowls. He was an outstanding pass rusher and was strong against the run, too.
7. Deion Sanders: That's right. The man who never tackled anyone, according to his critics, is one of the NFL's greatest defensive players. Deion helped the Cowboys and the 49ers win Super Bowls. No quarterback wanted to throw in Deion's direction.
6. Ronnie Lott: A member of the NFL's all-decade teams for the 1980s. Lott excelled as a corner and as a safety. Joe Montana and Jerry Rice stole most of the San Francisco headlines, but the 49ers won four Super Bowls in the '80s because of their top-shelf defense. Lott spearheaded that unit.
5. Randy White: The Manster -- half man, half monster -- was every bit as good as Joe Greene. He lacked Greene's supporting cast. From the defensive tackle position, Manster averaged eight sacks per season. He was also co-MVP of a Super Bowl.
4. Mike Singletary: The 1985 Bears fielded the best defense I've ever seen. They surrendered 11 points per game and allowed just 10 points in three playoff games. Singletary was the heart, soul and brains of the unit. He was twice selected the NFL's defensive player of the year.
3. Joe Greene: The leader and unquestioned star of the Steel Curtain that produced four Super Bowl victories in the '70s. Greene was twice named NFL defensive player of the year, an incredible accomplishment for an interior tackle. He once recorded five sacks in a game.
2. Lawrence Taylor: Being second to White over the past 30 years puts you in the race for second-best defensive player of all time. L.T. would get my vote. L.T. intimidated with his attitude and mouth. The only thing really separating him from White was a lack of size.
Jason Whitlock is a regular columnist for the Kansas City Star. His newspaper is celebrating his 10 years as a columnist with the publishing of Jason's first book, "Love Him, Hate Him: 10 Years of Sports, Passion and Kansas City." It's a collection of Jason's most memorable, thought-provoking and funny columns over the past decade. You can purchase the book at TheKansasCityStore.com. Jason can be reached by e-mail at ballstate68@aol.com.