Single page view
By Jason Whitlock
Special to Page 2
When it comes to his public behavior, no one ever accused Bob Knight of taking the high road, so we shouldn't be all that surprised that in the moments after Knight guided a team to the Sweet 16 for the first time in 11 years, he quickly swerved onto the low road.
Shortly after his Texas Tech Red Raiders knocked off Gonzaga, Knight blasted Indiana University and his IU successor, Mike Davis, on Sporting News Radio.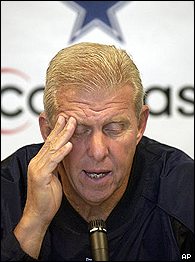 'With the 11th selection of the first round, the Dallas Cowboys select L.T.'
"I stayed at Indiana six years too long because of the administration. The administration handled a lot of things poorly," Knight said. "I was working for an athletic director that didn't know his [expletive] from third base. I ended up staying because of the kids that I liked and the people I did like rather than focusing on the real negatives there."
Knight then took a swipe at Davis, whose Hoosiers finished 15-14 this season and out of the NCAA Tournament for the second straight year.
"They created that for themselves," Knight said. "The guy that's coaching there [Mike Davis] is a guy that I told Pat [Knight] we were going to replace at the end of the season. There's no way that I would have kept the guy any longer than that. [But] that's their problem."
Bobby Knight is so ... real. He's petty. He's insecure. He's vindictive. He's bitter. He's a bully. He's paranoid. He's out of control.
And he's without a doubt the best basketball coach we've ever seen, primarily because he's willing to ride whatever road his emotions take him.
Most leaders are phony. They pretend to be things they're not. They fake a level of "class" they don't really have. Bob Knight still harbors a great deal of animosity toward the school that first excused his every misstep, then saddled him with a zero-tolerance policy and dumped him for disciplining a punk kid. Knight justifiably wants to see the basketball program he carried for nearly three decades fail in his absence. He feels betrayed by Davis and wants to see Davis fail. There's nothing wrong with that. There's nothing wrong with Knight's celebrating Indiana's struggles.
Now, I happen to disagree with Knight. I believe Davis is a talented young coach who is understandably having trouble filling Knight's shoes. I would love to see the Hoosiers excel under Davis.
But, as a sports fan, that desire in no way undermines my appreciation for the pettiness that is driving Knight at age 64 to accomplish things we thought were out of his reach a decade ago. If Bob Knight didn't hate Indiana and Mike Davis, the Red Raiders wouldn't be playing West Virginia tonight for a spot in the Elite Eight.
Insecurity, pettiness, vindictiveness and paranoia – things that can destroy a man's personal life – are the fuel that drive a man in his professional life. Most men just don't have the courage to embrace these negative characteristics. We've been convinced by Oprah, Dr. Phil and the movie "Hurricane" that "hatred destroys the vessel that carries it."
That's not always true. Yes, in a man's personal life, in his relationships with women, actions driven by bitterness and pettiness will more than likely land him in divorce court, baby's mama's court or at an STD clinic.