Single page view
By Jason Whitlock
Special to Page 2
All the people running around complaining that Larry Brown's affair with Cleveland is undermining the Detroit Pistons' bid to defend their NBA title know absolutely nothing about pimping or the strength of Larry's pimp hand.
You see, game recognizes game, and people without game are turning Larry's flirtation with LeBron James and the Cavaliers into more than it really is.
It is in no way impacting the Heat-Pistons series, which is currently tied at 2-2 and resumes tonight in Miami. Larry Brown, beyond being the greatest basketball mind of our time, is old-school in every sense. This isn't the first (or the last) time he's been satisfied with one partner, explored the possibility of satisfying a different partner and still managed to help his current partner consistently reach … uhhh, satisfaction.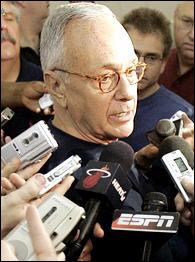 Larry Brown can handle the Pistons, the media, and a little flirting with another team.
You follow?
A man of Brown's experience and track record has mastered the art of maintaining a happy home while keeping something going on the side.
There's no reason for Pistons president Joe Dumars to be upset. Larry might technically be cheating, but he isn't cheating the Pistons out of 100 percent effort and satisfaction. And Detroit's players certainly understand and have no problem with what Larry is doing. In fact, they respect it.
Every NBA player has done exactly what Larry is doing. They all start the process of finding their next big paycheck long before their current contracts run out, and long before the end of the NBA playoffs. Just like Larry, the players have agents who work behind the scenes to find out what's available to their clients.
And that's all that has happened in this case. Larry's representatives, knowing that his health likely will prevent him from coaching next season, have put together a deal for Brown to take over the Cleveland Cavaliers. Officially, Larry hasn't agreed to the arrangement. He can back out if he chooses or if another team with a more stable owner than Dan Gilbert makes a more lucrative offer.
So Larry's hands aren't dirty. He says he hasn't even met Gilbert yet. He hasn't stolen minutes from his Pistons responsibilities to work on details of his Cleveland deal. He's handled this in the old-school way. He has something on the side that in no way interferes with what he has at home.
There's no home-wrecking mistress calling and hanging up in the middle of the night. No new car with key scratches. No unpaid utility bills.
You'd be surprised what people can handle when they're otherwise happy. Anyway, you think Dumars and the Pistons didn't know they were getting a playa-4-life when they hired Brown to replace Rick Carlisle?
Larry never lied. Everybody knows Brown has been with every organization in basketball, pro and college. He has a well-earned reputation – L.M.L.M.L (Love 'Em and Leave 'Em Larry). But he always leaves 'em satisfied and wanting more.
The Pistons' players respect Brown. He's no different than they are. He's a member of the Pistons for as long as it makes sense for Brown. You think there's a Detroit player who wouldn't do the same thing if he were put in the same situation? Facing a health crisis and needing to take some time off from playing, you think Rasheed Wallace or Ben Wallace or Chauncey Billups wouldn't try to arrange a cushy seven-figure front office job for a year or two? Like Larry, they'd let the negotiations proceed right through the middle of the Eastern Conference finals, too. So the distraction angle is a total non-issue.