By Jason Whitlock
Special to Page 2
This is it. I promise. I'm going to take a break from the Detroit sports scene after this column.
My little, one-man Larry Brown protest here on Page 2 has irritated some in the Detroit media, many of whom were quite comfortable penning articles detailing Tom Wilson's, Matt Dobek's and Joe Dumars' thoughts on how Larry ruined and held hostage the classiest, most professional, most loyal organization in all of sports.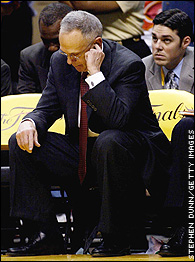 Things didn't end nicely for Larry in Detroit.
Larry, a 64-year-old man with a young wife and a younger child, learned this year that he may need assistance for the rest of his life using the bathroom. Learning something like that might make a man a little flighty, a little unsure about continuing with the rigors of coaching. It might take that man a few months to get a handle on how he'll deal with his professional future.
You have to credit the Pistons for their class, patience and compassion. When they insulted LB by offering him a scouting position and forced him out the door, at least they gave him a $7 million check and freedom to coach New York. And they told their media attack dogs to bid LB a polite farewell and mention the NBA title he helped the Pistons win.
"They laid him down right," is how LB's Detroit funeral would be described at the world-famous Masterpiece Lounge.
Bill "Mr. D" Davidson, owner of the Pistons, gave a fine eulogy Wednesday afternoon, telling Detroit mourners during a TV interview that the man who drove the Pistons to back-to-back Finals wasn't a good person. Mr. D basically gave the same sermon at the Detroit burial of Isiah Thomas, the last man to drive the Pistons to back-to-back Finals.
Larry and Zeke have a lot to talk about, much more than the Knicks job.
<!––––––––––-INLINE TABLE (BEGIN)––––––––––->
MORE ON FLIP SAUNDERS
Chad Ford spoke with Joe Dumars about why he hired Flip Saunders. Marc Stein says Saunders is tougher than you might think. How do you feel about him?
<!––––––––––-INLINE TABLE (END)––––––––––->
Terry Foster, a longtime Detroit scribe and dear friend, joked on his radio show that the reason I've been writing so much about The D is because I'm angling for a column job in Motown. Terry fails to realize I'm nothing like Wilson, Dobek, Dumars and Bill Davidson. I don't create media smoke screens and hover like a vulture to replace a Hall of Famer.
Nope. I'm no Flip Saunders, Detroit's coach-in-waiting since March. I believe that's when Pistons management first approved Flip's name to appear in print.
Flip's flop is the point of this column.
Hold it. Don't think I'm anti-Flip because I'm pro-Brown. I am, however, anti-Flip for the same reason I'm pro-Brown. Everything is just too one-sided. No way Larry Brown is all bad. And there's no way that replacing the best coach in basketball with Kevin McHale's friend and a guy with one trip beyond the first round of the playoffs makes "perfect" sense.
I know Wilson is a master at these little coup de'tats he pulls off every two to three years. He crushes dissent by putting his flunkies out in front of the news. But someone has to question the decision-making of Pistons management. I don't care how many championships the Pistons have won. They're just like every other organization or individual. The Pistons can choke on their own arrogance just like the American automotive industry and Kobe Bryant.
Wilson, Dobek and Dumars have been telling everyone since March that Flip was the leading candidate to replace Brown. And no one wants to file a strong objection?
I object!
The Pistons aren't so talented, so professional, so team-oriented that you can plug in any Flip, Rick or Larry. It takes a special coach to get a championship effort out of a team that inhales 'Sheed on a daily basis. Chauncey Billups can be incredibly blunt, and dealing with Ben-zilla can be stickeee-ickeee-ickeee, too.
Have I mentioned the pressure? Anything short of leading Detroit back to the Finals will be considered a failure.
I wouldn't be surprised if Dumars relieved some of the pressure on Flip by moving Rasheed Wallace this offseason. The Pistons drafted a power forward in the first round. Dumars still wants to see his 2003 draft gamble Darko Bowie, uh, Sam Milicic on the court. Trading 'Sheed would eliminate some of the championship pressure, free up court time for Darko and make Detroit's chemistry less combustible.
Flip doesn't command LB-type respect. 'Sheed versus Flip will be an ugly, first-month knockout scored by the ATM (automated technical machine).
You realize the only reason Flip made it out of the CBA is because he's best friends with McHale? They were college roommates at Minnesota. Flip was a CBA lifer -- head coach and front-office executive -- until McHale took over the Wolves and needed a yes-man to watch his back. McHale hired Flip as general manager. A few months later, McHale named his college buddy head coach.
Flip went seven straight years unable to get The Big Ticket out of the first round of the playoffs. Why do you think Flip survived that drought?
The same reason he survived the Joe Smith debacle in Minnesota. Flip's friendship with McHale bailed him out. McHale and Wolves owner Glen Taylor fell on the sword for the salary cap-evading, under-the-table contract offered to Smith that cost the Wolves four first-round draft picks. McHale was the ideas person and Saunders was the details person in their once-thought-to-be-dynamic duo. Saunders held the dual title of head coach/general manager. It was easier for McHale to swallow David Stern's suspension rather than have the commish pin the misdeed on Minnesota's head coach.
Saunders was eventually dismissed in Minnesota because McHale could no longer deny that his buddy had lost the confidence of KG. Saunders' unwillingness to deal firmly with Sprewell and Cassell undermined The Big Ticket's faith. Saunders is not an in-your-face taskmaster. He's a classic placater. He wants to make everyone happy. That characteristic, and Saunders' lack of defensive strategy, kept the Wolves in constant chaos until he was let go this past season. Unable to properly defend the pick-and-roll, Minnesota failed to qualify for the playoffs a year after making the Western Conference finals.
The Pistons are going from Carlisle and Brown to McHale's college drinking buddy. It takes a great deal of arrogance to take this sort of leap of faith. I'm not sure what it takes to co-sign for it. I'll have to ask my peers in Detroit … if they'll still talk to me.
Jason Whitlock is a regular columnist for The Kansas City Star. His newspaper is celebrating his 10 years as a columnist with the publishing of Jason's first book, "Love Him, Hate Him: 10 Years of Sports, Passion and Kansas City." It's a collection of Jason's most memorable, thought-provoking and funny columns over the past decade. You can purchase the book at TheKansasCityStore.com. Jason can be reached by e-mail at ballstate68@aol.com.