Single page view
By Jason Whitlock
Special to Page 2
Surely one of the toughest assignments in sports is making sense of the first weekend of the NFL season. There are those among us who will simply swear that it cannot be done. And then there are those who know better -- the select group of men and women exposed to my writings.
Not to brag, but I have quite a reputation for diagnosing NFL madness. Given a weekend to overlook results and second-guess excuses, it becomes rather easy for me to figure out whom and what to believe from Week 1.
Clayton, Salisbury, Mortensen and Jaworski pay handsomely for the information and predictions that I'm about to share for free with you, Page 2 readers. Why are you getting such a bargain? I'm tired of underground success. I'm tired of Clayton and Co. getting the glory for my expertise and refusing to share the spoils.
Week 1 of the season, as it is apt to do, created far more questions than it provided answers for the average football fan. Readers of this column recognize that I'm not the average football fan. As a former elite-level athlete, a man in his youth who protected Jeff George's blind side in high school and opened gaping holes for Bernie Parmalee in college, I have keen insight into America's game.
OK, enough with the hype. Here are 10 facts that can be gleaned from Week 1: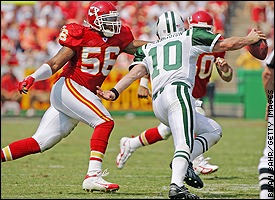 With speedster Derrick Johnson added, KC's defense is much improved.
10. Kansas City's defense is closer to being fixed than Indianapolis' defense.
Listen, I love the addition of Corey Simon to the middle of Indy's D. Simon, who looked like he swallowed Jerry Ball, is exactly what Tony Dungy's unit needed: a human bowling ball to plug running lanes.
But Indy's near shutout of the Baltimore Ravens has more to do with Brian Billick's continued offensive ineptness than the Colts' unveiling a defense capable of winning in January. Billick might be the worst offensive coach in the history of the NFL. Billick is the man who decided Kyle Boller was a franchise quarterback. If not for Marvin Lewis and Ray Lewis' carrying the Ravens to a Super Bowl title, Billick would be in the unemployment line.
Meanwhile, Kansas City's rebuilt defense showed off its added speed (linebackers Derrick Johnson and Kendrell Bell and corner Patrick Surtain) and a new look (12-15 snaps in a 3-4 scheme) in demolishing the Jets.
9. The Eagles lost to the Falcons because Donovan McNabb refused to run the football.
You can blame McNabb's unwillingness to run on his bruised chest. I don't. McNabb has spent the past two years trying to prove he's a pocket passer, not a mad scrambler. It's a mistake. The evidence of McNabb's error was all over Philly's Monday night loss to the Falcons, who scored 14 points because Michael Vick was effective on several designed running plays.
McNabb threw the ball 45 times. He was credited with one rush, which really wasn't a run. McNabb can run the football damn near as well as Vick; McNabb was the second coming of Steve Young. Had McNabb run the football three or four times, the Eagles wouldn't have settled for two 49-yard field-goal attempts, which David Akers missed. Had McNabb run, the Eagles would've scored at least 17 points, and they'd be 1-0.