By Jason Whitlock
Special to Page 2
This week, I thought I'd share a few of my text messages before getting to my 10 NFL truths.
Renee: Two bits, four bits, six bits a dollar, meet us in the bathroom and I guarantee you'll holler!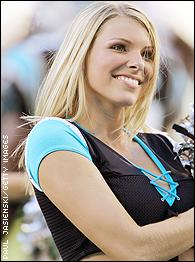 Are there are any truth to the rumors Whitlock is looking for a job in North Carolina?
Angela: Jason, Renee says we're going to get started without you, if you don't get in this bathroom in the next five minutes. Hurry, babe.
Smoot Dogg: My agent is working on a trade to Carolina. The Dirty South is where I needed to be all along.
Shawn Kemp: You think the Panthers could use a 6-9, 300-pound tight end? I need to get down to the Dirty South.
Bill: You have any ticket connections down in Carolina? Hillary is out of town campaigning, I'm free this weekend and was thinking about checking out the Panthers. Very exciting team.
Swoopes: Go Panthers!
Without further ado, here are your NFL truths for Week 9:
10. As long as Larry Johnson stays healthy, fights his desire to become Terrell Owens and holds on to the football, the Chiefs are better with Priest Holmes on injured reserve than in the starting lineup.
Two costly fumbles are the only negatives on Johnson's 2005 résumé. In every other aspect, he has outperformed Holmes on the field this season. Johnson is averaging 5.2 yards per carry. Holmes averaged 3.8.
Johnson runs with anger and emotion. You can tell he desperately wants to prove he's a great NFL running back and not another Penn State flop. The third-year pro adds the big-play dimension that Kansas City's all-mid-30s-something offensive unit desperately needs.
9. The Colts' 40-21 romp over the New England Patriots proved to me that Indy, the best team in the league, is still vulnerable.
Fact: The Patriots, playing a rookie left tackle, made Dwight Freeney disappear. Nick Kaczur, with some help from his teammates, pitched a shutout. Not only was Freeney's name missing from the postgame stat book, but he was also a virtual nonfactor.
Fact: If not for gimping around on a bum ankle, Corey Dillon would've run wild on the Colts. New England's line created running lanes that Dillon just couldn't get to because he was hobbled.
Fact: And this is most important -- the one time the Patriots got some legit pass-rush pressure on Peyton Manning, the Human Highlight Film (Manning is the Dominique Wilkins of football, all stats and no rings) lobbed a foolish pass over the middle of the field and linebacker Mike Vrabel picked it off.
Again, there's no question the Colts are the best team in football, but I'm not sure they can beat a healthy New England team in the playoffs.
8. If the Redskins are going to let LaVar Arrington out of the doghouse, they're making a huge mistake taking him off the field in passing situations.
Arrington led the Redskins in tackles against the Eagles and made several big plays ... despite the fact he was trapped on the sidelines on third down. This makes absolutely no sense when you consider Arrington is Washington's best pass-rusher and one of the few players athletic enough to deal with Donovan McNabb's elusiveness.
In 2002 and 2003, Arrington recorded 17 sacks and 18 pass breakups. Hell, it makes more sense to sit Arrington on first and second downs than on third.
7. During the first quarter of NFL games, you get more useful information and replays inside the stadium than you do watching the games on TV.
The TV networks love to show off in the first quarter. Every network has come up with its little cute gimmick to announce the starters. The producers have spent all week coming up with little cute graphics to help illustrate some meaningless point the color commentator has spent all week cooking up.
You can't get a freaking replay! One of the main reasons to watch on TV rather than go to the game is for the replays. You now get far more replays -- even on controversial plays, especially if the replay helps the home team -- on the stadium Jumbotron than you get from network TV.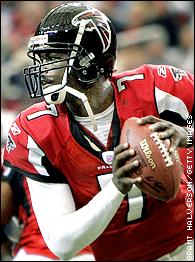 Getty Images
No player has damaged his stock quite like Marcus Vick.
6. Memo to Michael Vick: 228 passing yards, one TD and three second-half points is not a sign that you're the second coming of Dan Marino.
The league's most underutilized wide receiver feels that he answered his critics by lighting up the Miami defense for 17 points on Sunday. I wasn't impressed. And, yes, I'm well aware that Vick has been at the scene of a lot of Atlanta victories.
You know what? Trent Dilfer once was spotted at a Baltimore Ravens Super Bowl party. It didn't make Dilfer a top-flight quarterback. I would label Vick the Human Highlight Film II, but it would be a disservice to Dominique Wilkins, who at least put stats on the board.
5. There's this tall tale circulating around the NFL that the Oakland Raiders are playing good football, having won three of their last five football games and having outplayed the Chiefs in a loss Sunday. Don't believe the hype.
Kerry Collins is a clipboard carrier masquerading as an NFL starter. Collins is inaccurate, foolish and has a terrible case of happy feet. Equally bad is Norv Turner's play-calling. Although Turner's ability to call plays is compromised by Collins' stupidity.
I mention all of this because the boys in Vegas are expecting the Raiders to stay within a field goal of Mike Shanahan's Denver Broncos this weekend. Shanahan still hates Al Davis. Randy Moss still isn't healthy. And Trevor Pryce is going to make Clipboard Collins wet his pants.
4. You have to give Marty Schottenheimer credit. He's determined to figure out a way to keep his Chargers out of the playoffs.
Brooks Bollinger outscored Drew Brees, LaDainian Tomlinson and Antonio Gates 13-3 in the fourth quarter of San Diego's 31-26 victory over the Jets. The outmanned Jets finished three yards away from totally unmasking Schottenheimer as the worst game manager in football.
On the same weekend that Dick Vermeil showed he owns a pair by going for victory on the game's final play, Marty -- with the best running back in football at his disposal -- booted a field goal from the 1-yard line midway through the fourth quarter.
The Chargers were up 28-20 when Marty kicked and turned down a chance to totally ice the game. Had L.T. failed to get in, the Jets would've had to travel 99 yards and convert a two-point conversion to tie the Chargers. Instead, the Jets quickly cut into San Diego's 31-20 lead, thanks to a 45-yard Justin Miller kick return that chopped the field in half for Bollinger.
If the Chargers miss the playoffs -- a possibility because their last three games are at Indy, at Kansas City and Denver -- Schottenheimer should be fired.
3. Best team no one is talking about: Jacksonville Jaguars.
The Jags own victories over Seattle, Cincinnati and Pittsburgh. The Colts needed 10 fourth-quarter points to beat the Jags 10-3. And get this, the Jags (5-3) play only one team -- the Colts -- with a winning record the second half of the season.
Baltimore, Tennessee (twice), Arizona, Cleveland, Houston and San Francisco decorate Jacksonville's remaining schedule. The Jags should be favored in every one of those games. Against that schedule, you have to assume Byron Leftwich will figure out how to put points on the board.
2. Now that Virginia Tech and UCLA have lost, I guess the men and women who feel that college presidents will burn in hell because of the lack of a Division I football playoff system will champion the cause of a mediocre Alabama squad.
Whenever I hear someone rip college presidents for not implementing a football playoff, I wonder how people think college presidents spend their day.
News flash: College presidents don't waste a lot of time watching ESPN, talking about Alabama's red-zone offense or worrying whether sportswriters and broadcasters get to cover the playoffs.
1. Not since O.J. Simpson and A.C. Cowlings went joyriding in a white Bronco has one sports figure done more damage to his reputation on national TV than Drew Rosenhaus did to his when he took the microphone from T.O. on Tuesday.
Jason Whitlock is a regular columnist for The Kansas City Star. His newspaper is celebrating his 10 years as a columnist with the publishing of Jason's first book, "Love Him, Hate Him: 10 Years of Sports, Passion and Kansas City." It's a collection of Jason's most memorable, thought-provoking and funny columns over the past decade. You can purchase the book at TheKansasCityStore.com. Jason can be reached by e-mail at ballstate68@aol.com.