By Jason Whitlock
Special to Page 2
Jason,
You know what would really make this league exciting? If they made it two-hand touch on the quarterbacks. Or you could make it flag football when it comes to hitting the QB. I think that would make the game more pleasing to fans. I know it would make the game far more enjoyable for my boys. Think about it. It might help Jeff George, too.
Archie
Here are your NFL Truths for this week:
10. The key to improving next year's Indianapolis Colts is the organization's willingness to take away Peyton Manning's offensive autonomy.
Indy's offense self-destructed against Pittsburgh because its primary play caller, Manning, was out of breath and dazed by several of the hits he absorbed. Meanwhile, Pittsburgh's defensive play caller, Dick LeBeau, was never touched all afternoon.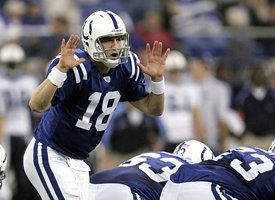 Peyton likes to be in charge -- but that's not always the best thing.
Manning can't outthink a topflight defensive coordinator while trying to avoid Joey Porter. LeBeau's unit outsmarted Manning repeatedly. The Steelers consistently waited until the last possible second before deciding from which side to blitz. The Steelers waited for Manning to identify the strongside linebacker at the line of scrimmage, then decided whom to blitz.
The Steelers had blitzers run free because Manning often kicked his protection in the wrong direction. Yes, the "good teammate" created some of his own pass-protection problems.
No quarterback in the league is more bothered by pressure than Manning. His softness, combined with the pressure of calling plays at the line of scrimmage, caused Indy's offense to short-circuit.
Had an offensive coordinator been in control of the Colts' offense, Edgerrin James would've received 25 carries. He certainly would've carried the ball late in the game with the Colts needing 2 yards to pick up a first down.
The Colts should use their no-huddle offense 25 percent of the time and rely on their offensive coordinator to call plays the rest of the time, especially when Manning is afflicted with happy feet.
Manning enjoys having the responsibility of running Indy's offense, but it's too much responsibility for any one man.
9. Does Matt Hasselbeck remind you of the bald-headed guy in the new Snickers commercial?
Seriously, have you seen the Snickers commercial with the guy wearing a dozen Snickers bars on his head to cover up his baldness? That's who Hasselbeck reminds me of every time I see him doing a TV interview wearing a fitted ball cap worn backward.
Matt, we know you're bald. It's no big deal. Michael Jordan went bald. It's cool.
8. It's absolutely ridiculous that NFL referees are not forced to address the media after games.
The refs must be held accountable for their actions. NFL coaches, players, executives and owners answer our questions. Why shouldn't game officials? They should hold a 10-minute news conference immediately after every game.
That's my solution to the overturned interception that nearly cost the Steelers a playoff victory. Had the ref known he was going to have to explain his decision to America, he'd never have erased Troy Polamalu's interception.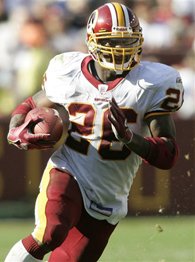 Portis just didn't have enough left in the tank against the Seahawks.
7. Clinton Portis -- not Mark Brunell -- is the main reason Washington's offense failed to produce in the playoffs.
Portis ran out of juice late in the season, and should've been spelled more frequently by backup Ladell Betts. Portis ran the ball 33 times for 94 yards in Washington's two playoff contests. He averaged 2.9 yards per carry. Out of steam, he ran soft and with poor vision.
Betts is one of the league's better backup tailbacks. He has the size and toughness to run inside. The Redskins have a power running game. Portis, who is a bit undersized, simply lacked the power to make plays down the stretch.
6. Shaun Alexander vs. Steve Smith for league MVP? We'd all answer Smith after last weekend.
The ease with which the Seahawks survived Alexander's concussion makes me believe Alexander had no business winning the league's MVP award. Yes, he put up awesome numbers. But it's very obvious the Seahawks can survive without him.
The Carolina Panthers are nothing without Smith. His 12-catch, 218-yard performance against Chicago's stellar defense is one of the NFL's all-time great playoff performances. I'd put it on the same level as Ray Lewis' Super Bowl performance against the Giants.
5. Troy Polamalu vs. Brian Urlacher for NFL Defensive Player of the Year? We'd all answer Polamalu after last weekend.
The Man of Troy followed his lights-out effort against the Bengals with a terrific showing against the Colts. Polamalu was robbed of a game-deciding interception. That's fine. He was a big part of Pittsburgh's run defense. Polamalu is beginning to look like a modern-day Ronnie Lott.
Urlacher (and teammate Lance Briggs) looked overhyped against the Panthers. Chicago's defensive performance was embarrassing. Had John Kasay not missed an extra point, the Panthers would've scored 30 points against a D we thought was one of the best in league history.
Urlacher made no big plays. We won't be comparing him to Mike Singletary for a few more years.
4. I was obviously premature in suggesting that race was no longer an issue when it comes to hiring NFL head coaches.
Wow. With all of the no-name assistants landing head jobs, you would think one black no-name assistant could get more than a token interview. The Rooney Rule doesn't seem to be working this year.
There are no no-brainer black candidates such as Marvin Lewis or Lovie Smith. But there are no no-brainer white candidates, either. I take that back. Green Bay officials have no brains hiring the coordinator of the worst offense in the NFL.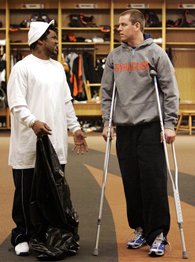 Bengals fans must still be in shock at this sight.
3. Here's something I found interesting: Carson Palmer didn't let Bengals doctors operate on his knee, and he's doing his rehabilitation away from the Bengals' trainers.
Coaches will tell you that one of the key components for success is for players to trust the training staff and the strength and conditioning coach. Cincinnati players don't trust the Bengals' medical staff. I don't think Palmer will be ready for the start of training camp.
2. You know what really bothers me about the Ron Artest situation? No one has taken the time to examine whether Artest was right. Is Rick Carlisle's offense stupid?
Artest basically didn't like the fact that Carlisle runs Indy's offense through the overrated hands of Jermaine O'Neal. Artest believed the Pacers should have a more free-flowing offense. Artest is right. O'Neal is a good player, but he's not Karl Malone or Charles Barkley.
Artest was the guy on Indy's roster who caused a nightly matchup problem for the opposition.
1. Without Indy and New England, ratings for -- and interest in -- the playoffs are likely to dip. But I can't remember a final four this wide open. No one would be all that surprised if any of the four remaining teams won the Super Bowl. My pick? Denver.
Jason Whitlock is a regular columnist for The Kansas City Star. His newspaper is celebrating his 10 years as a columnist with the publishing of Jason's first book, "Love Him, Hate Him: 10 Years of Sports, Passion and Kansas City." It's a collection of Jason's most memorable, thought-provoking and funny columns over the past decade. You can purchase the book at TheKansasCityStore.com. Jason can be reached by e-mail at ballstate68@aol.com.