By Jason Whitlock
Special to Page 2
What's the use in preaching the truth all season if you don't look back and admire your work?
What follows is an examination of the best and worst of a season's worth of NFL Truths. Kick back, enjoy a smoke, and fantasize about September 2006, when the NFL Truths return.
Sept. 15, 2005
Truth: Everyone -- including yours truly -- who suggested the Minnesota Vikings and Daunte Culpepper would be improved by the subtraction of Randy Moss should be beaten.
I feel so stupid. The Tampa Bay Buccaneers do not beat the Vikings if Randy Moss is still wearing purple.
Comment: Culpepper opened the year with three interceptions, two fumbles and a terrible home loss to the Buccaneers. Things only got worse from there.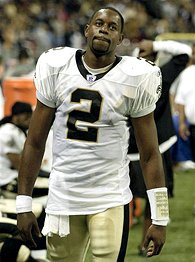 Things certainly went downhill for Aaron Brooks and New Orleans.
Truth: The feel-good New Orleans Saints will fade quickly because Aaron Brooks is the most fraudulent QB in the NFL. Saints fans better enjoy the Week 1 miracle because Brooks will continue to get in the way of the Saints enjoying consistent success. The Saints have the necessary personnel to field a potent offense -- a decent line, top-flight receivers and a big-play running back.
However, Brooks is the anti-Tom Brady. Brooks makes stupid decisions, has zero leadership ability and isn't particularly tough or poised in the pocket.
Comment: After upsetting the Panthers in Week 1, the Saints won just two more games the rest of the year and Brooks eventually lost his starting job.
Sept. 22
Truth: Not one football fan in Cleveland or Kansas City is shocked that Marty Schottenheimer's San Diego Chargers are off to an 0-2 start.
Marty is the king of elevating the expectations and hopes of football fans, and then disappointing them. In 1998, Marty had Chiefs fans believing they were on the cusp of a Super Bowl appearance, and the team finished 7-9.
Schottenheimer, Chuck Knox's evil twin football coach, is clueless on how to use the game's most talented offensive player, LaDainian Tomlinson, in a way that wins games in crunch time.
Comment: The "Fire Marty" movement will overtake "Fire Millen" in 2006.
Truth: Bill Cowher, without a Super Bowl title, is the second-best coach in the league.
If I have to tell you who No. 1 is, you're not qualified to read this column. I'd take Cowher ahead of Billick, Bill Parcells, Dick Vermeil and Mike Holmgren, all coaches with titles.
When you hire a football coach, you hope that he has a couple of coaching qualities that are constants. Bill Cowher-coached teams are going to run the football and play defense. If a team has those two elements, it will win games and contend for titles on a regular basis.
Comment: It amazed me how many readers didn't realize that Bill Belichick is the best coach in football. Cowher is No. 2, although I guess now Holmgren is on his tail.
Sept. 29
Truth: The Raiders are the lone winless NFL squad with a chance to qualify for the playoffs.
At some point, Oakland head coach Norv Turner will figure out a way to generate an explosive offense out of Randy Moss and Jerry Porter. If he doesn't, Al Davis should waste little time before acknowledging the mistake of hiring Turner.
The Raiders are averaging 19 points per game. That's criminal when you have two receivers as big and as talented as Moss and Porter. Turner isn't making a big enough effort to get either receiver the football. That won't last forever. When Turner figures it out, the Raiders will start scoring 30 and will win nine games, which might be enough to win the AFC West.
Comment: Blew this one big time. Norv never figured it out, and Kerry Collins proved to be Al Davis' biggest QB mistake since Dan Pastorini.
Oct. 6
Truth: The 0-4 Green Bay Packers will win the NFC North.
OK, the division might be the worst in the history of the league, but I envision the Packers going 8-4 or 9-3 the rest of the season. The Packers are not as bad as their winless record.
Had the Packers huddled and taken their time before their final fourth-down play against the Carolina Panthers, Brett Favre and the Packers would've finished off their rally and upset the Panthers on Monday night.
The Packers will win their next three (vs. Saints, at Vikings, at Bengals) and finish the season on a five-game winning streak (at Bears, vs. Lions, at Ravens, vs. Bears and vs. Seahawks). In between those strings of victories, they'll grab a win on "MNF" against the Vikings.
Will the Packers still fire Mike Sherman after he leads them to a division crown? Probably.
Comment: Wow. Forgive me. I still believed in Favre Magic a month into the season.
Truth: Matt Millen's contract extension in Detroit might be the most shameful heist since Paulie Walnuts -- to get back in Tony Soprano's good graces -- strangled one of his mother's best friends for her life savings.
How do you get a five-year extension after leading the Lions to 6-10, 5-11 and 3-13 seasons?
Millen's next score will be throwing head coach Steve Mariucci under a bus for this season's failures. Remember how Tony Soprano took care of "Feech" La Manna, sending him back to prison on a parole violation rather than whacking him? Same thing here. Mariucci knows Millen is out to get him, but "Mooch" has no idea "Big Mill" is killing him with Joey Harrington and underachieving receivers.
Comment: Big Mill dumped Mooch. But I screwed up this "Sopranos" analogy. Paulie Walnuts smothered his mother's best friend with a pillow. He didn't strangle her.
Oct. 20
Truth: Indy's second-best defender, second-year safety Bob Sanders, is nearly as important to the Colts' defense as Dwight Freeney.
USA Today's Jarrett Bell was the first person who told me that I'd love Sanders when I got a chance to study him.
Sanders is the second coming of Blaine Bishop, the undersized, hard-hitting Pro Bowl safety for the Houston Oilers/Tennessee Titans. Sanders is a sure and deadly tackler. He's just 5-foot-8 and 200 pounds. He hits like Ray Lewis.
Indy linebacker Cato June, who has five interceptions this season, is going to receive quite a bit of hype for Indy's defensive turnaround. June is a fine player. But Sanders might be the best player in the league at his position.
Comment: I received a lot of irate e-mails for suggesting that Sanders was possibly the best player at his position: free safety. Sanders made the league's All-Pro team.
Oct. 27
Truth: Note to Brian Billick: Plea bargaining and snitching your way out of a major criminal case is good for football. Sitting in prison for four months during the offseason is bad for football.
Have we cleared that up?
There's a big difference between Ray Lewis and Jamal Lewis. Ray was scared straight. Jamal is just plain scared. Hitting the hole loses its appeal when you've spent much of the offseason in lockdown with Avon, Wee-Bey, Shamrock and Bird.
Billick needs to put Jamal on the bench and play Chester Taylor. I've seen less tiptoeing at a ballet than what Jamal is doing on a week-to-week basis for the Ravens. Given Baltimore's quarterback situation, the Ravens can't afford to allow Jamal to conquer his fears on the field.
Comment: Look, anytime I can pimp "The Wire" on Page 2 -- Avon, Wee-Bey, Shamrock, etc. -- I'm happy. The thought of Omar and Brother Mouzone putting Stringer Bell in a wet T-shirt contest still makes me tear up. "How long will dey mourn me?"
Nov. 3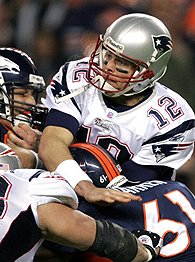 Pretty good call on Brady and the Patriots, eh?
Truth: Patriots: They've lost every other game this season, which is a sign of a lack of consistency, which is a sign that you just can't replace all of the players and coaches the Patriots have lost. Their schedule gets much easier after they face the Colts, so they'll reach the playoffs on a "hot streak." But Brady will suffer his first playoff defeat.
Bengals: If you can't stop the run, you can't win in the playoffs. The Bengals are a year away from being a real contender.
Falcons: Wide receiver Michael Vick will never "quarterback" a team to the Super Bowl. Never.
Panthers: Steve Smith has 50 receptions. Carolina's second-leading receiver -- backup running back DeShaun Foster -- has 13. Stephen Davis is averaging 3.0 yards per carry. The Panthers have two ways to move the football -- Smith or their special teams. That won't get it done in the playoffs.
Eagles: Donovan McNabb will suffer a season-ending injury soon, as long as Andy Reid insists on throwing the ball on every down.
Comment: Looking back, this was pretty good for a midseason take on these five teams. I hope I didn't jinx McNabb.
Nov. 10
Truth: There's this tall tale circulating around the NFL that the Oakland Raiders are playing good football, having won three of their last five football games and having outplayed the Chiefs in a loss Sunday. Don't believe the hype.
Kerry Collins is a clipboard carrier masquerading as an NFL starter. Collins is inaccurate, foolish and has a terrible case of happy feet. Equally bad is Norv Turner's play calling. Although Turner's ability to call plays is compromised by Collins' stupidity.
I mention all of this because the boys in Vegas are expecting the Raiders to stay within a field goal of Mike Shanahan's Denver Broncos this weekend. Shanahan still hates Al Davis. Randy Moss still isn't healthy. And Trevor Pryce is going to make Clipboard Collins wet his pants.
Comment: It took me a few weeks, but I figured out the Raiders. They trailed 23-0 going into the fourth quarter against Denver and lost 31-17.
Truth: As long as Larry Johnson stays healthy, fights his desire to become Terrell Owens and holds on to the football, the Chiefs are better with Priest Holmes on injured reserve than in the starting lineup.
Two costly fumbles are the only negatives on Johnson's 2005 résumé. In every other aspect, he has outperformed Holmes on the field this season. Johnson is averaging 5.2 yards per carry. Holmes averaged 3.8.
Johnson runs with anger and emotion. You can tell he desperately wants to prove he's a great NFL running back and not another Penn State flop. The third-year pro adds the big-play dimension that Kansas City's all-mid-30s-something offensive unit desperately needs.
Comments: This is cheating. I've watched every Chiefs regular-season game, home and away, for 11 straight years. Larry Johnson looked like the second coming of Jim Brown the second half of the NFL season.
Nov. 23
Truth: Don't be surprised if the Pittsburgh Steelers lose their next three games -- at Indy, Cincinnati, Chicago -- and miss the playoffs.
Pittsburgh's defense can be had, and the Steelers' offense -- no matter who is at quarterback -- just doesn't score enough.
Comment: The Steelers beat the Bears, slipped into the playoffs and the rest is history. I was almost right. But I'm glad I was wrong.
Dec. 8
Truth: The success of Chicago's defense will introduce a new trend in professional football: smaller, quicker defenders across the board.
I can't claim credit for this idea. My boy at Sports Illustrated, Jeff Chadiha, mentioned to me that the Bears are getting it done on defense with two 260-pound defensive ends and reasonably svelte 300-pound defensive tackles.
I bet if you added up the total weight of Chicago's 11 starting defenders, it's the lowest total in the league, especially of the teams that play a 4-3. The Bears are playing the run and the pass with quickness.
You hear coaches say all the time that speed kills, but coaches rarely commit totally to speed. Lovie Smith and the Bears have. It's working. And it might signal the end of the Ted Washingtons.
Comment: I was embarrassed by this truth. Readers justifiably let me have it for this one. Tony Dungy and the Tampa Bay Buccaneers started this trend long ago. I'm sorry for dragging Chadiha into this truth. In passing, he mentioned the quickness and size of the Bears' D, and I tried to turn it into more than what it was.
Dec. 29
Truth: Upon further review -- which means after watching Drew Brees throw away San Diego's playoff hopes in Kansas City -- the Chargers do indeed have a QB dilemma.
As much as I'd like to blame San Diego's disappointing season all on Marty Schottenheimer, I can't do that. Brees deserves an equal share of the blame. He regressed this season. His QB rating has dropped 15 points from a year ago and his interceptions more than doubled (seven to 15).
The Chargers would be absolutely foolish not to give Philip Rivers a long look against the Denver Broncos. Rivers has thrown eight passes in two seasons. He has not thrown a pass in 2005.
If Rivers doesn't play three quarters against the Broncos, you can point a finger at Schottenheimer. The coach would be screwing over general manager A.J. Smith, who is not a fan of Schottenheimer's.
Just like in Kansas City -- where Schottenheimer justifiably warred with general manager Carl Peterson -- Marty doesn't get along with his boss and has hoodwinked the owner into believing that regular-season success is all that really matters in the NFL. Alex Spanos, just like Lamar Hunt, loves Marty's consistent ability to win nine regular-season games every year and sell tickets.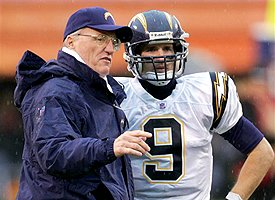 Marty, why'd you send Drew back out there?
What Spanos will soon learn is that Marty has blown every QB decision he's had to make since leaving Bernie Kosar. Prosecution exhibit No. 1: Elvis Grbac over Rich Gannon.
I'd hate to be A.J. Smith and trade Rivers for a draft pick or help along the offensive line and then watch Brees continue to regress next season.
Comment: You think Marty thought of this column when Brees was injured in the second quarter of a meaningless game? You think A.J. Smith thought of this column? Fire Marty.
Truth: Of all the teams in the NFC, the Washington Redskins are the only team capable of winning the Super Bowl.
After being down on Joe Gibbs early in the season, I have to credit him for getting things together. If the Skins knock off the Eagles, they will enter the playoffs as the hottest team in the league -- hotter than the streaking Patriots, also winners of four straight.
Of course, we know the Redskins can play defense. What's been impressive is their offensive explosion the last two weeks -- 35 points in each victory, over the Cowboys and Giants.
The Skins have a good offensive line, three good running backs, a big-play receiver (Santana Moss), an effective tight end (Chris Cooley) and a QB who has thrown 22 touchdowns and just nine interceptions.
Comment: Maybe Al Saunders can fix Washington's mediocre offense.
Jan. 19
Truth: Troy Polamalu vs. Brian Urlacher for NFL Defensive Player of the Year? We'd all answer Polamalu after last weekend.
The Man of Troy followed his lights-out effort against the Bengals with a terrific showing against the Colts. Polamalu was robbed of a game-deciding interception. That's fine. He was a big part of Pittsburgh's run defense. Polamalu is beginning to look like a modern-day Ronnie Lott.
Urlacher (and teammate Lance Briggs) looked overhyped against the Panthers. Chicago's defensive performance was embarrassing. Had John Kasay not missed an extra point, the Panthers would've scored 30 points against a D we thought was one of the best in league history.
Urlacher made no big plays. We won't be comparing him to Mike Singletary for a few more years.
Comment: Of course, I totally forgot Urlacher's sick one-handed interception in the red zone. This was a terrible screw-up. Although Polamalu does remind me of Ronnie Lott.
Jason Whitlock is a regular columnist for The Kansas City Star. His newspaper is celebrating his 10 years as a columnist with the publishing of Jason's first book, "Love Him, Hate Him: 10 Years of Sports, Passion and Kansas City." It's a collection of Jason's most memorable, thought-provoking and funny columns over the past decade. You can purchase the book at TheKansasCityStore.com. Jason can be reached by e-mail at ballstate68@aol.com.