Who's Now? We pick the 32 top athletes
Editor's note: Throughout July, "SportsCenter" will air "Who's Now," a daily series in which fans and ESPN.com users will help "SportsCenter" determine the ultimate sports star by considering both on-field success and off-field buzz. Based on fan nominations, ESPN Research will select the 32 finalists, who will then square off in a single-elimination bracket. Before then, however, we need to hear who you think should be in the bracket. Check out the Page 2 list and then discuss in the ESPN Conversation pages.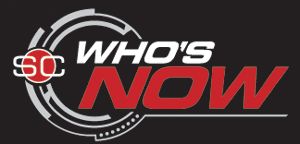 Who should be the final 32 athletes? Before we get to your nominations, we had to come up with our own list.You know, before somebody screws up and puts Michael Vick on it. Besides individual performance and team success, we're supposed to consider marketability, endorsements, commercials and celebrity status. Remember, this is not the actual final list. This is just the Page 2 suggestion. Submit your own candidates in the discussion below.
The easy candidates, not necessary to discuss, because everyone will agree, even you:
1. Tiger Woods
2. Peyton Manning
3. Tom Brady
4. LaDainian Tomlinson
5. LeBron James
6. Roger Federer
7. Kobe Bryant
8. Sidney Crosby
9. Steve Nash
10. Maria Sharapova
And ... believe it or not, that's it for the obvious candidates. Only 10 ... which means there is going to be some serious debate going on later.
The next group, who are more obvious than you may realize:
11. Dale Earnhardt Jr. Sure, he's not the best NASCAR driver, but he sweeps all the other categories. And maybe his shift to a new team next year will put him in the winner's circle more often.
12. Shaun White. He doesn't play a real sport? Well, there is more to life than football, baseball and basketball. The snowboarding/skateboarding whiz kid is a commercial success, an Olympic gold medalist and owner of the coolest nickname in sports, "The Flying Tomato."
13. Danica Patrick. OK, she hasn't won a race, but there is no denying she aces every other category. And when she does win -- and that's not an if -- she becomes even bigger.
14. Michael Phelps. Again, put away your prejudice towards the minor sports. There is no more dominant athlete in the world right now than Phelps, who just won seven gold medals and set five world records at the world swimming championships.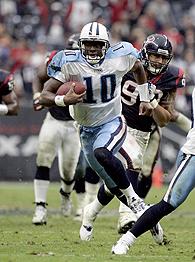 Thomas B. Shea/US PRESSWIRE
With his running ability, Young is a two-way threat at quarterback.
Two guys who aren't the best ... yet:
15. Vince Young. OK, to be honest, his rookie season wasn't quite as great as the hype, even if it did exceed expectations. But he's got the flair and style to become a unique star in the NFL. Plus, he's the Madden cover boy, which is big as it gets in the endorsement game these days.
16. Reggie Bush. After a slow start (no rushing or receiving TDs the first eight games), Bush picked it up in the second half of his rookie season with eight TDs and nearly 800 yards of total offense. Look for 2,000 this year ... and, please, let's hope the Saints put him on the kickoff return team.
Two more guys who have to prove themselves at the next level, but belong on this list since they will be franchise players, even if they are "stuck" in the Pacific Northwest and the East Coast media will probably ignore them:
17. Greg Oden. Something tells us the Blazers will be seen a few more times on ESPN and TNT next season.
18. Kevin Durant. If the Sonics stay in Seattle, it's the beginning of a great rivalry.
Wait, don't you need a couple baseball players on here? Why, yes, we do...:

19. Albert Pujols. He got off to a slow start (.250 in April, only three home runs in May), but he's back on track to showing why he's the best and most feared slugger in baseball.
20. Jose Reyes. Sorry, Derek, your team is the past. Reyes is the now.
21. Grady Sizemore. If this guy played in Boston or New York, they'd have giant billboards of him on the Empire State Building or Prudential Center. Mike Lupica and Dan Shaughnessy would write epic poems about his greatness. He didn't come out blistering, but Sizemore is perhaps the best all-around player in the game: he hits for average (.290 last year), power (92 extra-base hits), draws walks, steals bases (18 for 20 this season) and plays great D in center. What more do you want?
Let's take a break to point out three big names who are too past their primes to be on this list:
Roger Clemens, Shaquille O'Neal, Barry Bonds.
Don't forget about this guy; he may have been hurt, but he'll be back:
22. Dwyane Wade.
Don't forget about this guy; he may not play a skill position, but he's the best there is:
23. Brian Urlacher.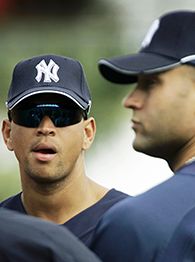 AP Photo/Robert F. Bukaty
There is no denying that A-Rod is among the best all-around players in the game.
Love them or hate them, you can't really leave these two guys off the list:
24. Alex Rodriguez.
25. Jeff Gordon.
Does soccer count?
26. David Beckham. There are better players, but there will be no more famous player in America once Becks debuts for the L.A. Galaxy.
And they're even bigger in their homelands:
27. Yao Ming. In case you missed it, Yao averaged 25 points a game this season. Now, he just needs to stay healthy -- he's missed 59 games the past two seasons.
28. Daisuke Matsuzaka. Don't be fooled by Matsuzaka's 4.52 ERA -- his 85 K's in 85.2 innings show he can pitch. Look for a monster second half.
Now that's he won a major, do we still care about him?
29. Phil Mickelson. The Tiger-Phil rivalry is still as good as any in sports.
She's been playing terribly, got on Annika's bad side and faked an injury, but she has the big name:
30. Michelle Wie. Considering she has sponsorship contracts with Nike and Sony worth reportedly more than $10 million per year, she belongs on the list.
Some athletes we considered, and they're great, but lack that extra something to make the list
Tim Duncan, Dirk Nowitzki, Serena Williams, Annika Sorenstam, David Ortiz, Johan Santana, Donovan McNabb, Carmelo Anthony, Tony Stewart, Candace Parker.
Our final two athletes:
31. Ronaldinho. Hey, he's the two-time player of the year in the world's most popular sport.
32. Derek Jeter. He's a celebrity ... and he can still play a little. Now, about that team success of late ...
So, what do you think? Fire off your nominations for other athletes and debate our list in the ESPN Conversation pages below.