By Jim Wilkie
Page 2
Next to hockey, the next-biggest national pastime for Canadians is dealing with our country's inferiority complex. Living and growing up next to the U.S. superpower, we Canadians are ingrained with the urge to remind others that folks from the Great White North need to be recognized.
So if you know any Canucks like me, you have no doubt played along to "Spot the Canadian." It's a popular Canadian parlour game where we randomly point out some well-known celebrities who also happen to be Canadian whenever their names come up. Just in case others, usually Yanks, aren't as well-informed, we offer a helpful, "He's Canadian" or "She's from Winnipeg." I don't know anyone in Canada with a parlour, but it's probably where we keep our chesterfield, hang up our toques and don't dare enter without first taking off our mukluks.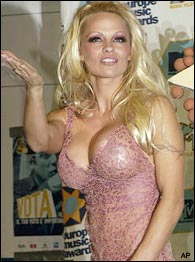 Even though she's now a U.S. citizen, Pam's heart belongs to Canada.
There are no losers in "Spot the Canadian." Just winners because one-by-one, we'll educate the world about the numerous contributions that Canadians have made in history. Canadian history's mundanity is partly the cause of our need to celebrate Canadians who matter, whether it's someone who made a positive contribution to society or just a D List celebrity. We didn't have a wide-scale rebellion in our British colony and no civil war, yet. We're a people notoriously in search of a national identity, so we like to identify, whenever possible, some fellow Canadians who have become successful in high-profile careers.
Along with the Canadians who do my people proud (Peter Jennings, Larry Walker, Alanis Morissette and most of the cast of "SCTV"), I'll freely admit we have nearly as many who cause us to occasionally cringe (Celine Dion, Alan Thicke and Tom Green). Being Canadian doesn't mean unconditional love for our celebrities, but we'll give them a nod for having any degree of success.
Once I had a spirited discussion with a U.S. co-worker who couldn't believe I didn't like Bryan Adams, a British-born Canadian by the way. I tried to explain how I thought Adams' formulaic, redundant pop-rock was lazy and tiresome, while my friend considered "The Summer of '69" one of the best songs ever. "Crossfire" never gets as heated as that great debate.
Over the past 20 years, about as long as I've been living in the States, it seems there has been a shift. Maybe it was the 1987 Canada Cup victory over the Soviet Union in three of the greatest hockey games ever played. Or the more our game was pulled south, the more flags we'd wave and the more red and white Roots "Canada" emblazoned clothing we'd buy. I like to think it's our infiltration of the mainstream U.S. media and subversive inroads into popular culture.
Whatever the driving force is, we Canadians are celebrating our evolving Canadian-ness more than ever before. Take the Canadian Broadcasting Corp.'s search for "The Greatest Canadian," for example.
This adds a complicated, new twist to "Spot the Canadian." We can't randomly toss out declarations like "that guy from 'Dawson's Creek' who got busted at a Carolina Hurricanes game. Canadian." "You know, four-fifths of The Band were Canadian." "Natasha Henstridge, hot and Canadian." Or "73 percent of Pamela Anderson is still as Canadian as the beaver on our nickel." CBC upped the ante. Now we have to actually know something substantial about these people, consider their contributions to Canada and the rest of the world and hold them to much higher standards than just their place of birth (or in some cases, such as Donovan Bailey, Ronnie Hawkins and Alexander Graham Bell, places of emigration).
So, I present to you, my choice for the 10 Greatest Canadians to get you psyched up for the start of the Stanley Cup finals as the Calgary Flames bring the Holy Grail back where it belongs, the world's second largest land mass, for the first time in 11 years. As you read along, crack open a Molson Canadian, dine on some ketchup chips, enjoy a Crunchie bar and hum our vastly superior national anthem, "O, Canada" or download William Shatner's rendition of "Hey, Mr. Tambourine Man" for maximum enjoyment.
10. Bret Hart, pro wrestler
Seriously. My casual interest during the sport's heyday was only because of the "Hit Man." He grew up in a wrestling family, coached by his obsessive, tyrannical dad, Stu Hart, and worked his way up from the Stampede Wrestling circuit out of Calgary to become one of the top stars of the World Wrestling Federation. Even if you're not a wrestling fan, and I'm not, check out the documentary, "Bret 'Hit Man' Hart." It details how he tried to fight wrestling's slide into seamier storylines and was paid back by betrayal. A family man with integrity amidst the snakes, at least Hart gets to punch out Vince McMahon.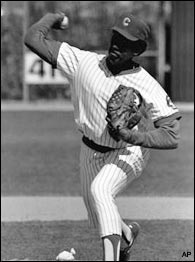 Jenkins is from the Great White North, but brought the heat on the mound.
9. Ferguson Jenkins, baseball
While I was growing up, baseball cards weren't as popular to collect as hockey cards but my first Jenkins' baseball card from the early 1970s was a treasured one that stood out. That's because he was one of two or three major-league baseball players at the time who were born in Canada. (John Hiller, Reggie Cleveland, Terry Puhl and Dave McKay were fine fellas too, but Jenkins' stats and 1971 Cy Young Award with the Chicago Cubs raised him a few levels above them.) Jenkins, the first Canadian inducted into the Baseball Hall of Fame, went on to win 284 games and allowed a slow, no-hit, average-glove, white kid in a Vancouver suburb to dream of a major-league career. It was hopeless dream for me, but still, Fergie paved the way for the talented ones, such as Walker in another Vancouver suburb.
8. Stompin' Tom Connors, country music
With a guitar and a piece of plywood to stomp the beats, the 68-year-old troubadour said he wanted to "sing Canada to the world." He's done just that while telling his stories of Canadiana among the more than 300 songs he has composed and 40 albums he's released. Go to a hockey game anywhere and you should hear his famous number, "The Hockey Song."
7. The Tragically Hip, rock music
The quintessential Canadian rock band also likes to write about hockey along with assorted darker subjects. Unlike most of the biggest Canadian celebrities who had to first make it in the United States to reach widespread acclaim; The Hip became big in Canada without reaching more than cult status in the States. That's great for us fans south of the 49th Parallel because we can go see their incredible live show and lead singer Gord Downie's rambling rants in small theaters instead of arenas. Not breaking big in the States was once puzzling to fans, but it has become the band's cachet and like hockey, another great Canadian export that inexplicably hasn't caught on with widespread acceptance by the Yanks. But unlike the NHL's lap dance with TV networks over the past 10 years, at least The Hip still have their integrity and street cred from Yellowknife to St. John's.
6. Gordie Howe, hockey
Just a small-town boy from Saskatchewan, Howe went on to muscle his way to the Detroit Red Wings while becoming Mr. Hockey. With that title, how can he not be one of The Greatest Canadians? He had all the ingredients of toughness, skill and determination to play in five decades in the NHL, help raise two future pros -- Mark and Marty -- whom he would play alongside in the World Hockey Association, and still be a soft-spoken gentleman off the ice.
5. Neil Young, rock music
Young is kind of the Gordie Howe of music, still churning out music into his 50s. Whether solo or with Buffalo Springfield or Crosby, Stills, Nash and Young, this son of Toronto sportswriter Scott Young composed and wrote songs that chronicled the tumultuous 1960s and '70s and continues to have a social conscience. Young would experiment with a number of genres, but ultimately comes back to energy of rock while influencing scores of younger artists.
4. Bobby Orr, hockey
Really, he just fell into place at No. 4. The greatest defenseman in the history of hockey changed the sport forever with his graceful skating, unstoppable moves and wicked shot while also throwing in an element of toughness that sometimes gets overlooked. Injuries ended his career before 30, but he went out with a flourish as the MVP of the 1976 Canada Cup on two aching knees. His premature retirement and money lost by crooked agent Alan Eagleson would make anyone understandably bitter. But Orr remains one of the sport's greatest class acts and now represents players as head of the Orr Hockey Group.
3. Mike Myers, actor
Myers followed other great Canadian comic actors such as Dan Aykroyd and John Candy through the Second City improvisation route on the way to becoming a huge success on TV and in movies. After creating numerous running characters on "Saturday Night Live," during years in which the show didn't suck, Myers spun his most popular character into two "Wayne's World" films before writing "Austin Powers: International Man of Mystery" in about a week. The first, and best, of the three "Austin Powers" films shows Myers' comic genius at its best with subtle facial expressions along with sight gags and slapstick. The perfectionist performer is practically box office gold and also proudly supportive of Canada and his hometown of Toronto, especially the Maple Leafs.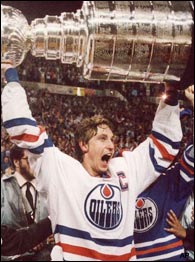 The Great One became a legend in Canade before playing in the states.
2. Wayne Gretzky, hockey
The list wouldn't be complete without the greatest hockey player of all time. The all-Canadian boy lit up the NHL in the 1980s with the Edmonton Oilers, then married a U.S. starlet before taking his skills south to the Los Angeles Kings. Suddenly his role as the sport's ambassador and most recognizable face exceeded almost anything he did on the ice. His importance to the game resurfaces time and time again as the league fails to develop and promote any current stars even close to Gretzky's stature, so the Great One is continually trotted out for talk shows, DVDs and endorsements. Any Canadians who felt slighted by Gretzky's move south were mollified by his eagerness to play for Team Canada in international tournaments and, after his retirement, his role in putting together the 2002 Olympic team that snapped a 50-year gold medal drought. Now that the Olympics, like the Canada Cup and World Cup tournaments before, had been brought to a level playing field, Gretzky led the management team that brought Team Canada back to its rightful place atop the hockey world.
These nine people and many others not listed are all great Canadians, but to me there is only one choice for The Greatest Canadian. Someone who could do the seemingly impossible, which is unite a culturally diverse country spread across such a huge area that if we had the same fascination with guns as Americans, Canada would be a Balkanized war zone by now.
1. Terry Fox, runner
I believe no one united the country in typically humble, unpretentious, workmanlike and Canadian manner as long-distance runner Terry Fox.
Fox had lost a leg to cancer and set about to run across Canada, 24 miles per day, to raise money for cancer research on his Marathon of Hope in 1980. Beginning in Newfoundland, his goal was to raise $1 million. But when he got to Ontario his campaign began to pick up great momentum, peaking when Maple Leafs captain Darryl Sittler knocked on Fox's door and asked if he could join him in his run through downtown Toronto. Early indifference farther East was replaced by a widespread phenomenon, but tragically Fox had to quit in Thunder Bay, Ontario, a little more than halfway to his goal of finishing in his home province of British Columbia, because the cancer had spread to his lungs. Soon after, a national telethon brought the total amount raised past the $25 million mark. Incredible considering Canada's population was about 25 million at the time. Sadly, Fox would never resume his run because he died in 1981 at age 23.
Fox's heart and determination displayed the best of what Canadians are made of and his story continues to inspire millions. Fellow expatriates and everyone across my home and native land should point to the memory of Terry Fox and say, "He's The Greatest Canadian."
Jim Wilkie, a former editor for Page 2, writes the NHL Insider column five days a week for ESPN.com. He grew up in Port Coquitlam, British Columbia, the same town where Terry Fox was from but didn't know him. You can send Jim a comment about his list at espnpucks@comcast.net.