The top 11 scenes in football movie history
It has often been said that the best movies from any genre make you laugh, cry and/or are a source of inspiration. Based on that definition, and because football is a game of emotion, football on the silver screen has enjoyed its fair share of success.
PAGE 2 ON "LEATHERHEADS"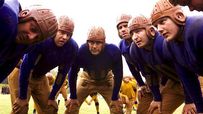 •
History of football films
•
Top 11 football movie scenes
•
Players who also acted
•
Q&A with George Clooney
So, which are the scenes that linger in the mind longest after the lights come up? Certainly unforgettable are Forrest Gump's touchdown run, the chaotic game in "M*A*S*H," and "Diner's" Eddie Simmons calling his marriage off (temporarily) after his fiancée fails a quiz about his favorite team, the Baltimore Colts.
All three are great scenes -- but the criterion here is that it must come from a football film.
With more than 100 movies to choose from, documentaries are off the roster as well. Also, good movies often provide multiple memorable scenes, but the game plan here is to have a spread offense where a film is limited to a single entry. Still, making a run at the best 11 scenes is like having Mini-Me as your lone blocker carrying the ball against the '85 Chicago Bears defense.
Nevertheless, here they are, the top 11 scenes in football cinema history: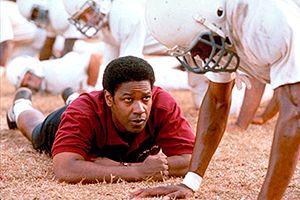 Walt Disney Pictures
Hey, daddy ...
11. "REMEMBER THE TITANS" (2000)
It is the early 1970s, and the newly integrated T.C. Williams High football team in Virginia is ready to go to preseason camp, under the direction of new black head coach Herman Boone (Denzel Washington). When his white All-American linebacker, Gerry Bertier (Ryan Hurst), demands that half the team's positions are reserved for Caucasian players, Coach Boone, in a calm, yet emphatic manner, puts him in his place, quietly forcing Bertier to admit, at least as far as football is concerned, Coach Boone is "your new daddy."
10. "THE FRESHMAN" (1925)
Despite being a scrawny, unathletic young man with glasses, Harold "Speedy" Lamb (Harold Lloyd) knows the fastest way to becoming popular in college is making the football team. (Not much has changed.) His futile efforts basically turn him into a team tackling dummy … until late in a game he picks up a fumble and races for the end zone, shaking off tacklers left and right until they dogpile on top of him, bringing him down on the goal line. The refs pull off the other players, and reveal Lamb lying prone with the ball across the line and his face full of chalk. He has scored the game winner, and the fans go crazy for the new big man on campus.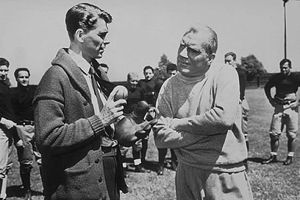 First National Pictures
Yep, that's Ronald Reagan on the left.
9. "KNUTE ROCKNE -- ALL-AMERICAN" (1940)
Yeah, yeah, yeah -- his "win one for the Gipper" deathbed scene has been immortalized, but what is even more entertaining, and truer to the real George Gipp, is Gipp's initial contact with the coach. As Rockne instructs his punters on form and laments his weak offense (saying they will have to just "punt and pray this season"), strolling across the practice field in a sweater and tie with a baseball glove on one hand, Gipp (Ronald Reagan) proceeds to display a natural talent, booting a ball halfway to Chicago. When Rockne tells him he'd make a fine football player and to go suit up, he asks the young man his name. Gipp states his name, and then mockingly asks the coach for his name. Players howl.
8. "HEAVEN CAN WAIT" (1978)
As they bring in oxygen, Joe/Leo (Warren Beatty) trains toward his goal of playing quarterback in the NFL, with household servants running patterns and going through conditioning drills. To which the Rams' trainer, Max Corkle (Jack Warden), tries to be the voice of reason: "Joe, you don't understand. You're playing football with a bunch of butlers. We're in the Super Bowl. This isn't going to work." Joe responds: "Don't worry. I fixed all that. I bought the Rams."
7. "THE LONGEST YARD" (1974)
For the second play in a row, Paul Crewe (Burt Reynolds) throws the ball at oncoming defender Bogdanski (Ray Nitschke), hitting him in the groin and laying him out. When volunteers are asked to help revive him with some mouth-to-mouth resuscitation, there are no takers. The band and the Citrus State Cheerios cheerleaders perform a funeral number. It paves the way for Crewe's game-winning touchdown run.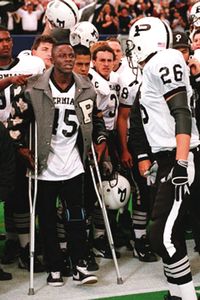 Courtesy Universal Pictures
Boobie continued to support his teammates.
6. "FRIDAY NIGHT LIGHTS" (2004)
As he cleans out his locker, unable to play because of an injury, star running back Boobie Miles (Derek Luke) tries to keep everyone upbeat, encouraging his teammates to "win state" without him. But when he reaches the parking lot Boobie breaks down, sobbing to his uncle. His dreams of gridiron glory over, Boobie cries out, "What are we gonna do now? I can't do nothin' but play football."
5. "RUDY" (1993)
Notre Dame groundskeeper Fortune (Charles Dutton) is not happy when Rudy (Sean Astin) informs him he is quitting in his quest to make the team's dress list. Fortune reminds him, "You're 5-foot-nothin'. A hundred and nothin'. With hardly a speck of athletic ability. Yet you've hung in with the best college football team in the land for two years." Fortune reminds Rudy he will get himself a degree, and informs Rudy he too quit the team, and "still not a week goes by I don't regret it." Rudy resumes pursuing his goal.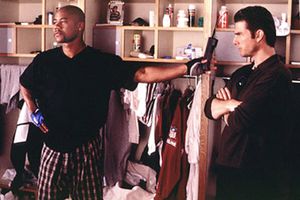 Courtesy TriStar Pictures
Can you believe "Jerry Maguire" came out 12 years ago?
4. "JERRY MAGUIRE" (1996)
After being rebuffed by the Cardinals' owner (Glenn Frey) on a contract renegotiaton, Maguire tries to explain to his wide receiver client Rod Tidwell (Cuba Gooding Jr.) that he needs some assistance, beginning with a Tidwell attitude adjustment: Maguire: "You don't know what it's like to be
me
out here for
you
. It is an up-at-dawn, pride-swallowing siege … help me help you."
Tidwell, tired of contract talks that haven't shown him any money while other players are getting the "quan," threatens to fire Maguire: "You're hanging on by a very thin thread … and I dig that about you!"
3. "BRIAN'S SONG" (1971)
The essence of this film (love, race, friendly competition) is encapsulated as the film ends and they replay Brian Piccolo and Gale Sayers running through the park with the Emmy-winning performance of Jack Warden as George Halas voicing over, "... when they think of him, it's not how he died that they remember but rather how he lived ... how he did live." Michel Legrand's theme music caps it all.
2. "NORTH DALLAS FORTY" (1979)
The opening sequence captured the essence of a football character better than any other film. Waking with a bloody nose, staggering about for a breakfast of beer and pills, with his ankles still wrapped in tape, a limping and aching veteran wide receiver, Phil Elliot (Nick Nolte), manages a smile when flashing back to the highlights of his last game. Yet at the same time he grimaces at reliving the punishment his body took as he eases into a hot bath, only to be rousted out by relentless party-animal teammates.
1. "HORSE FEATHERS" (1932)
Talk about "Leatherheads"; this portrays the madcap Marx Bros. at their best. From Prof. Wagstaff (Groucho Marx) racing in from the sideline to make a flying tackle while smoking a cigar, to Barovelli's unusual signal calling ("Hi diddle diddle, the cat and the fiddle, this time I think we go through the middle ... hike!"), the Darwin versus Huxley rival game sequence could cover most of the 11 top movie scenes by itself. So we will settle for dogcatcher Pinky (Harpo) heading for a score but turning tail and racing the wrong way when a dog runs onto the field. Pinky makes it up to his team by reversing his direction, driving his horse-led garbage-can-turned-chariot for the winning score.
Randy Williams is the author of "Sports Cinema: 100 Movies -- The Best of Hollywood's Athletic Heroes, Losers, Myths, and Misfits"