Commentary
SDSU fans ready for Jimmer Fredette
Originally Published:
February 25, 2011
By
Doug Williams
| Special to Page 2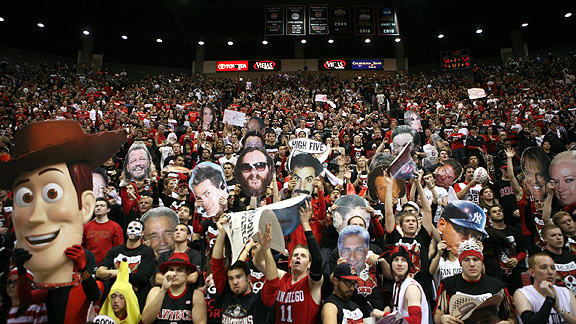 San Diego State University Media Relations -- Stan LiuSan Diego State's student section, "The Show," is primed for Saturday's showdown against BYU.
At some point during Saturday's highly anticipated basketball game between BYU and San Diego State, expect to see a large photo of Cougars star Jimmer Fredette held aloft in the Aztecs' rowdy student section, "The Show."
It won't be an image of the dashing, high-scoring Fredette of 2011, but rather one from his past. Expect to see Fatty Fredette, courtesy of some fine Facebook sleuthing.
"We have some images of Jimmer as a chubby teenager," says Brian Johnson, 25, a grad student at SDSU and a longtime member of The Show. "Apparently he was a chubby kid."
So, if one photo is good, why not two? Or three? Or 40?
The Show doesn't want to tip its hand about specifics, but expect to see lots of signs and Mormon missionary outfits ... and perhaps a pregame sacrifice of a BYU-clad Jimmer scarecrow.
After all, this is BYU and Jimmer Fredette coming to town, so The Show -- which has helped turn Viejas Arena into one of the loudest and most electric home courts in America --has been cramming for this midterm for weeks.
Crossing 'the line'
Somewhere between San Diego and Provo, Utah, a line has been drawn. On one side of it is "clever and funny," and on the other side is "offensive."
So when the No. 4 Aztecs (27-1) host the No. 7 Cougars (26-2) in a duel for the Mountain West Conference lead, The Show will be doing what it usually does, standing right next to that line ... wherever it is.
Dancing up to it, touching it, teasing it -- even trying to make it laugh -- while trying not to step over it.
Last year, after Fredette scored 33 points and the Cougars beat the Aztecs in their own house, 71-69, SDSU fans were criticized by some BYU fans and media who said they crossed the line.
The cited offenses: 1) dressing up like Mormon missionaries (black slacks, white shirts, ties and bicycle helmets); 2) a sign directed at the ailing Fredette ("Which wife gave you mono?"); and 3) chants toward the BYU bench at the end of the game ("You're still Mormon!"). The chants actually came from other fans at the game -- not those in The Show -- but The Show was hit by the collateral damage.
MORE SAN DIEGO STATE HOOPS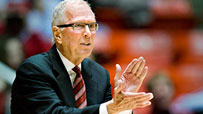 ESPN.com's Dana O'Neil chronicles the unlikely rise of San Diego State's men's basketball program under former Michigan coach Steve Fisher. Story »
Apologies were issued for the sign (by its author) and the chant (by the school) but not the outfits, which were termed "classless" by one Sports Illustrated writer. In fact, expect to see even more "missionary" costumes Saturday.
"We didn't see anything wrong with those," says Johnson, who will be in the section's front row Saturday.
"We're just trying to be creative. What happens is sometimes out of our control. There was some anti-Mormon stuff that went on last year that probably crossed the line. We try to self-police. But by and large, we're just trying to poke some fun at BYU."
The Show is always focused on the BYU game, but this year that focus is laser-like because:
• SDSU lost to the Cougars on its home court last year;
• SDSU's only loss this season came to BYU in Provo on Jan. 26 when Player of the Year candidate Fredette scored 43 points (including five 3-pointers);
• It's probably the biggest home game the Aztecs have ever had. It's a sellout, it's on national TV and there's even a downtown pep rally for alums scheduled this week -- something nobody would have dreamed of even two or three years ago.
So students have been brainstorming, trying to come up with signs, T-shirts, chants and stunts to break out before, during and after the game. Members have been posting proposed sign slogans on the group's website and brainstorming all season to come up with some surprises for Jimmer & Co.
Creative writing students
It's the signs that get the most attention, since they can elicit the most laughs -- or groans.
The Fredette "mono" sign last year did both.
Vincent Silva, a 2009 SDSU grad and member of The Show who made the sign, showed it to Fredette before the game last year and says Fredette laughed.
"We were literally five feet away when I showed it to him," he says.
But some BYU fans didn't see the humor and called it derogatory. In the days following that game, Silva apologized for the sign.
"I definitely understood where the criticism was coming from," he said this week. "The main thing I wanted to say was, if I offended anyone, I am very sorry about that."
Silva says the goal Saturday will be "to create a hostile environment but not go over the line," to be funny but do "nothing that borders on bigotry."
All signs at the game will be vetted by the group and also checked by school security before the game. Don Oberhelman, SDSU's senior associate athletic director, said security will check T-shirt slogans and signs as fans come into the arena and will not allow any in that are offensive, profane, vulgar or "inappropriate." The easy thing, he says, would be to ban signs altogether, but SDSU doesn't want to do that.
"You don't want to put out a laundry list of things they can't do," he says. "We want them to police themselves and take the lead here."
He concedes that checking the signs won't make everybody happy.
"There will be some judgment calls," he says. "Is it clever and witty or offensive? There may be some tough calls."
Which is why some of the proposed signs on the group's forum page may never show up in Viejas Arena.
Among the tamer proposals: "The only cougars I like are in Del Mar," "I refuse to call a grown man Jimmer" and "For the last time, get off our doorstep."
Oberhelman says the lines of communication between the SDSU administration and The Show have been good, and the school's message to the students has been to just "take a step back and think what's best for SDSU."
Aztecs coach Steve Fisher -- who has consistently praised the student group for making Viejas such a tough place for visiting teams -- addressed the group after a practice this season, over pizza, and sent a message to members this week stressing respect and good judgment.
Silva says The Show has passed out fliers that counsel fans to "stay classy" and stay away from the negative.
When Saturday comes, Oberhelman is confident the focus will be on the game itself and the electric atmosphere that SDSU students have created.
"Without The Show, it is one-tenth the atmosphere it is now," he says. "It's a loud, inhospitable place. It's like sticking your head in a beehive."
And, as Oberhelman does almost every game, he'll be looking for laughs from opposing players.
Invariably, he says, players on the visitors' bench can be seen smiling and pointing at the signs that pop up in The Show.
"They are so creative and they've done their homework," Oberhelman says. "They can make you laugh."
Doug Williams is a freelance writer based in San Diego.