Commentary
Michigan's Fab Five best of the fives?
Updated:
March 8, 2011, 4:15 PM ET
By
Doug Williams
| Special to Page 2
Wrap your five senses around this: The numeral "5" is really No. 1.
It's more than just the placeholder between "4" and "6" or the number of our fingers or toes or the appendages that spring from our torsos (two legs, two arms and a head).
To Tania Gabrielle, the "celebrity numerologist," five of anything is fabulous, but in sports you can always count on No. 5. If it was good enough for Joltin' Joe DiMaggio, it should be good for us all.
"Five is about taking risks and having vision," Gabrielle said from her office in St. Joseph, Mich. She said it stands for bravery, confidence and adventure.
"Visually, it's the only number that faces both left and right," she said. "It's open to the right at the top and open to the left on the bottom. That shows versatility and an adventurous spirit." Plus, she said, it was very important to "the ancients" who believed "5" to be magnetic, capable of attracting crowds and followers. And in America, what's better than that?
It would take a lot more than five fingers (plus toes) to count the best fab fives in sports and pop culture, but we'll give it a shot:
FAB FIVE TRIVIA
The story of Michigan's Fab Five is well-documented. But can you remember which NBA team drafted each of the players?
The hoops Fab Five: There have been plenty of groups dubbed "Fab Five" -- from Duran Duran to the cast of "Queer Eye for the Straight Guy" -- but in sports Michigan's freshman class of 1991 takes the title. Chris Webber, Juwan Howard, Jalen Rose, Ray Jackson and Jimmy King may not have won any NCAA titles, but they changed the game with their big talents, baggy shorts, black socks and shoes, shaved heads and trash talking.
The Fabulous Five: Long before Michigan's quintet, the starters on the 1947-48 Kentucky basketball team earned this nickname by winning the NCAA championship and then the 1948 Olympic gold medal.
The high-five: Give it up for the best celebration ever.
Fab Five (women's division): From 1991-2004, the U.S. soccer team dominated the world, winning two World Cups and two Olympic golds around a core of Mia Hamm, Julie Foudy, Brandi Chastain, Joy Fawcett and Kristine Lilly.
The five Georges: Give former heavyweight champ George Foreman a high-five for productivity and a low-five for creativity. He has 10 children, including five sons: George Jr., George III, George IV, George V and George VI.
G-G-G-G-Gone: In June of 2006, South Carolina hit five straight homers en route to a 15-6 win over Georgia in the NCAA tournament. The consecutive HRs by Neil Giesler, Justin Smoak, Phil Disher, Andrew Crisp and Robbie Grinestaff tied a record that had been set by Eastern Illinois in a regular-season game in 1998 versus Morehead State.
Four + one = fab: Also in 2006, the Los Angeles Dodgers hit a total of five home runs in the ninth and 10th innings -- including four in the ninth to overcome a 9-5 deficit. -- en route to an 11-10 win over the Padres. In order, the homers were by Jeff Kent, J.D. Drew, Russell Martin, Marlon Anderson and Nomar Garciappara, with the walk-off winner.
55555: Norwood Young America, Minn., can lay claim to two things: having the oldest annual festival in the state (the Stiftungfest!) and a memorable ZIP code.
Fab 5 Freddy: One of hip hop's pioneers of the 1970s and '80s started out as part of a Brooklyn-based graffiti group called "The Fabulous 5" and became known for painting the No. 5 train on the New York subway system.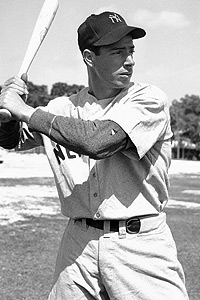 AP Photo/PSJoe DiMaggio finished his career with 361 home runs.
Jersey No. 5: Let the debate begin. Who was the best No. 5 ever? Take your pick from these:
Baseball: Joe DiMaggio, Johnny Bench, George Brett, Albert Pujols and Hank Greenberg.
Football: Paul Hornung and Reggie Bush (college).
NBA: Kevin Garnett and Bill Walton (Celtics).
NHL: Dennis Potvin and Nicklas Lidstrom.
Phab Phive Phillies: The season hasn't even started, and this year's Philadelphia starting rotation has already been dubbed fabulous. Based on past performance, though, the rotation of Cliff Lee, Roy Halladay, Roy Oswalt, Cole Hamels and Joe Blanton might really be a Fab Four plus The Other Guy.
Five on the ice: Hall of Famer Joe Malone is the only NHL player to go five times five, at least five goals in a game five times. And in two of those games he had a six-goal and record seven-goal game. Mario Lemieux is the only player to score five times in a game in five different ways: even-strength goal, power-play, short-handed, empty-net and penalty-shot.
A Goofy one: Disney once owned the Ducks and the Angels in Anaheim, but its best franchise always revolved around its cartoon Fab Five: Mickey Mouse, Minnie Mouse, Donald Duck, Goofy and Pluto.
[+] Enlarge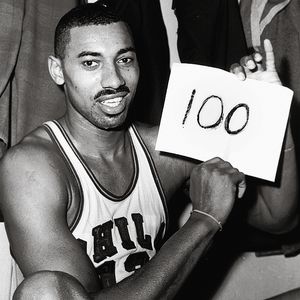 AP Photo/Paul VathisWilt Chamberlain led the NBA in scoring for five straight seasons.
Slam-dunk choice: For five straight seasons, from 1959-60 through 1963-64, Wilt Chamberlain not only won the scoring title, but averaged more than 35 points per game, something no one else has done. His averages: 37.6, 38.4, 50.4, 44.8 and 36.9.
Five fabulous gene pool pairings: Greatest athlete love matches ever: Garciaparra and Hamm; Andre Agassi and Steffi Graf; Ray Knight and Nancy Lopez; Tim Montgomery and Marion Jones; and Greg Norman and Chris Evert.
Billy, Billy, Billy, Billy, Billy: George Steinbrenner hired Billy Martin to manage the Yankees five times. Steinbrenner also fired Martin five times.
The rings: The symbol of the Olympic movement is the five interlocking rings, signifying the major regions of the world: the Americas, Europe, Asia, Africa and Oceania.
Super Bowl V: It was the first Super Bowl decided by a late field goal, when the Baltimore Colts' Jim O'Brien kicked a 32-yarder with five seconds left for a 16-13 win over Dallas. It may not have been fab (there were a combined 11 turnovers), but O'Brien delivered the "V."
Jimmie Johnson: The California kid drove right past all those good ol' boys and into the record book, winning an unprecedented five straight NASCAR Sprint Cup titles.
[+] Enlarge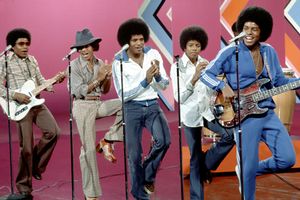 Michael Ochs Archives/Getty ImagesTito, Marlon, Jackie, Michael and Jermaine Jackson: One of the best fivesomes ever.
Jackson 5: Plenty of groups have been "5s" -- Maroon 5, the Fifth Dimension, the rap crew The Fab 5, Five for Fighting -- but Michael and the Jacksons had the most thrillers, PLUS a sister who shook up a Super Bowl with a "wardrobe malfunction."
Committee of Five: Fourth of July at the ballpark just wouldn't be the same if we were drinking tea, watching cricket and listening to "God Save the Queen." Fortunately, these five heavy hitters -- Thomas Jefferson, John Adams, Benjamin Franklin, Roger Sherman and Robert Livingston -- drafted the Declaration of Independence, paving the way for us to choose beer, baseball and "Mambo No. 5."
Five-star movie: "Fab Five: The Texas Cheerleader Scandal" of 2008,had it all: football, a group of cheerleaders called the Fab Five and Tatum O'Neal. Based on a true story, Newsweek said it was about "boozing, bikinis and bullying."
Unhittable: In his final five seasons, from 1962-66, Dodgers lefty Sandy Koufax led the National League in ERA -- three times under 2.00 -- won three Cy Young Awards and an MVP. Then he retired at 30 years old.
The Big 5: In Philadelphia, this is the grouping of five Division I colleges in the city that has produced a classic basketball rivalry: LaSalle, Penn, St. Joseph's, Temple and Villanova.
Loved & Hated: The Q Scores are a measure of a celebrity's fame and appeal. These were the five top athletes on the list as of September: 1. Michael Jordan, 2. Apolo Anton Ohno, 3. Peyton Manning, 4. Steve Nash, 5. Joe Montana.
The fifth state: That would be Connecticut, the No. 5 state to join the union.
If you're keeping score: In basketball, "5" is the center; in baseball, it's the third baseman; in hockey, the "5 hole" is between the goalie's legs; and for Hall of Fame hitter Tony Gwynn, the "5.5 hole" was the spot between third and short where he punched base hits.
Beethoven's Fifth: Ludwig's perfect toast to the fives. Dun, dun, dun & done.
Doug Williams is a freelance writer based in San Diego.