Commentary
Warren Morris' home run lifts LSU in '96
Originally Published:
June 15, 2011
By
Doug Williams
| Special to Page 2
It's been called by some the greatest game in college baseball history, a back-and-forth brawl between two elite programs that ended with one shocking, knockout punch.
Fifteen years later, video clips show Warren Morris rounding the bases, his fist raised after hitting a home run with two outs in the bottom of the ninth inning to give LSU a national championship victory over Miami.
A 9-8 win and jubilation for the Tigers. Agony for the Hurricanes. Morris, who fought back from an injury and hadn't hit a home run all year, hit the only walk-off, title-winning homer in the history of the College World Series. In Louisiana, it's known as "The Shot Heard 'Round the Bayou."
---
On the afternoon of June 8, 1996, at Rosenblatt Stadium in Omaha, Neb., LSU and Miami met in a winner-take-all game for the championship of the 50th College World Series. Four errors, misplays and a strong wind blowing in from left field were as much a part of the game's crazy script as Morris' home run.
The lead changed hands three times -- with Miami leading by as much as 7-3 in the sixth -- before the game was tied 7-7 going into the top of the ninth. The Hurricanes scored in the top of the ninth to take an 8-7 lead.
WARREN MORRIS, LSU second baseman: It was a great game. It had a lot of lead changes and momentum shifts. The main thing I remember is, even when we got down, coming back to the dugout after Miami took the lead [in the ninth] inning, I had this strong feeling that it was just meant for us to win. I just felt like somehow, some way, we were going to win it."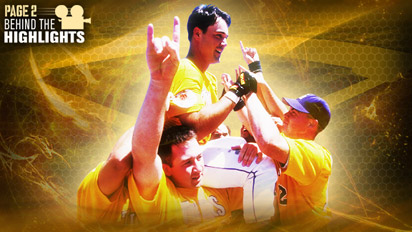 JIM MORRIS, Miami coach: Well, first of all, I try not to think back to that game. And thank goodness for the fact that we've won two championships since. That gives me a little bit of a cushion to not think about it. It's also the game that's brought up more than any game that I've ever been involved in. I've been asked more about that game than the two championships. So I have to think about it.
ALEX CORA, Miami shortstop: Obviously, everybody remembers the last inning and the home run by Warren, but just a few years ago I had a chance to sit and watch the whole game. You know, they did a good job of coming back.
SKIP BERTMAN, LSU coach: For the game itself, it was a sloppy game. It was poorly played, certainly by LSU. And Miami didn't play the way Miami usually plays.
CORA: It was a very emotional game. It hurt so much when [Morris] hit that ball out. Obviously, we felt that way because we lost, but I think we would have had tears if we had won, too. We left everything there on the field just like they did, you know?
JIM MORRIS: We were as talented as probably any team that I've had. But this proves the most talented team doesn't always win. We were close, but no cigar.
---
The game could have turned on any number of plays, including two involving Miami's Pat Burrell, who was selected the Most Outstanding Player in the CWS. In the sixth, Burrell just missed hitting a grand slam. In the seventh, he committed an error that led to two LSU runs.
CORA: We put some good innings early on and got a big lead. And Pat, with the bases loaded [in the sixth], Pat crushed a ball to straight center. It didn't go out that day because the wind was blowing so hard. When he hit it, he thought it was a grand slam. That ball would've been out. We would have crushed them, you know? But it was just a sac fly.
BERTMAN: Pat Burrell hit a ball with the bases loaded that normally is a home run, and it kind of blew back into the stadium, and we caught it and they scored one run.
WARREN MORRIS: That day, the wind was really blowing in hard. ... Pat Burrell had the bases loaded and just hit a bomb, but he kind of hit it high, and it stayed in the park somehow.
CORA: It was kind of like the momentum of the game switched [when Burrell's fly ball failed to clear the fence].
---
After Cora's third hit of the game drove in his third run in the top of the ninth inning to put Miami ahead 8-7, LSU staged its comeback against Hurricanes All-American freshman closer Robbie Morrison, who had entered with two outs in the seventh.
CORA: I got that hit there [to take the lead], and everybody's going crazy and we've got Robbie Morrison, the best closer in the nation at that time, and we felt pretty good about it. We go to play defense, and their leadoff guy hits it right down the line. He goes the other way and hits a double down the line.
BRAD WILSON, LSU designated hitter: Before that inning, I was with another guy on our team in the locker room. We were watching the game on TV, and I was taking some swings to get ready because I knew I'd lead off the inning. He was telling me you should bunt, they'll be very surprised. And I said bunt? I'm not bunting.
BERTMAN: In the bottom of the ninth, Brad Wilson -- you can't make this up -- Brad Wilson was 0-for-15. He's a five-year walk-on [from Pittsburgh], and he hits a ball down the third-base line to lead the inning off, and he runs right out of the box. He knows it's a double.
WILSON: I knew Robbie Morrison was probably the best reliever in college baseball that year. I was definitely going to be swinging. ... The first pitch he threw, it actually was a little inside, and I just inside-out swung and hit it down the line and thought for sure it was going to be a double.
BERTMAN: The kid in left field just picks the ball up and throws a strike to second base. But Wilson makes this beautiful, incredible backdoor slide, sliding past the bag and then touching it with his hand.
WILSON: I rounded first and took about three steps and looked up and saw [the left fielder] was already in his throwing motion and thought, "Oh, my gosh," and just tried to turn on the speed. I think Alex Cora actually caught the ball before I even got to the bag, and I kind of slid to the side and tried to avoid the tag and reached back and he actually knocked my hand off the bag, and the umpire -- you know, you can't do that -- yelled safe!
BERTMAN: Hand to God, I'm just so happy the umpire -- I mean there's no doubt he was safe -- but he could have been called out on a poor call because the ball looked like it was there first.
WILSON: Thank God he yelled safe, because I probably -- if he'd called me out -- [would've] kept running, jumped the fence in right field and had my dad come pick me up and take me back to Pittsburgh.
---
Justin Bowles, the next hitter, hit a hard ground ball to first that allowed Wilson to move to third. Morrison then struck out Tim Lanier for the second out, bringing up Warren Morris, batting ninth. Morrison, who had 14 saves and a 1.68 ERA, already had made 42 pitches over two innings.
BERTMAN: The kid, Morrison, he's a good pitcher, and he rolls one of his big, giant curveballs. And if you let it go, it'll fall out of the strike zone. But it's so hard to let it go. It was just a perfect pitch. And [Lanier] swung at it, of course, for strike three.
CORA: We were playing the infield in [with Lanier up] and I still remember Pat [Burrell, the third baseman] going nuts, you know, and I said to him, "This game's not over yet." I can tell you right now that's what I said, "This game's not over yet."
JIM MORRIS: Everybody was on the top step [of the dugout]. I think everybody was like me; they thought that we were going to win that game. In my mind, I was already designing a ring.
WARREN MORRIS: I can vividly remember as I walked up to bat with two outs in the ninth, Tim Lanier, our catcher, who had just struck out on a really tough pitch ... as he passed by me, he looked at me and said, "Pick me up." Which is kind of like our little mantra that somebody's going to have your back.
BERTMAN: Now Warren goes up on the first pitch obviously looking for the same pitch, which is very common. Most coaches will tell you, whatever the guy struck out on his last pitch, in a meaningful situation, you'll probably get the same pitch. But in Morrison's case, it was a big league breaking ball. And he threw it low, and he threw the very same pitch.
JIM MORRIS: The pitch that Robbie threw was a great pitch. It's just sometimes, you know, good hitters hit good pitches. And that's what happened.
WARREN MORRIS: I guess when [Lanier] said "Pick me up" it was to say, "I couldn't do it, but I know you can." Everything just shifted to me into thinking, "I'm just going to be aggressive. Whatever happens, good or bad, I'm not going to go down timid."
JIM MORRIS: When Robbie struck out the eighth hitter, and Warren Morris, who hadn't played very much and had no home runs at that point ... I thought we had it won.
BERTMAN: Warren, the first pitch, dropped his bat on it, and as soon as he hit it, I knew the score was tied. Just about that time I said, "That's got a chance." And it made it over the fence.
CORA: Warren hit it down the line, probably the only place, with the wind blowing in from center, I think the only two spots you could have hit a home run were down the line in left or down the line in right.
WARREN MORRIS: After the game, the reporters were asking me, "What type of pitch was it?" and "Where was it?" and I think I said, "He hung a breaking ball over the middle of the plate." Well, if you look on the highlights, it's really a good pitch. It's down and in; the catcher's glove is on the ground. So I guess in my mind's eye, I kind of saw things different. I was trying to be as aggressive as possible, and I saw the ball and I just pounced on it. In my mind's eye, it was a hanging breaking ball when really it was a good pitch.
WILSON: At first, I thought it was definitely a base hit, maybe bounces off the wall or something like that. Tying run's going to score and he'll probably get a double, but it just carried out, and very quickly. I mean within, shoot, three seconds. It was a line drive.
WARREN MORRIS: Really, it wasn't until I got to first base and I see it go over the bleachers and our first-base coach, who was Daniel Tomlin ... he jumps up in the air. That was my first clue, so I start jumping, and it's really not 'til I turn toward second base and I see the Miami infield basically on the ground, you know, just like somebody opened fire on them, and I can understand just having victory right there in your hands. ... So, when I saw them that's kind of when I thought, "Hey, we just won the national championship." And I start jumping. I don't know if my feet touched the ground the rest of the way around the bases.
---
As Morris rounded the bases, Cora and Burrell collapsed facedown in the infield dirt and Morrison walked, head down, past the LSU celebration toward the Miami dugout.
CORA: A lot of people say, "I saw you crying" or whatever. Pat Burrell was doing the same thing at third base. But the [video] clip was like perfect, right there, when I was laying on the ground.
JIM HAWTHORNE, LSU radio play-by-play: It's the only time I can remember seeing -- I may be wrong -- but I think the entire Miami infield just fell flat down on their faces as he rounded the bases.
WARREN MORRIS: I get around third, and all my teammates are there at home waiting on me. I didn't realize I had so many of them. I ended up on the bottom of that pile. You can't breathe, you got buttons missing off your jersey. ...
WILSON: I don't remember anything after [scoring] except the pictures. I just remember jumping up in the air all the way down the third-base line and making sure I hit home plate and just waited for Warren to round the bases and come home. It was just incredible.
WARREN MORRIS: It's kind of corny, but I can remember when I came around second base for some reason the thought flashed through my mind, "All right, if there's ever a Kodak moment, this is it," so that's when I put the No. 1 finger up in the air, and that's the picture that gets on the front of the newspaper and all that.
---
Sitting in the radio booth that day was Hawthorne, the longtime LSU broadcaster. His home run call on the Tigers radio network -- which he's been told is the ring tone on the cellphones of some die-hard Tigers fans -- is the highlight of his 30-plus years of broadcasting LSU sports.
"Swung on and hit to right field. That's way back there, way back there! Home run! Tigers win! Tigers win! Warren Morris hits a two-run home run and the Tigers are the national champs! I don't believe it! His first home run of the year! Holy cow! Oh my!"
HAWTHORNE: It was a total knee-jerk reaction on my part. As a matter of fact, I had no idea what I'd said. Just nothing. So, we had thrown to break ... and some guy from ESPN came into the booth and said, "Can I get a copy? Did you record that?" And that's the first time I thought about it. ... But I was scared to listen to it. It was a long time until I actually heard it, because I was scared of it. But I guess it turned out OK.
---
Bertman says the real story of the game isn't the home run. The real story, he says, is the remarkable comeback of Warren Morris from a broken hamate bone in his right wrist suffered while swinging a bat in a pre-Olympic camp in October.
Morris' injury was misdiagnosed, and he tried to play with it until February, when he was reinjured. He missed 39 games as doctors first prescribed rest and struggled with a diagnosis. Finally, a University of Virginia physician declared it a broken hamate, and Morris immediately elected to have surgery.
If the Virginia doctor had delayed calling Bertman by even a day with his opinion, Bertman says, the championship game might have ended differently.
How important was Morris to LSU? With the former walk-on and Academic All-American in the lineup that season, the Tigers were 22-0. Without him, 30-15.
BERTMAN: The reason why it's important that [the doctor] called me back on that day was we met the very next morning and he said, "Warren, you could have the surgery" ... and Jose Canseco took 93 days [to recover]. The fastest guy was Ken Griffey Jr. He took only 19 days. And we were ready to play in [the regionals] in about 16 days.
WARREN MORRIS: When we started that [NCAA] regional, I was not 100 percent, but I was able to do enough to get in the lineup and bat.
BERTMAN: We're in regional play, and he bats ninth in the very first game, which is 16 days from the time he had the surgery. He cannot swing the bat. He bats ninth. He takes pitches. He tries to bunt.
WARREN MORRIS: I was just kind of punching at the ball.
BERTMAN: What I'm saying is, he couldn't even swing when we started the NCAA tournament. And he couldn't swing when we finished [the regional] off and beat Oklahoma to go to Omaha. And he wasn't swinging full even in the first three games of the College World Series. It wasn't really until that morning [of the championship game, in batting practice] that he turned it loose and said, "Coach, I really feel good for the first time. I feel like I can hit."
WARREN MORRIS: When we took batting practice [that day, 29 days after surgery], I felt like I could swing 100 percent. Before that, it was just kind of put the ball in play, hit it hard, line drive or on the ground.
BERTMAN: But I still left him in the 9-hole. He did get two other hits in that game besides the home run. He probably should have been batting third. Let's put it this way: A smarter coach probably would have batted him third.
---
After the game, the Hurricanes drifted to their locker room, while LSU celebrated and Warren Morris did interviews. The fan who caught the home run ball came out onto the field and handed it to Morris, saying all he wanted in return was an autographed ball. Warren keeps the ball at his home. The bat, he donated to LSU.
JIM MORRIS: Before I could stand up and say anything, Alex Cora is telling Pat Burrell how great a hitter he was, and if it wasn't for him we wouldn't be there. And Pat had made a crucial error in the seventh inning. And then he was talking to Robbie Morrison, and he was telling Robbie how great a pitcher he was and he was an All-American, and without him we wouldn't be there. You couldn't hardly understand Cora because he was so upset. There wasn't a dry eye in the locker room.
WARREN MORRIS: The [team] bus was gone [after the interviews], and the only people left there were my parents and a few fans. So in full uniform, with my spikes still on, we walked -- you know in Omaha, everyone parks in backyards and all -- we walked through a neighborhood to get into my parents' car to go back to the hotel.
---
Just days later, Warren Morris joined the U.S. Olympic team, managed by Bertman, in time for a pre-Olympic game against Japan. Morris hit another walk-off homer to beat Japan, then helped the U.S. win a bronze medal in Atlanta. He played five seasons in the big leagues, hitting .267 with 26 homers, including 15 as a rookie with the Pirates in 1999.
BERTMAN: I bristle a little bit when I hear people say, "How lucky was that? The guy never hit a homer." The truth is, he hit a lot of homers and he probably would have hit 20 in the year if he played [the whole season].
---
Today, Warren Morris is assistant vice president of Red River Bank, near his hometown of Alexandria, La., where he lives with his wife and three children.
Brad Wilson is district sales manager of Evergreen Tank Solutions in Baton Rouge, La.
Skip Bertman, who stepped down as LSU's baseball coach in 2001 after winning five national championships, served as the school's athletic director until 2008 and is now athletic director emeritus.
Alex Cora, playing in his 14th major league season, is an infielder with the Washington Nationals.
Jim Morris has been the baseball coach at Miami since 1994 and went on to win national titles in 1999 and 2001.
Jim Hawthorne remains the voice of Tigers baseball, football and basketball.
---
At Miami, Jim Morris had succeeded "The Wizard of College Baseball," legendary coach Ron Fraser, and felt the pressure to succeed, so the loss hit him hard. It wasn't until the Hurricanes were able to win the CWS in 1999 that Morris finally was able to put the loss behind him. For all involved, the game will never be forgotten.
JIM MORRIS: Next year, I had nightmares about the game, to be honest with you. Nightmares were going on and I'd wake up in the middle of the night, the game was going on and I couldn't get out and do anything and I'd wake up sweating.
WARREN MORRIS: I've talked to Alex Cora and Pat Burrell and some of the other guys. They've all said they loved being part of that game. It was such a good game. They would have much rather been on the winning end of it, but they were glad to be a part of it.
WILSON: The Warren Morris home run is the highlight of all LSU baseball. And it seems like, every year, it's a trivia question: Who was the guy on third base when Warren hit the home run? It's funny to hear the answers.
CORA: We took it hard, but at the moment it was hard to understand just how much we accomplished, because you don't go to Omaha just to show up. You go there to win. And my class, we went three times and ended up fifth, third and second. So it was unfinished business for us. ... But, I had to get ready for my next step, for pro ball.
JIM MORRIS: You know, it's funny. I've always kind of been a Dodgers fan. ... You go back to that [1988 World Series Game 1] with Oakland and the Dodgers with [Kirk] Gibson hitting that home run, and I thought that was so great. I thought it was just an exciting game. But never in my mind did I ever put myself in the position, well, how did Oakland feel? How did their pitcher feel? And now every time I think of that game, I think of Oakland and not the Dodgers.
BERTMAN: You know, [the home run] couldn't have happened to a greater kid. I mean, the worst this kid ever did was he once rented a movie from Blockbuster and he didn't rewind. Or he'd go behind the dugout to chew gum. He's a real super kid. He was a medical school student, a real Christian kid. And he has a wonderful family now.
WARREN MORRIS: When they introduce me [at speaking engagements], they'll show a video of that moment. The great part is, it never gets old because it always ends good.
---
After being drafted by the Pirates, Warren Morris spent two spring trainings with Hall of Fame second baseman Bill Mazeroski, a special instructor. It was Mazeroski's bottom-of-the-ninth homer that won the 1960 World Series for Pittsburgh.
WARREN MORRIS: We did talk about our shared experience of hitting a walk-off home run in a championship game. I remember Maz telling me that many fans have come up to him over the years and assume that the memory of that home run is the first thing on his mind every single day when he wakes up. He, like me, said there are days when he doesn't think about it at all. Probably not a week goes by, but there are days when it doesn't cross our path. Maz said people couldn't believe this. They thought his mind would be on this all the time. ... But we both felt honored that people still come up and want to talk about the event year after year.
Doug Williams is a freelance writer based in San Diego.