Commentary
Seriously: 30 years since McEnroe rant
Originally Published:
July 1, 2011
By
Dave Wilson
| Page 2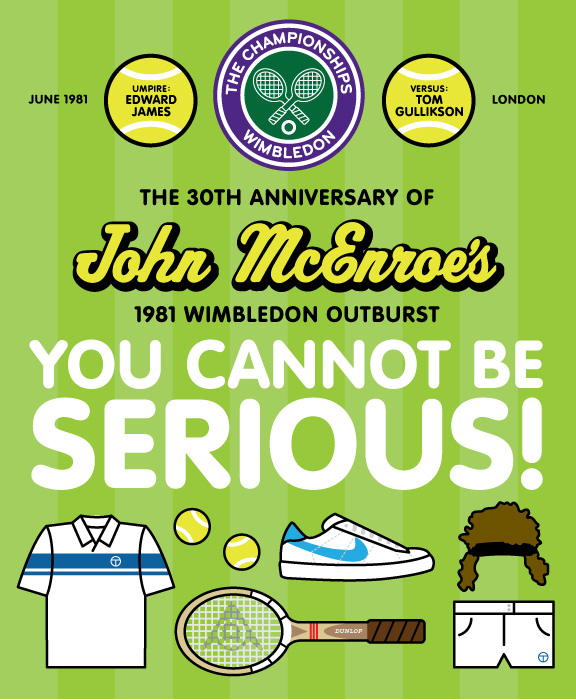 Robb Harskamp
John McEnroe made a lasting impression 30 years ago at Wimbledon.
Sure, 1981 was his first Wimbledon title, defeating Bjorn Borg to avenge a loss in the all-time classic match the previous year.
But that may not be McEnroe's most enduring feat of the tournament. Or his career, even.
In that Wimbledon, on June 22, 1981, McEnroe scored his biggest upset. He was able to avoid a default after melting down and screaming at umpire Edward James after a disputed call.
After a shot was called out, McEnroe slowly approached umpire Edward James. "Chalk came up all over the place," he said. "You can't be serious, man."
But as the simmer turned to a boil, he unleashed history, screaming what the British newspaper The Independent recently called "the most famous four words ever uttered by a tennis player."
He followed it up by saying, "You guys are the absolute pits of the world."
The assault rattled the prim-and-proper British tennis scene. The tabloids, which had already labeled McEnroe "Superbrat," went into a frenzy. He was docked a point for the initial assault, and later lost another point after he slammed his racquet to the ground in the match.
The tantrum was merely the most famous example of his disdain for what he regarded as bad calls.
He told ESPN, "I know I can see the ball better than the officials. I can 'feel' when a ball is out or not. What's so frustrating is to know you're right and not be able to do anything about it."
Even this week, in the Independent, he said the 1981 match wasn't particularly bad, just that "it seemed like every match I played, from what I can recall, had some pretty bad line-calling."
McEnroe once said the outburst was "a scream that came straight from Queens but that has traveled very far in the years since."
For example:
• McEnroe named his biography "You Cannot Be Serious."
• It's still often used as a headline for McEnroe-related news (like his being at an azalea festival in North Carolina this year.
• No Mas has an awesome hoodie dedicated to it.
• He's used the phrase in several commercials, including one for Spanish automaker SEAT where he's arguing with an officer about parking his car on the line.
• Novak Djokovic said it during an impersonation of McEnroe after a match at the U.S. Open a couple of years ago. McEnroe, a tennis analyst, then came down from the booth and played a couple of points against Djokovic.
Tom Gullikson, McEnroe's opponent in the infamous match, felt the outburst was inappropriate at Wimbledon. Thirty years later, the only thing more legendary than McEnroe's outburst might've been the champion's reaction to Gullikson's solution.
"It has no place," Gullikson said. "Everyone's afraid of these guys. All it would take is one default to put them in line. If it was the 120th player in the world, they would have defaulted him."
Dave Wilson is an editor for Page 2.