Commentary
Talking 'Excess' with the Pony Express
Updated:
December 10, 2010, 12:40 AM ET
By
Dave Wilson
| Page 2
Eric Dickerson and Craig James will forever be linked.
Linked in college football lore for their prolific offense known as "The Pony Express," in which the two star running backs worked out a system to rotate and share carries.
Linked in the public perception to the infamy of the Southern Methodist University football program's pay-for-play scandal, which ended up earning the program the NCAA's "death penalty."
And nearly 30 years later, they're back together, talking about the new 30 for 30 film "Pony Excess," which tells the story of the SMU program's rise and fall, and its hope for a rise again. The documentary airs Saturday night at 9 p.m. ET on ESPN after the Heisman Trophy presentation.
The old teammates talked about the film this week at ESPN and still easily work as a tandem. They finish each other's sentences, laugh at each other's jokes and perhaps even keep each other's secrets.
Some of them, you would expect they'd keep after 30 years. Like the mystery of where the new Trans Am came from that Dickerson started driving shortly before arriving at SMU.
"My grandmother bought that for me," Dickerson says softly, smiling and shaking his head.
"I said in the film, Eric will be underground with concrete on top of him ... and he's not saying anything," James said.
"There's nothing to tell," Dickerson repeats, again with a smile.
[+] Enlarge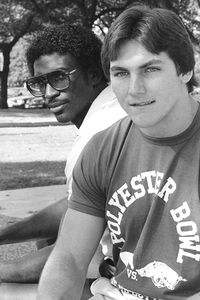 AP Photo/David BreslauerSouthern Methodist University running backs Eric Dickerson, left, and Craig James on campus in Dallas in Nov. 1981.
But both James and Dickerson say the film will help to tell the full story, to prove that coach Ron Meyer was the key reason they went to SMU and was responsible for the team's rise.
"We went to SMU because Ron Meyer made us believe in a vision," James said. "Sure did," Dickerson said.
"We believed in him. We got excited about him. It was Dallas," James added. "Anybody could've gone anywhere they wanted to go. But we went with him because we all liked him and he had a great coaching staff, one of the all-time great coaching staffs."
But both know the team's legacy will be more about the pay-for-play scandal at SMU than their success on the field.
"Of course you have to tell that story," James said of the film. "It is what it is. It's a part of history. It did, I think, accurately portray the culture of that era. And it's really hard now for a generation that didn't grow up watching that to comprehend how that could've happened."
Dickerson said "the culture of that era" included more than just the misdeeds of SMU. But it was the Mustangs who paid the price.
"The big thing is that to me, to me, the NCAA made an example out of our school. They would never do it to Texas, Alabama, Notre Dame, [USC]," he said. "I don't care if they caught them walking in with cases full of money. Money, cars, they would never do that to them. A smaller school, most definitely. We were guilty just like everyone else was guilty. So why did you pick us? Why us?"
Dickerson said he knows this is true because those same schools he mentioned offered many of the same "perks" SMU did.
The film airs after the Heisman ceremony in which Auburn's Cam Newton, whose father sought payment for his son's football services, is a heavy favorite.
For Dickerson, who was from Sealy, Texas, the notion is not surprising, especially for players in his era.
"Imagine, you're 18 years old or 17 years old, and someone offers you $100,000. Do you think you're gonna take it?" he said. "Absolutely. Nine times out of 10, you come from a poor family. Your mama don't have anything; your dad got a little job. You're probably making $10,000-$12,000 a year, back in those days, if you're lucky. When you look at guys who get recruited, most of the best athletes, they come from poor families. I don't forget. I was a junior [in high school] looking through my mother's stuff and looked at her bank statement, and we had $30 in the bank."
James, from Houston, was a top target for many schools as well, but his recruitment wasn't quite as eventful. His girlfriend, Marilyn, who is now his wife, was already going to SMU ahead of him, so he was hoping to follow her. But he admits he still was part of that same culture.
"You're 17 or 18 years old, and you're put in this fast lane, and you're really puppets, as I look back now, in a rich man's game," James said. "I don't know if there's not many people in life that wouldn't have some do-overs if they could with some decisions that were made when you're 17, 18, 19 years old. I know this: When I got to SMU and it came time to go to a party, and Marilyn says, 'You've got to have a blazer,' I didn't have a blazer. It was the fast lane that we got in that had nothing to do with us.
"Eric and I have basically been the ..."
"Scapegoats," Dickerson said emphatically.
"We were the two name guys that came out of there, everybody knows who we are," James said. "But I think what the film does is it depicts that it wasn't us, which we've known forever."
He was referring to the legendary booster "slush funds" and payments players regularly received.
"It was the guys after. I never met those guys," James said. "But this happened after we were gone. From a selfish standpoint, we both were pleased to see how that came out. Because that was blamed on us."
Regardless of how James and Dickerson were lured to the school, they have an appreciation for the great teams they played on once they were there.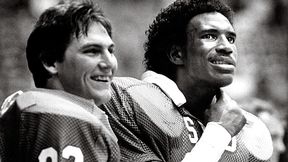 AP PhotoJames and Dickerson said they tried to share carries evenly.
But the two superstar recruits weren't always so sure the partnership would work.
"Honestly, at first, it wasn't just me and Craig, it was another guy -- Charles Waggoner. To me, Charles Waggoner was more ready to play college football than I was," Dickerson said. "I didn't have the strength at the time, especially upper body. I just didn't see how it was going to work."
Dickerson said Waggoner got hurt, breaking a bone in his neck, and couldn't play anymore.
"I hated that because I still think Charles would've been a pro," Dickerson said. "He was a good player."
Dickerson even admits he called Oklahoma coach Barry Switzer's office after his sophomore year but froze when Switzer's secretary asked his name and hung up. "Oh man!" James said, seemingly caught by surprise. But after going home, Dickerson told his grandmother he wanted to transfer to Oklahoma, and she was having none of it.
"She said, 'Boy, take your [expletive] back to SMU,'" he said. "That's how I winded up staying. And I'm glad."
Both players said that junior year was when they knew the Pony Express was going to be a force. The pair eventually combined to amass 8,192 yards and 70 touchdowns over their SMU careers.
The running backs rotated every series, basically dividing the carries between each other by themselves.
"I think we averaged 19 and I averaged 17 carries over my career," James said. "Most of that policing was by us. If we hadn't been friends, it wouldn't have worked. I had great respect for Eric."
"And vice versa," Dickerson said.
"We knew we could've maybe individually had more yards," James said. "He would've certainly won the Heisman our senior year." But he took some pride in the fact that Dickerson had such a phenomenal NFL career and became a Hall of Famer, perhaps because he avoided the pounding a featured running back normally takes.
"I say we saved each other's bodies," Dickerson said. "Because playing running back, you just never know what's going to happen."
The film brought back fond memories for the old teammates.
"I forgot how good we were. The team. Our teams," James said. "When I watched it, I was reminded of how good we were."
"Our defense was ... man, I wouldn't want to play against them," Dickerson said. "I knew how good we were. And I wouldn't want to play them."
James laughed, then leaned toward his old backfield partner. "They wouldn't want to play against us either," he said. "We used to kick their butt in the spring, are you kidding me?"
SMU returned to a bowl game last season under June Jones, the first postseason game for the school since 1984. The documentary, for James, offers a reminder of the progress the program has made in recovery from the scandal.
"It's a good movie in that it's got a story," James said. "Where we were, went down and now they're playing for conference titles again."
Dave Wilson is an editor for Page 2.