Commentary
Blue Steel: North Carolina's cult stars
Originally Published:
March 18, 2011
By
Dave Wilson
| Page 2
North Carolina coach Roy Williams doesn't seem the type to haphazardly drop "Zoolander" references.
Or to give wacky nicknames to Tar Heels walk-ons, for that matter.
But then again, this year hasn't been business as usual for Williams. Since the end of last season, four players left or were dismissed from his team. That left the Tar Heels with an unprecedented six walk-ons and just eight scholarship players.
And those six players -- D.J. Johnston, Stewart Cooper, Daniel Bolic, Van Hatchell, Dave Dupont and Patrick Crouch -- have become a small fraternity, collectively referring to themselves as Blue Steel, named after male model Derek Zoolander's trademark pose in the Ben Stiller movie "Zoolander."
[+] Enlarge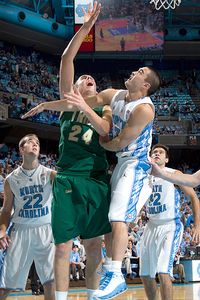 Peyton Williams/North Carolina/Getty ImagesDaniel Bolick contests a shot as Blue Steel gets some playing time in an 85-60 win over William & Mary in December.
Thanks to an attention-grabbing prank on teammate John Henson, in which they covered his car with 2,400 sticky notes, and a very funny, self-deprecating Twitter feed, they've become quite the cult heroes among Tar Heels fans. Their T-shirts, which show silhouettes of six players at the end of an empty bench and say "Feel the Steel," have sold out.
(Aside: The Blue Steel guys would like to make it abundantly clear that all the money from the T-shirt sales goes to charity, so there are no NCAA issues. That would be unprecedented: walk-ons getting one of the most storied basketball programs in hot water. "Oh my god, can you imagine?" Johnston says with a laugh.)
Johnston's father, Don Johnston, was a member of North Carolina's 1972 team that went to the Final Four. Getting a trip to the NCAA tournament with the North Carolina basketball team is a dream come true for him, and he says The Steel knows it has it good. They're as diehard as any Carolina basketball fans, but with better seats.
"We've got the best gig in college basketball," Johnston said. "We get all these sweet perks that everyone else [on the team] gets. Also we're on the team, which is a boost."
It's this "we're just happy to be here" enthusiasm that has endeared them to fans. It's like having a friend on the team, giving you insight behind the scenes of big-time college basketball. On game days, they entertain fans, even if just from the bench.
"We know we may not see big minutes, and we're not afraid to make fun of ourselves," Bolick said. "We are just like normal students, really. And we can provide unique perspective. And put it out on Twitter."
Page 2 spoke with Johnston, Cooper and Bolick by phone before what could be their shining moment: their NCAA tournament opener against Long Island on Friday at 7 p.m. ET, when they could see some mop-up duty in the second half. Here's what they had to say about this season:
On the name Blue Steel:
BOLICK: [Williams] called us a combination of "J.V." or "Parentheses." On the actual practice plans, all the walk-ons' names were on the practice sheets in parentheses next to the player they'd substitute in for. So he'd say, "Parentheses, get in there." We said, "We can't go with being called the parentheses."
COOPER: We didn't want to tell [Williams] to start calling us [Blue Steel]. We told one of the assistant coaches.
BOLICK: The assistant coaches started calling us Blue Steel at the beginning of the week. By the end of the week, Coach Williams had caught on as well.
COOPER: It was pretty funny the first time he said it. He said he liked it. He's never really gone back.
JOHNSTON: It definitely started off in practice, not as sort of a schtick-type thing, which is what it turned into. When he first said it in a game, we looked at each other like, "Nice."
On the group's Twitter account, which now has more than 6,000 followers:
Some examples:
• "You're welcome Tar Heel fans. If we didn't get dunked on every day in practice, you wouldn't be able to see it in the game. #feelthesteel"
• "bucket, drawn charge, airball and one of the biggest blocks ever in the nc state game...the world saw all aspects of Steel's game. #respect"
• "We're gonna have a far better view than the "crazies" and we didn't waste all of January sleeping in a tent. #feelthesteel"
JOHNSTON: We definitely didn't want to tweet things that other players on the team tweet, like what we're having for breakfast. We wanted to say stuff that was related to the team, but to the other side. We originally wanted to write as our profile, "An inside view from an outside perspective." We're like the everyman that gets to do it.
BOLICK: [Williams] really just lets us have fun. He's never said anything about settling down or toning it down. He lets us go out there. We know how far we can push it, and what things we can and can't do.
JOHNSTON: I guess I do most of them. But we always run it by someone else. We text them back and forth. We make sure not to tweet anything too controversial.
On the name taking hold:
JOHNSTON: There were just a lot of people recognizing us that wouldn't normally. People would ask me what sport I play, like why I'm missing class. I said basketball, and they said, "You're in Blue Steel? That's awesome." We've seen the T-shirt design as the background on people's computers in class. It's becoming sort of a cult following.
COOPER: Once it started catching on, it happened so fast.
BOLICK: We are kind of mini-celebrities, obviously nowhere near the level of John Henson or Harrison Barnes, or anything like that.
JOHNSTON: When we got in the game, the fans did a Blue Steel chant, that was sort of a "we have arrived" moment.
[+] Enlarge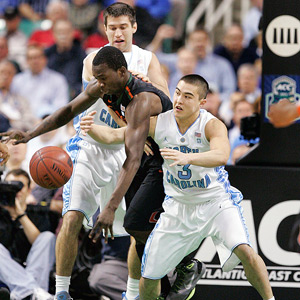 Mark Dolejs/US PresswireD.J. Johnston and Daniel Bolick guard Miami's DeQuan Jones during the ACC tournament, when coach Roy Williams sent the walk-ons into the game in prime time. "I wish I looked cooler when I played, but no dice," Johnston said.
On how they fare against the team's stars in practice:
JOHNSTON: We definitely have a little rivalry. If we don't get beat too badly in practice, we chalk it up as a victory.
COOPER: I have to play in the post, and I'm 6-4½, maybe 6-5, going against [7-foot Tyler] Zeller and [6-10] Henson. It's kind of tough to get a shot off. Sometimes I'll get a jump hook off, but I usually can't see the basket when I'm shooting. If I make one, people get pretty upset. Then, [the Blue Steel guys are] usually looking around at each other trying not to start laughing.
BOLICK: We're always kind of trash-talking one another, whether it's me trash-talking to John Henson, talking junk. D.J.'s definitely caught a couple of jams in practice and I've let John or a couple of the guys hear about.
JOHNSTON: One practice, I got a dunk, and Dexter [Strickland] looked at me and said, "That's never gonna happen again." It probably will never happen again, but at least it happened.
COOPER: D.J.'s dunk was pretty awesome, though.
How the Steel prepares for game day:
JOHNSTON: We're pretty loose. Not much pressure for us happening. We go over the scouting report and do everything everyone else does. We're getting ready to help support the team more so than help play in the game.
COOPER: Where we come in handy the most, on days before games, we go over the scouting report for the team they're playing. We learn all their plays and run against them in practice.
JOHNSTON, (Talking about how former players such as Jerry Stackhouse and Rasheed Wallace come back to practice against the team): Stack has been back. Shammond Williams, Rasheed came a couple of times. All those guys I grew up watching. They were basically a part of Steel for a few practices.
On the three Blue Steel seniors getting the start on Senior Night against Duke:
Johnston, Bolick and Hatchell played the first two minutes, left with a 3-0 lead, and Johnston had two rebounds.
BOLICK: I think it could've easily been 5-0 because I gave Justin Knox a pass for a little elbow jumper that just missed.
JOHNSTON, (On if he would've been allowed to play the whole game): If you prorate it, it would've been a shutout, and I probably would've ended up with at least 50 rebounds.
BOLICK: We had the place rockin' and our focus was good. Our stamina, because we weren't used to playing and seeing game action, wasn't great. We could've sustained a few more minutes, but we were pretty winded by the end of those couple of minutes.
JOHNSTON, (On starter Kendall Marshall saying, "I was definitely scared" to take the floor with the walk-ons): We get it. Everyone playing against us is bigger, stronger, faster than us.
JOHNSTON: It couldn't have worked out any better than it did. If we were down 10-0, no one really would've been surprised.
COOPER: I was hoarse by the time they came out of the game. I was yelling the whole time.
What we can expect from Blue Steel in the NCAA tournament:
BOLICK: Hopefully in the second half we'll definitely see some tournament action in that Long Island game. Anything after that will be icing on the cake.
COOPER: Hopefully we'll go deep enough where we'll get to go to some pretty cool places.
JOHNSTON: Just like all the rest of the year, we're definitely going to be having a lot of fun, whether we get in or not. Hopefully we'll have some decent tweets.
COOPER: We're going to have fun brainstorming for some good ones.
Dave Wilson is an editor for Page 2.