Commentary
Kenny Smith on NCAA tournament duty
Originally Published:
March 23, 2011
By
Dave Wilson
| Page 2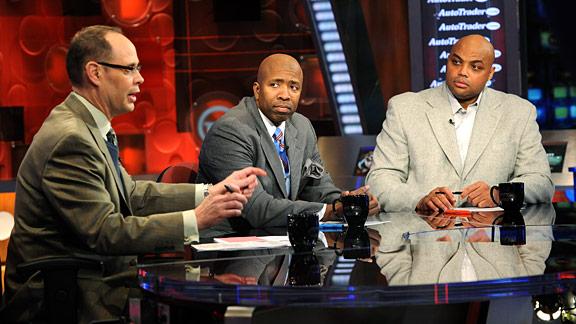 AP Photo/Erik S. LesserErnie Johnson, left, Kenny Smith, center, and Charles Barkley in the TNT studios.
Kenny Smith is halfway through his first gig as a college basketball analyst, and he has heard all the concerns about his TNT NBA crew doing college games.
Smith, alongside longtime partners Ernie Johnson and Charles Barkley, has found one big difference -- although it's not related to basketball.
"I'm enjoying it. I think it's a lot of fun. It's work, though. It's really hard work because of the hours, not because of the games," Smith said, adding he would've been watching all these games anyway. "We went 16 straight hours with only four-minute breaks. That's just physically tough," he added, laughing that it's sometimes hard to cram a bathroom break into four minutes.
As far as the basketball goes, it's just a matter of tempering expectations.
"I think the difference is probably to my analytical eye," Smith said. "NBA players are supposed to do things and college players are learning to do things. Kobe Bryant should know how to defend a pick and roll. College players, like [BYU's] Jimmer [Fredette], they might not know that yet."
But Smith thinks the experience overall should help him with the NBA gig. "It's only going to help you for the NBA because you have a better association with these kids," he said.
The other difference is the passion college fans have, which he sees in reactions to things he says. "They take it more personal," Smith said.
Smith sees that passion working with Coke on the Coke Zero Social Arena, an interactive site where fans can watch the tournament games and interact on Twitter and Facebook.
And he knows about passion, having played on three Elite Eight teams at North Carolina. He says he still hears grumblings from Carolina fans when he picks Duke to go to the Final Four, as he did this year.
"I get [pressured] a little bit, as long as I don't pick them beating us. We respect what they do," Smith said. "It's the Hatfields and the McCoys, baby. We know you're there, that don't mean we like you."
Smith has enjoyed getting to see a few players he really wanted to study. "[Connecticut's] Kemba [Walker], [Duke's] Nolan Smith, Jimmer. Those are three guys that I paid a lot of attention to this year along with Jacob Pullen [of Kansas State]."
There are no questions about most of those players' professional prospects. But Smith knows Fredette is always a hot topic when it comes to his NBA future, and he's not concerned.
"He's going to be a great NBA player," Smith said. "The way you score in the NBA is the way he scores in college basketball, off the pick and roll, off open shots and off the dribble. He does all of those things extremely well."
And how does he think Barkley has fared in this NCAA gig, particularly considering he made waves early and often on topics like the Big East not deserving 11 teams in the tournament?
"His Big East stuff has been accurate," Smith said. "He says outrageous things -- with accuracy, at times. He just says them in a way that no one else would say them.
"You know how people say, 'Does this dress make me look fat?' and you wonder if you're supposed to say 'yes?'
"Charles is the one who says, 'That dress makes you look fat' before you even ask."
Fans can expect more of the TNT team in future NCAA tournaments.
"We've already signed on," Smith said. "You're gonna see us for a while doing college basketball ... if we can find a way to make it through these first two days as far as using the bathroom a little more."
Dave Wilson is an editor for Page 2.