Commentary
Girl Talk on NBA playoff theme songs
Updated:
May 4, 2011, 10:44 AM ET
By
Dave Wilson
| Page 2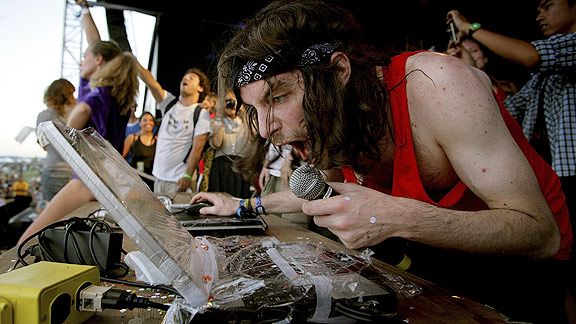 Courtesy of Dove ShoreGirl Talk's live shows are intense, so he takes protective measures with his laptop.
The artist known as Girl Talk is a frenetic performer, a mashup musician whose instrument is a Panasonic Toughbook filled with samples and loops, wrapped in Saran Wrap to fend off his sweat. His live shows are known for their energy, where the entire stage becomes packed with fans (by his preference) and where he almost assuredly will have taken off his shirt (and often much more).
His most recent album "All Day," which he released as a free download, consists of 372 samples seamlessly blended together over 71 minutes.
By day, Girl Talk is Gregg Gillis, a huge Pittsburgh sports and NBA fan and former biomedical engineer who got a degree with an emphasis on tissue engineering, then had to quit his day job when his music career took off.
Gillis will be talking Pittsburgh sports and whatever else you throw at him in a chat on Thursday on ESPN.com. Submit questions for him and find a link to download the album over at SportsNation.
[+] Enlarge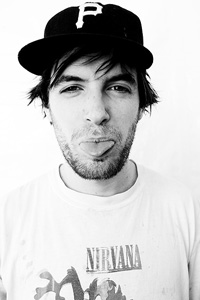 Courtesy of Dove Shore Gregg Gillis has lived in Pittsburgh his whole life except for four years in college in Cleveland.
Gillis talked with Page 2 by phone from Pittsburgh, where he just returned from a series of tour dates, discussing his surprising disinterest in technology, if he'd ever want to play at a Steelers game, and what theme songs he'd select for a few NBA playoff teams.
On his tech setup and MP3 collection:
I'm not like anti-technology. I'm not a Luddite or anything. I'm just not huge on those sorts of things. I've been using an iPod the past month or so. I'm new to it. My parents actually gave it to me a few years ago and I've just started using it. Even the software I use, basically I'm using the same software I've been using for 10 years.
For a guy who has a background in engineering and who plays a computer for a living, I probably have the least amount of interest in tech-oriented things that you can have.
At any given moment, I'll have maybe 50 MP3s on my computer. Maybe half of them are songs I've just really wanted to listen to this month, and the other half are songs I've been meaning to sample or cut up. There are probably just thousands and thousands of loops and samples. There's never like a whole song, always like a cut-up portion. The rest is just tiny little loops, thousands of those, things I don't' listen to. I use them as tools to make music. Organizing the samples is a big challenge. For me the music isn't intuitive, it's not like a song I hear and say, "Oh, that'll go good with that." It's more of a scientific process.
I've kind of come up with my own cataloging system. I kind of have it memorized and know where to find it. I usually remember it by a year, or a season, I cut a song up. If you name a random pop song, I could tell you if I sampled it.
On if he still hears songs that he can't believe he hasn't used yet after five albums and thousands of samples:
All the time. Sometimes it's even things where I've heard the song a million times. And I just hear that part I didn't recognize. Sometimes I'll even sit down to cut it up, and I think, "Why haven't I done this?" A big thing recently is going back and looking at files from five or six years ago. There are things I've cut up, and I know I cut them up, but I've never used it in a song or at a show. If I don't find a place for it within a year I stop being as interested in it. Sometimes an old song doesn't match until a new song comes out. A lot of times the older stuff requires new material to re-evaluate some of the older material. But it really is endless. The list of songs I want to sample grows faster than it's depleted.
On his ultimate halftime show for the Super Bowl:
I know a lot of people were ragging on the Black Eyed Peas because they're a popular band, and that's easy to do. I was excited that they chose that. But I love the classics. The Prince halftime show was unbelievable. Maybe that'd be my pick. I'd have Prince do it again. Or it might be a combination of some new and some old. Maybe I would have like Waka Flocka Flame, Paul McCartney, the Foo Fighters and Lil B up there at the same time. Some of the ones in the '90s were like that. The halftime show is a real good time to not be worried about keeping it classy and keeping it tasteful. This is the most over-the-top sporting event, so it can be over-the-top.
On if he'd ever want to play a Steelers game at Heinz Field like Wiz Khalifa did:
It would be pretty weird. Context is really important for the shows I do, so I don't know how that'd fit in. But If the opportunity presented itself, I'd have to consider it. I get asked to do corporate events, but people don't realize how important context is. I'm going to get out there and go nuts, and take my shirt off, and when the audience participates in that and goes crazy, then it's a celebration. But when a guy goes nuts and everybody just stands there and stares, it turns into them maybe being scared by it.
But it could go down. Even when I saw Wiz Khalifa perform, it's a kind of intense place to play. A football game is a really intense place. Naturally some people aren't going to be trying to hear that or watch it. That's a pretty high level of difficulty.
On the Pirates:
I'm still with 'em. I'm not the biggest baseball fan. I try to go to a few games and watch them each year. I think it'd be magical if they could pull out a .500 season. I think the city would erupt.
On what theme songs he thinks would define a few of the NBA playoff teams:
Miami Heat: "Bad to the Bone" [by George Thorogood and the Destroyers]. It's just like almost like the most played-out villain music. They're almost animated as villains, structured in the whole [LeBron] move and everything about it. They're on the Heat, it's this team that's so easy to hate. "Bad to the Bone" is just like this song you hear in cartoons. That's how villainized they are. It's almost cartoonish.
Los Angeles Lakers: I'm not a Lakers fan, but I've got to go with "California Love" by 2Pac and Dr. Dre. They are smooth. I don't root for that team, but Kobe's been the man. He's a proven finisher. They got their celebrities on the team. They're the Lakers, a classic dynasty. It's a classic song and it's a West Coast anthem.
Boston Celtics: It's Boston, so I want to say the Dropkick Murphys or [House of Pain's] "Jump Around" or something. But to actually represent the team, I'm thinking more like Jay-Z. They're an older team, more classic. They're respected. I'll go with Jay-Z's "Can I Get A ... ". They're consistent, they're veterans, there's not too much drama. They're not a team to be walked over, not the most in-your-face team. Being veterans is maybe their biggest strength and weakness, similar to Jay-Z.
Dave Wilson is an editor for Page 2.