Commentary
NHL returns for Weakerthans' Samson
Updated:
June 15, 2011, 3:41 PM ET
By
Dave Wilson
| Page 2
John K. Samson's band, the Weakerthans, are quintessentially Winnipeg.
Author Dave Bidini, in the Globe and Mail, called Winnipeg's people and their city "sad and beautiful" and the Weakerthans the city's "most honest, if not its greatest, band."
Samson has written songs expressly about hockey players ("Elegy for Gump Worsley," "Petition," a petition in song form to lobby for Reggie "The Rifle" Leach to be inducted into the Hockey Hall of Fame) and even curling (!). Samson's solo works include theme albums about highways and roads in Manitoba. The band's tour film is called, "We're the Weakerthans, We're from Winnipeg."
[+] Enlarge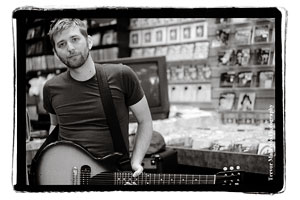 Trevor Marczylo PhotographyThe Weakerthans' John K. Samson said hockey is "woven into the identity" of his hometown of Winnipeg.
One notable song from the band's catalog, "One Great City," is a love/hate affair as everyone has with their hometown, with a chorus that sweetly sings, "I hate Winnipeg" and a lyric of lamentation: "The Guess Who sucked, the Jets were lousy anyway."
But with hockey's return to Winnipeg, where the team formerly known as the Atlanta Thrashers sold out of season tickets in 17 minutes, Samson said his city can finally exhale.
"There was an inevitability about it," Samson said by phone from Winnipeg, of hockey's return. "We started hearing rumors about a year ago. But no one really dared to believe it was true. We all were kind of holding our breaths."
Samson said the team's departure in 1996 was tough for the city emotionally. He says, however, it was necessary due to economic problems plaguing the city; at the time, the Jets wanted a new arena to stay. He also blames the NHL's thirst to make further inroads in the United States.
"It was certainly jarring. It was almost like people who really didn't care about the Jets had some sense of identity tied up with them. Even people like me who opposed public funding for the team. I certainly felt bad when they went," Samson said. "It did have to do with a pretty unsound and thoughtless approach that the NHL was taking, trying to sell hockey to southern Americans. This is a hockey town, and Atlanta isn't. They were trying to crow-bar something into a place that doesn't want or need it. There's no shame in that, thinking that something should be globally adored. But games come from specific places, and reflect specific characters of people, right? It's just bizarre to be sitting in Phoenix in the middle of a desert watching a hockey game. It just doesn't make sense to me."
Samson said that despite Winnipeg's much-smaller population, only about 630,000 people, the fans will be much more passionate than what the players have become accustomed to.
"It's a small town in a medium-sized-city disguise," he said. "Some of those Atlanta players have no idea what they're in for, the kind of scrutiny they're in for, and also the welcome they'll get. They'll be heroes, in a way. It will be mixed."
Samson, who will be on tour with the Weakerthans in Europe beginning next week, said he didn't even try to get in on the season ticket frenzy.
"I have a feeling it will be a few years before I get to go to a game," he said. "Someone will have to bring me. A lot of people are getting in line with friends who have tickets."
And what if he was ever asked to perform at a game?
"I'd be incredibly tempted by that kind of offer," he said, laughing. "That's unlikely. They'll probably stick to the more mainstream acts."
Hockey's finally back, and the Winnipeg fans are euphoric. But there's one huge lingering issue: the team's name. Samson feels very strongly that it's time to break from a bleak past.
"That's what the city's tearing itself up about -- even tearing families apart, it seems to me," Samson said. "I'm totally opposed to the idea of naming them the Jets. That's like some creepy plot to a thriller ... where a guy dresses up his new girlfriend like his dead wife. I find it really spooky that anyone would want the Jets name. If they name them the Winnipeg Jets, I'll be writing angry letters, posting angry posts, doing all the angry things."
He said he'd reluctantly agree if it honored the whole province, calling them the Manitoba Jets. But otherwise, he thinks it's time to go in a new direction. But at least he's able to have this conversation, because an NHL team has returned.
"This is truly a hockey town. It's a place where that's people's first interaction with sports and organized sports. A lot of really accomplished hockey minds and players have come out of Winnipeg," Samson said. "It's kind of woven into the identity of the place. Maybe almost to a frightening degree."
Dave Wilson is an editor for Page 2.