Commentary
In Metroplex, a tale of two Mavericks
Originally Published:
May 31, 2011
By
Danny Woodward
| Special to Page 2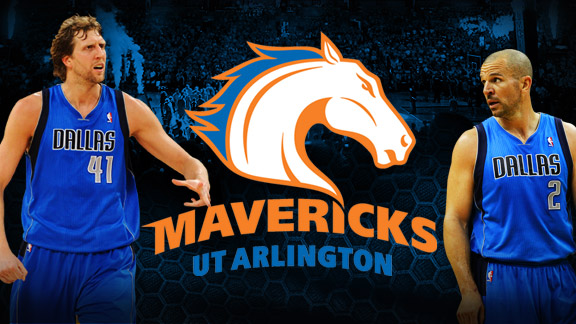 ESPN.com Illustration
Bill Reeves loves Texas. Mahogany boots, starched button-downs, comfortable drawls.
And Bill Reeves loves basketball. A blue-collar scorer in his prime, he is enshrined in the halls of fame of both the University of Texas at Arlington and the Southland Conference.
Given his two loves, he ought to be downright giddy about the Dallas Mavericks' remarkable run to the NBA Finals.
The truth is, he's anything but.
"I'm always for whoever they're playing," Reeves said, meaning that he's a Miami Heat fan for the week. "I've still never bought a ticket to a game over there. And I will not. I don't even watch them on TV."
Reeves, 71, is the associate athletic director at UT Arlington and a beloved fixture on the campus of 34,000 students that's located smack in the middle of Mavericks country. He's been a student, coach or administrator there for more than 50 years.
And he'll never forgive the local NBA franchise for what he considers identity theft.
This goes back to May 1, 1980, when officials from the NBA's new Dallas franchise gathered the media in Reunion Station to announce its name. A blue-and-green flip chart revealed what had been a closely guarded secret: Mavericks.
A good Texas name. A name another team in the area was already using.
The athletic teams at UT Arlington, whose campus sits 20 miles west of downtown Dallas, had been the Mavericks since 1971.
"I was very disappointed and upset with them that they took our mascot from us," said Reeves, who was the university's athletic director then. "We had already established the Mavericks mascot nine years earlier. I wouldn't have thought that they would do that to any university in the area."
It's unprecedented to be sure, the lone example of a major pro sports team sharing a mascot with a local NCAA Division I university. (The next closest: The Long Beach State 49ers are some 400 miles from San Francisco's NFL team. Plus, the pro footballers took that nickname three years before LBSU was even founded.)
It would be as if the other NBA finalists had called themselves the Hurricanes back in 1988. Except that UT Arlington -- which plays in the Southland Conference -- doesn't enjoy the same national prominence as the University of Miami.
Names like Hurricanes, Jayhawks, Boilermakers, Fighting Irish and Hoyas evoke college glory. But think of Mavericks, and it's not the University of Texas at Arlington that leaps to mind. It's a 7-foot German with flowing locks and an unguardable fadeaway.
The public embraced all things Mavericks after that 1980 announcement, and that included the university, said John Mocek, UT Arlington's associate athletic director for finance and administration and a 1977 alumnus. For a while. But today, "If we just drive off into Topeka, Kansas, and say 'Mavericks' to somebody, I would think that 9.9 out of 10 are going to think Dallas Mavericks."
Or, as Reeves says it: "I think it pretty much prevents us from having a national identity. It's made it more difficult to publicize who we are. There's still confusion when you see a headline that says Mavericks."
The Mavericks making headlines right now have ridden a pair of future Hall of Famers to their second NBA Finals in five years. Game 1 is Tuesday night in Miami. And those Mavericks assert that they didn't steal anything from their collegiate neighbor.
Nope, their name came from the radio.
When Dallas landed its expansion team, local AM station WBAP sponsored a contest to pick the mascot. More than 4,600 entries were handed over to general manager Norm Sonju and team owner Donald Carter (who, incidentally, had studied engineering at UT Arlington, then called Arlington State College, in the late 1950s.)
Besides Mavericks, the other finalists were Wranglers and Express.
"These all came from the radio contest," Sonju said. "None of our staff were involved, and it was not a name that we started the process with."
[+] Enlarge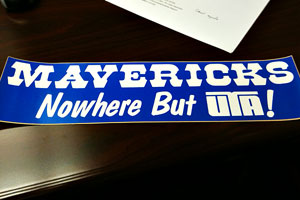 Danny WoodwardUT Arlington officials printed 10,000 of these stickers after the Dallas Mavericks arrived.
They chose Mavericks, in part to honor James Garner. Television's first "Maverick" was part of the team's original ownership group. And once they'd made their pick, they combed the region to make sure their name was unique.
Mavericks run alone, after all.
"We had one of our key staff members drive onto the UTA campus," Sonju said. "He went to the student union, bookstore, et cetera, and didn't find any banners, book covers or anything with the name Mavericks."
There was a reason.
Like many college teams (Ramblin' Wreck, Mean Green and War Eagles, famously), UT Arlington's nickname had its own nickname. In those days, its athletes were sometimes called the Movin' Mavs, a name that appears on school media guides and jerseys from that era.
What's more, Sonju said he spoke with UT Arlington basketball coach Bob "Snake" LeGrand, who "loved that we were considering Mavericks." (LeGrand, who works at an area high school now, said he doesn't remember such a conversation.) Sonju said he also got the go-ahead from local business leaders, including one who served on a governing board of the university.
"Before we launched our nickname," he said, "we felt pretty comfortable that there weren't any local or area teams that would in any way be confused if we chose the name Mavericks."
No one at UT Arlington was confused. But some were kerfuffled.
"Even if we were more of the Movin' Mavs at that time, we were still officially the Mavericks," Reeves said. "That was our mascot."
And they wanted to protect it. But the mid-major school felt powerless against the mighty NBA, so no lawsuits or brand infringements were ever filed.
Instead, the university responded with a sense of humor. It not only kept its Mavericks identity, it claimed ownership of the entire state by adding Texas' familiar shape to its logo. (That logo, which Mocek called "the weird offshoot of an identity crisis," has since been replaced.) But what stuck best was a simple blue-and-white bumper sticker that proudly proclaimed: "Mavericks, nowhere but UTA." School officials printed 10,000 and passed them out all over town.
"Those bumper stickers hung around for three or four years," Mocek said. "But five years after the fact, people were like, 'What's that all about?' … It was a tad puzzling at the time, but quite honestly, you saw how the name fit pretty well. They had the Western theme to go along with the Rangers and the Cowboys. We were a little miffed that they did it, but it made sense.
"But it would have been better if they were the Dallas Horned Frogs."
In time, the controversy faded. Sonju said he hadn't thought of it in more than 30 years.
If this town is big enough for only one Maverick, why didn't UT Arlington simply change its name? That story goes back to the school's Southern heritage. When UT Arlington became the Mavericks in 1971, it sacked the Rebels mascot. Students were divided over the issue but agreed upon "Mavericks" in a referendum. And they were just getting used to the name, which also had been the name of the Houston franchise in the ABA from 1967-69.
"I don't think anyone wanted to get into another mascot discussion," Reeves said.
For the record, one name rejected on the students' ballot back in '71: Rangers.
Good thing it failed.
A year later, another team came to town and liked that name pretty well.
Danny Woodward is a freelance writer in Fort Worth, Texas.