The first NBA draft lottery was held in 1985. The Knicks drew the lucky card and the obvious top prize: Patrick Ewing. But the history of bad lottery picks soon began, as players such as Benoit Benjamin (third overall to the Clippers) and Jon Koncak (fifth overall to the Hawks) were drafted ahead of future All-Stars such as Chris Mullin (seventh), Detlef Schrempf (eighth), Karl Malone (13th) and Joe Dumars (18th).
Here are the worst picks for the top 14 slots in the draft since 1985 (though we'll try to avoid players who suffered unexpected injuries such as Jay Williams or Dajuan Wagner):
1. Kwame Brown, 2001 (Wizards)
Michael Jordan made this pick, and there's a reason NBA TV hasn't aired any specials on Jordan's career as an executive. Somehow, Brown has lasted seven seasons in the NBA even though he's never averaged better than 10.9 points per game. (And that was just one season -- his career average is 7.5 ppg.) Brown also has been involved in two of the most lopsided trades in recent years, going to the Lakers in exchange for Caron Butler and ending up in Memphis in the Pau Gasol "trade." Speaking of Gasol, he's one of the many players the Wizards could have picked instead of Brown.
Dishonorable mentions: Pervis Ellison (Kings, 1989), Michael Olowokandi (Clippers, 1998),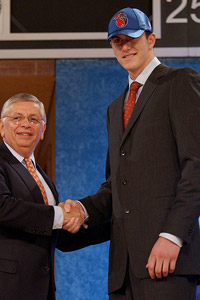 AP Photo/Ed Betz
How many titles would the Pistons have if David Stern had instead greeted Dwyane Wade with the No. 2 pick?
2. Darko Milicic, 2003 (Pistons)
In the past two seasons, Milicic has improved from comically horrible to just your run-of-the-mill bench player. His per-36-minute averages put him near double-double territory, but considering he was drafted immediately ahead of Carmelo Anthony, Chris Bosh and Dwyane Wade, that's just not good enough.
Dishonorable mentions: Danny Ferry (Clippers, 1989), Shawn Bradley (76ers, 1993), Stromile Swift (Grizzlies, 2000)
3. Chris Washburn, 1986 (Warriors)
Let's be honest. We could put a lot of people from the 1986 draft in this list (and we've got one more coming), but Washburn is the poster child for the flameouts that followed. He played just two seasons, never showing any kind of maturity or ability on the court while getting into trouble with drugs off it. Sure, there weren't many great players picked in this draft, but the Warriors would have been better off with John Salley or Dennis Rodman, who teamed for two titles in Detroit.
Dishonorable mentions: Benoit Benjamin (Clippers, 1985), Dennis Hopson (Nets, 1987), Adam Morrison (Bobcats, 2006)
4. Marcus Fizer, 2000 (Bulls)
The 2000 draft was nothing special (Kenyon Martin was the top pick), but Fizer was special in his disappointment. A power forward who measured surprisingly short leading up to the draft (Ring any bells, Chicago?), Fizer started just 35 games in his career and has been out of the league for two seasons.
Dishonorable mentions: Donyell Marshall (Timberwolves, 1994), Antonio Daniels (Grizzlies, 1997)
5. Nikoloz Tskitishvili, 2002 (Nuggets)
For all the flak Darko Milicic takes as the poster boy for workout wonders, it's a wonder that people have forgotten about Skita. He demonstrated amazing athletic ability in his pre-draft workouts, then showed nothing on the court. Amazingly, this scene repeated itself in the summer of 2005, when a great showing in the NBA Summer League got Skita a contract with the Timberwolves. He lasted five games.
Dishonorable mention:
Jon Koncak (Hawks, 1985)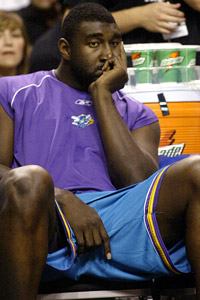 AP Photo/Luis Alvarez
Suggested rule for NBA GMs: Don't draft a guy nicknamed "Tractor."
6. Robert Traylor, 1998 (Mavericks)
Don't blame Dallas for this one. They picked Traylor only to trade him to Milwaukee for some tall guy from Germany with funny hair. Oh, what's that? That guy turned into future MVP Dirk Nowitzki. And Traylor turned into a guy who ate too much, averaged 4.8 ppg in seven seasons and later pleaded guilty to preparing a false tax return after hiding assets for a convicted drug dealer.
Dishonorable mentions: Joe Kleine (Kings, 1985), William Bedford (Suns, 1986), Bryant Reeves (Grizzlies, 1995)
7. Roy Tarpley, 1986 (Mavericks)
Tarpley's stats (career averages of 12.6 points and 10.0 rebounds) are actually decent. He even won the NBA's sixth man award in 1987-88. But he managed to get into so much trouble with drugs that he was twice banned for life (1991 and 1994).
Dishonorable mention: Chris Mihm (Cavaliers, 2000), Eddie Griffin (Nets, 2001)
8. Bo Kimble, 1990 (Clippers)
Kimble is best remembered for shooting left-handed free throws in honor of his late teammate and friend Hank Gathers during the 1990 NCAA tournament. Unfortunately, though Kimble was a good college player, he wasn't Gathers. He was already 24 years old as a rookie when he shot just 38 percent and averaged 6.9 points. Injuries shortened his career after that, and his most notable contribution to the Clippers was his involvement in the trade that brought Mark Jackson to L.A.
Dishonorable mentions:
Shawn Respert (Trail Blazers, traded to Bucks, 1995),
DeSagana Diop
(Cavaliers, 2001),
Rafael Araujo
(Raptors, 2004)
9. Ed O'Bannon, 1995 (Nets)
O'Bannon was the college player of the year in 1995, but his game never translated to the NBA. He was too small to be a forward, and his knee injuries sapped him of the speed needed to be a guard. He lasted just two seasons, averaging 5 points per game.
Dishonorable mentions: Rodney White (Pistons, 2001), Mike Sweetney (Knicks, 2003)
10. Luke Jackson, 2004 (Cavaliers)
Maybe the Cavaliers would have won the title last year if they'd drafted Al Jefferson or Josh Smith here instead of Jackson. The guard/forward from Oregon had skills that never translated to the NBA. So far, in four seasons, he's played just 73 games.
Dishonorable mentions: Adam Keefe (Hawks, 1992), Saer Sene (Sonics, 2006)
11. Todd Fuller, 1996 (Warriors)
Fuller's career average of just 3.7 ppg would be enough to qualify him for this list, but also consider who the Warriors could have taken instead of Fuller: Kobe Bryant (13th), Peja Stojakovic (14th), Steve Nash (15th), Jermaine O'Neal (17th) and Zydrunas Ilgauskas (20th). Considering the Warriors still had Latrell Sprewell, Joe Smith and Chris Mullin, a better pick here might have kept them in contention in the West.
Dishonorable mentions: Trajan Langdon (Cavaliers, 1999), Jerome Moiso (Celtics, 2000), Kedrick Brown (Celtics, 2001), Fran Vazquez (Magic, 2005)
12. Kenny Green, 1985 (Bullets)
Don't remember Kenny Green? Don't worry, you're not alone. Green played two seasons and scored a total of 265 points. Hey, that's only 36,663 behind the guy drafted immediately after him, Karl Malone.
Dishonorable mentions: Alec Kessler (Rockets, traded to Heat, 1990), Cherokee Parks (Mavericks, 1995), Aleksandar Radojevic (Raptors, 1999)
13. Michael Smith, 1989 (Celtics)
The Celtics made a lot of bad draft picks between their 1986 and 2008 championships, but Smith might take the cake. He was already 24 years old when he was drafted and ended up playing just two seasons. He was drafted immediately ahead of Tim Hardaway and four picks ahead of Shawn Kemp. Six players drafted after Smith eventually made an All-Star team.
Dishonorable mentions: Pearl Washington (Nets, 1986), Courtney Alexander (Mavericks, 2000), Marcus Haislip (Bucks, 2002), Marcus Banks (Grizzlies, traded to Celtics, 2003)
14. William Avery, 1999 (Timberwolves)
Avery was the fourth of four Duke players selected in the top 14 picks in 1999, and the Timberwolves wish they could have had a do-over. Avery played just three seasons and never broke into the starting lineup regularly. He averaged 2.7 points and 1.4 assists in 142 games and never got another NBA shot after his rookie contract expired. He'd be remembered as more of a bust if he hadn't been picked immediately ahead of Frederic Weis.
Dishonorable mentions: Alfredrick Hughes (Spurs, 1985), Scott Haskin (Pacers, 1993), Yinka Dare (Nets, 1994)
Adam Reisinger works in the ESPN Research Department.
2008 NBA Draft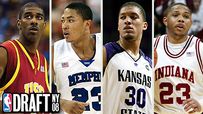 We've got the 2008 draft covered. Who are the top prospects? Check out our analysis, projections, scouting reports and more.
'08 NBA Draft Index
•
Roundup: A rundown of who went where
•
Keeping up with draft day trades
•
Mayo to Memphis, Love to Minnesota
•
Simmons, Ford: Great Draft Debate '08
•
Chad Ford's Mock Draft 7.0: Picks 1-30
|
31-60
•
Chad Ford's Mock Draft 6.1: Picks 1-30
|
31-60
•
Chad Ford's Mock Draft 6.0: Picks 1-30
|
31-60
•
Chad Ford's Mock Draft: Version 5.0
•
Chad Ford's Mock Draft: Version 4.0
•
Chad Ford's Mock Draft: Version 3.0
•
Chad Ford's Mock Draft: Version 2.0
•
Chad Ford's Mock Draft: Version 1.0
•
Draft Machine: Make your picks
•
Who's in, who's out of 2008 draft?
•
Ford's Top 100: Best draft prospects
Chad Ford
•
Draft Watch: How high or low will they go?
•
Draft Notes: Heat trading Beasley pick?
•
Draft Notes: Rose-Beasley rages in Chicago
•
NBA draft strategy: Ranking prospects by tiers
•
Draft Watch: Teams coveting UCLA's Westbrook
•
Draft Watch: Final in/out decisions made
•
Draft Watch: Rush's hot, Arthur's not
•
Draft Watch: International top 15
•
Draft Watch: Alexander's hot, Lawson's not
•
Draft Watch: Miami takes close look at Mayo
•
Draft Watch: Using the measurements
•
Draft Watch: Analyzing combine results
•
Draft Watch: Analyzing official measurements
•
Draft Notes: Who's looking to trade their pick?
•
Draft Notes: Stars come out in Orlando
•
Draft Notes: Beasley, Rose a marked contrast
•
Draft Stock Watch: Forbes taking wing on charts
•
Draft Notes: No. 1 question looms over Paxson
•
Draft Watch: Lawson bouncing back
•
Draft Notes: Rumors, promises and PGs
•
Draft Watch: Orlando hopefuls eye first round
•
Draft Watch: Could Mayo be the No. 2 pick?
•
Draft Watch: Who's No. 1 -- Rose or Beasley?
•
Draft Watch: Mayo's stock is rising again
•
Draft Watch: Judging early entry calls
•
Draft Watch: Nike Hoop Summit buzz
John Hollinger
•
Draft Rater: How will the Euros translate?
•
Draft Rater: Who are the best perimeter players?
•
Draft Rater: Who are the best big men?
•
Draft Rater: Beasley has most pro potential
•
Rating college prospects
More Analysis
•
Katz: Bayless, Gordon survived turmoil
•
Katz: Freshmen could produce record numbers
•
Katz: Draft trade rumors abound
•
Gottlieb: Mayo impresses while others falter
•
Katz: On top 12 picks
•
Katz: Rose's unique passion to win
•
Fraschilla: Who made right choice to return?

•
Katz: Heels win on withdrawal day
•
Katz: Anderson still on fence
Draft Lottery
•
Ford: Beasley-Rose debate rages in Chicago
•
Bulls win lottery; get first pick
•
Ford: Will Bulls take Beasley No. 1?
•
Vote: What should Bulls do?
•
Katz: Lottery projections

•
Fraschilla: Projecting picks 1-14

Podcasts
•
NBA Dish: Paxson on winning lottery
•
Mike & Mike: Paxson on No. 1 pick

•
NBA Dish: Joe Abunassar, NBA trainer
•
NBA Dish: Kevin Love, UCLA
SportsNation
•
NBA Draft polls
Fantasy
•
McKitish: Most freshmen have little impact
•
McKitish: Beasley and Rose as NBA rooks
ESPN Top Headlines