The Babe's sad ending and other bedtime horror stories
If you're old enough to remember the voice of John Facenda from NFL Films, you can imagine his deep baritone recapping yet another loss by the 2008 Detroit Lions:
"Under the dreary gray false sky of Ford Field, coach Rod Marinelli led his determined and embattled troops onto the green turf to take on the New Orleans Saints, hoping to avoid the misery that had befallen them during the season's previous 14 weeks."
Two games to go. Two games to avoid infamy. Two games to avoid joining this list of the worst teams that professional sports have witnessed. One catch: You have to earn your spot on this list. It's easy to be an expansion team and stink it up -- we mean you, 1962 New York Mets and 1976 Tampa Bay Bucs -- but to be a veteran franchise, yet this terrible? That takes a lot of hard work.

1935 Boston Braves
Record: 38-115, last place, 61 1/2 games out of first place, 26 games out of seventh place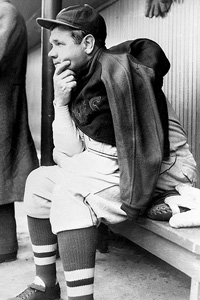 AP Photo
A 40-year-old Babe Ruth called it quits in June after hitting .181 for the Boston Braves.
How bad were they? They set the National League record for the worst winning percentage in the modern era -- worse than the '62 Mets.
How'd they get that bad? Here's the amazing thing: The Braves finished better than .500 in 1934 and nearly reached .500 in 1936. In 1935, however, every regular with the exception of center fielder Wally Berger -- who actually led the league with 130 RBIs -- played worse than he had the season before. The offense declined from 683 runs to 575, and the pitching staff allowed 852 runs, up from 714.
The team brought in just one new player for '35. Team ownership was in bad straits financially, and with promises of a future managing role and a stake in team profits, Babe Ruth was brought in. But the Bambino was 40 years old and could barely waddle to first base. He hit .181 with six home runs in 28 games before calling it quits. Sadly, the six home runs ranked second on the team.
Least valuable player: Ben Cantwell, a 20-game winner in 1933, was a 25-game loser for this team. No one has approached that many losses since. Cantwell, who struck out 34 in 210 2/3 innings, led the team with 13 complete games en route to four wins.

1972-73 Philadelphia 76ers
Record: 9-73, last place in Atlantic Division, 59 games out of first place
How bad were they? They're still the only NBA team to win fewer than 10 games in an 82-game schedule. They lost their first 15 games and added losing streaks of 14, 20 and 13 games.
How'd they get that bad? Billy Cunningham, their star from the previous season (when they went 30-52), defected to the ABA. Cunningham won league MVP honors and played for a championship. Hall of Fame guard Hal Greer played just 38 games in what became his final season.
Least valuable player: Freddie Boyd earned all-rookie first-team honors, but his field goal percentage (39.2) and free-throw percentage (68.2) were worst among regulars. He also was one of only two players to appear in every game that season, helping the Sixers to the league's worst defense.

1972 and '73 Houston Oilers
Record: 1-13 in AFC Central in both seasons
More on lousy Lions
•
Merrill: Lions, city struggle
•
Seifert: How to fix them
•
Jemele Hill: Go for 0-16!
•
Page 2: Worst pro teams ever
•
Scouts: 10 Lions to keep
•
Wickersham: Crystal ball
•
Watch: Fantasy vs. reality
•
Watch: Ex-Lion Lomas Brown
•
Watch: Countdown Daily
•
Football Today: Lions talk

How bad were they?
They didn't just win one game once. They went for the encore, with a 1-13 record in consecutive seasons. They were outscored by 464 points during the two-season span. In '72, the Oilers ranked 25th of 26 teams in both points scored and points allowed; in '73, they ranked 23rd and 26th.
How'd they get that bad? A string of bad drafts from their AFL days didn't help (the team had an affinity for drafting players from Texas colleges), but new coach Bill Peterson was in over his head. Peterson had won at Florida State with a pro-style passing game, then coached Rice for one season. But he couldn't reach pro players and even had trouble remembering their names.
Least valuable player: The entire offensive line, which couldn't prevent Dan Pastorini from setting the NFL record for number of times sacked in back-to-back seasons.

1973-74 California Golden Seals
Record: 13-55-10, 36 points, last place, West Division, 27 points out of seventh place
How bad were they? The Seals were never a good franchise (they never won more than 29 games in a season), but this season was their rock bottom. They did a little of everything badly. They finished next-to-last in goals scored (195) and last in power-play percentage (12.7 percent), and they gave up the most total goals (342) and the most short-handed goals (14).
How'd they get that bad?The Golden Seals never fully recovered from player defections to the upstart World Hockey Association after it came into existence in 1972. (No fewer than eight California players jumped to the WHA.) They didn't recover well after the season, either. The franchise moved to Cleveland in 1976, then folded after two unsuccessful seasons there.
Least valuable player: Right wing Reggie Leach was the Golden Seals' fourth-leading scorer with 22 goals, but he wasn't much help at the defensive end, posting a team-worst minus-61. However, the next season he was traded to Philadelphia, where he scored 45 goals and was a plus-53 on the Flyers' '74-75 Stanley Cup championship team.

1981 Baltimore Colts
Record: 2-14, tied for last place in AFC East with the New England Patriots
How bad were they? Bad enough to allow what was an NFL-record 533 points. They allowed at least 21 points in every game. The Patriots had the same record, but their point differential was just minus-48. The Colts' point differential was minus-274.
How'd they get that bad? The Colts had been solid in the mid-'70s, going 10-4, 11-3 and 10-4 from '75 through '77 behind quarterback Bert Jones. The team worsened as Jones battled injuries, but he had returned by '81. Bad drafts set the stage -- first-round picks from '76 through '81 included forgettables Ken Novak, Randy Burke, Reese McCall and Derrick Hatchett. The Colts even made a Detroit Lions-like move by selecting running backs Curtis Dickey and Randy McMillan in the first round in 1980 and '81.
Least valuable player: Take your pick from the defensive side: The Colts recorded just 13 sacks and allowed 37 touchdown passes.

1989-90 Quebec Nordiques
Record: 12-61-7, 31 points, fifth place in Adams Division, 54 points out of fourth place
How bad were they? Of the four netminders who played in at least 10 games, none had a save percentage better than .860. The Nords were the NHL's worst penalty-killing team (98 power-play goals allowed, and a penalty-kill percentage of 74.4 percent). Their vast inability to prevent goals overshadowed a 102-point season by 20-year-old Joe Sakic.
How'd they get that bad? An inability to settle on a goalie. The '89-90 Nordiques used seven different goaltenders, none of whom were apparently talented at stopping the puck, as Quebec allowed a league-high 407 goals. But this was clearly a clueless front office: Besides the seven goalies, 42 different players saw ice time.
Least valuable players: Goalie Ron Tugnutt won 186 games during his NHL career, but only five of those wins were with the '89-90 Nords. He allowed 152 goals in 35 appearances and had a goals-against average of 4.61. Rookie defenseman Bryan Fogarty, the team's first-round pick in the 1987 draft, played just 45 games but led the team with a minus-47.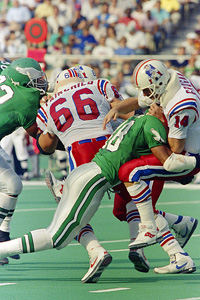 AP Photo/Amy Sancetta
Before the Bill Belichick era, Patriots fans suffered through the likes of the 1990 season.

1990 New England Patriots
Record: 1-15, last place in AFC East
How bad were they? They managed four rushing touchdowns the entire season … but allowed 29. The Patriots had 239 first downs. Their opponents had 463.
How'd they get that bad? From '83 through '89, they made seven consecutive offensive first-round picks, including running back no-names Reggie Dupard and John Stephens and wide receiver bust Hart Lee Dykes, who saw his career end early thanks to a fractured kneecap and a barroom brawl with teammate Irving Fryar that caused an eye injury.
Least valuable players: Tight end Zeke Mowatt, running back Robert Perryman and wide receiver Michael Timpson, who sexually harassed a female reporter after a victory in Week 2. The team was fined $50,000, the individual players also were fined and the team went on to lose its final 14 games.

1992-93 Dallas Mavericks
Record: 11-71, sixth in Midwest Division, 25 games out of fourth place
How bad were they? They were on the verge of matching the 1972-73 76ers for worst record but won their final two games. They had losing streaks of 12, 15 and 19 games. They shot 43.5 percent from the field, while their opponents shot 50.1 percent.
How'd they get that bad? Some draft decisions weren't so bright in hindsight. In 1989, they took Randy White at No. 8 while Shawn Kemp went 17th. In 1991, they took Doug Smith sixth. In 1992, they landed Jimmy Jackson with the fourth pick but couldn't sign him. He didn't play until March 1993, by which point it was way too late to salvage the season. Mix in bad trades (Dale Ellis to the Sonics, two first-round picks for Fat Lever, who got injured) and Roy Tarpley's banishment from the NBA for drug use.
Least valuable player: Smith was well on his way to bust status. In his second season, he shot 43 percent from the field. Not what you're looking for from someone who stands 6-foot-10.

2003 Detroit Tigers
Record: 43-119, finished fifth in American League Central, 25 games out of fourth place
How bad were they? They set the AL record for losses and avoided matching the 1962 Mets for most losses in a season only by winning five of their final six games, including rallying from down 8-0 to win their next-to-last game.
How'd they get that bad? The Randy Smith as GM era was disastrous. They couldn't make the transition from the Alan Trammell-Lou Whitaker-Kirk Gibson glory days, banking way too much on the likes of Bobby Higginson, who had 30 home runs in 2000 but never reached 20 again. But the biggest culprit was a string of disastrous first-round picks from 1992 to 2001: Rick Greene, Matt Brunson, Cade Gaspar, Mike Drumright, Seth Greisinger, Matt Anderson, Nate Cornejo, Jeff Weaver, Eric Munson, Matt Wheatland, Mike Woods and Kenny Baugh. Aside from Weaver, those players combined for just 37 big league wins and 49 home runs.
Least valuable player: Adam Bernero, who was 1-12 with a 6.08 ERA before being traded to the Rockies in July. Among those who lasted the full season, starter Mike Maroth lost 21 games, the first 20-game loser since Brian Kingman in 1980.

2006 Oakland Raiders
Record: 2-14, last place in AFC West
How bad were they? They scored only 12 offensive touchdowns in 16 games. They allowed 72 sacks and committed 46 turnovers.
How'd they get that bad? They went from Super Bowl team to complete joke in just four seasons. The 2002 Super Bowl team was old: Rich Gannon was 37, Jerry Rice 40, Tim Brown 36, Charlie Garner 30, Rod Woodson 37, Trace Armstrong 37, Bill Romanowski 36. They didn't replace those guys.
Least valuable player: Quarterback Andrew Walter, then 24, was in over his head. In 12 games, he had three touchdown passes to 13 interceptions and fumbled 13 times.
Contributors: Mark Simon, John Zoni and Russell S. Baxter.
Also See
ESPN Top Headlines