By Steve Wulf
Special to Page 2
Bill Mazeroski had a 12-page speech prepared to give when he was inducted into the Baseball Hall of Fame in August of 2001. But he only got as far as, "I feel special … I don't think I'm going to get through this." So he stood there, crying tears of joy for a few minutes. When he finally sat down, he not only heard thunderous applause, but he also saw not a dry eye in the village.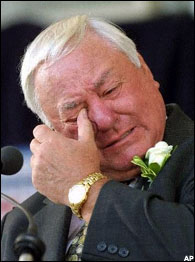 There's no crying in baseball? Wrong. Just ask Bill Mazeroski.
Now is the time for crying in baseball, and pro football, too, as Wade Boggs and Ryne Sandberg take infield in Cooperstown, N.Y., July 31 and Dan Marino and Steve Young take snaps in Canton, Ohio, Aug. 7. There is majesty in the marble Halls, and immortality in the bronze plaques and busts, but the really precious stuff is what's inside the inductees -- the blood that drove them, the sweat they spilled, the tears they shed at finally making The Team.
Some Hall of Famers are more appreciative of the honor than others, but all of them approach the podium with an odd mixture of pride and humility. How can you not when you suddenly find yourself in the company of Babe Ruth or Jim Brown, Cy Young or Johnny U.? I once walked through the Hall of Fame museum with George Kell, who kept saying, "I can't believe I'm here, I can't believe I'm here." When he came to a case that contained a bat he had presented to the Hall, he started crying.
I'm not sure that the people who decide on the membership -- the sportswriters in the respective sports -- really understand what the Halls stand for. Do they stand for statistics? Awards? Titles? Should the basic criterion be hits and wins, touchdowns and Super Bowls? Or should it be the more subjective question, "How much did this player actually give to the sport?" (If anything, the pro football writers are a little more egalitarian and team-oriented than the baseball writers are; linemen in football aren't as underrepresented as catchers are in baseball.)
I favor the more subjective approach because, quite frankly, there are too many deserving players left out in the cold. And others, like Duke Snider and Ralph Kiner and Mazeroski, had to wait far too long for the call. Now, there was a time when I thought the Halls were overcrowded because of a few so-so men, a time when I fantasized about sneaking into Cooperstown and removing Candy Cummings' plaque from the gallery. But as I began to realize how much it actually meant to be there, I came to the conclusion that a lot of people who had brought joy to the game were being denied an opportunity for us to thank them. Why waste breath arguing over whether Rabbit Maranville belongs or not, when Roger Maris is waiting outside?
And what about the stars of the '80s? Anyone who regularly saw Steve Garvey play knew, just knew, that he was going to Cooperstown. (He was Cal Ripken before Cal Ripken.) Was The Garv waylaid by his personal life? Or did he fall victim -- along with Alan Trammell, Jim Rice, Goose Gossage, Dave Parker, Jack Morris, Dale Murphy, Bob Boone -- to the inflated stats and increased visibility of the players who followed?
Heck, in my softening dotage, I've even come to agree with my friend who has a LET14IN license plate, though I do want baseball to explore the possibility of inducting Pete Rose without actually inviting him.
By making the Halls a little more inclusive and little less exclusive, we would be opening a few more doors to the past and enriching the lives of a few more people. As Bill Mazeroski said …
Steve Wulf is an executive editor with ESPN The Magazine.