It started with a simple idea: What if we ranked every NFL, MLB, NBA and NHL team based on their uniform designs?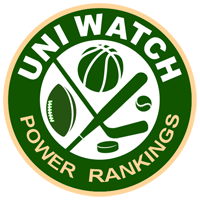 Yeah, sure, what if. It's a crazy idea -- there are 122 teams in the four major professional leagues. And how can you compare a basketball uniform, which covers maybe half of the body, to a hockey uniform, which covers everything but the face?
The more we thought about it, though, the better we liked the idea. Think of it this way: Even when you're comparing apples to oranges, you still know what tastes good and what doesn't. ESPN.com already has Power Rankings for the four major professional leagues; why shouldn't Uni Watch have its own rankings?
And so the Uni Watch Power Rankings were born. We've been rolling out Power Rankings all week on Playbook, going from worst to first, and now we've reached the final installment, where we'll crown the best-dressed team in major professional sports.
Most of our top-ranking teams probably won't surprise you. But there's at least one team in the top 10 that likely will raise a few eyebrows. Don't agree with our picks? That's fine -- undertakings such as these are made for discussion and debate. We also invite you to join in on Twitter, using the hashtag #UniRank.
For those of you who've been following the Power Rankings all week long, thanks for coming along for the ride. If you're just discovering the Power Rankings, go back and explore the rest of the charts to see how your favorite teams stack up. Remember, when scrolling through the chart, you can click on a team's name to see its current uniform set.
Although today marks the end of this week's rollout, it's not the end of the Power Rankings. We'll be updating the rankings next year as teams update their uniforms, so consider this the first round of an ongoing project.
And now, the envelope, please ...
UNI WATCH POWER RANKINGS -- Click team names to view uniform sets
(Special thanks to Michael Barreras, Jared Hartung, Mark Meeks, and Zack Tanner for their photo research assistance.)
Paul Lukas will never look at the number 122 the same way again. If you liked the Uni Watch Power Rankings, you'll probably like his daily Uni Watch web site, plus you can follow him on Twitter and Facebook. Want to learn about his Uni Watch Membership Program, be added to his mailing list so you'll always know when a new column has been posted, or just ask him a question? Contact him here.